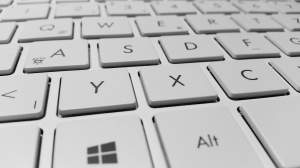 In order to properly identify the best 17-inch laptops, I have compared 94 17-inch different models based on many different aspects. Some of them are obviously more important than others. And in this guide, I'll cover exactly them.
My criteria for the finding a great 17-inch laptop can be broken down into 3 basic groups: power, mobility, user experience. You can find more detailed descriptions of these aspects below.
Processing power
This is the key group of specs for determening a great 17″ laptop. And luckily enough, it's the easiest to measure.
It can be broken down into 4 specs: processor, RAM, storage and graphics.
Processor
Central Processing Unit (CPU) can be considered the brain of a computer. It's critical for professional software (3D modeling, CAD modeling, video and photo editing). Intel is currently leading the industry with powerful CPUs: the Core i series being their flagship chips. AMD isn't as popular as it used to be (if you can remember those times). These chips also aren't as powerful as Intel's, so I'll focus primarily on Intel, since it's the only option for mid-to-high range CPUs.
In order to determine how powerful a processor is, I will be looking at its number of the clock frequency… nah, I'm kidding – it's not 2008. I'll be judging processors by their benchmarks. Cores, threads, frequencies and cache are well summed up by benchmarks. They're close to expected real-life results even though they're synthesised.
Since we're looking for the best 17″ laptop and we're cool like that, we can even look out a few overclockable processors, that are almost exclusive to desktop replacement laptops. Most common overclockable mobile CPU is i7-6820HK.
It is worth mentioning that some negative results of a powerful processor are excessive power consumption or heat generation, which can cause the laptop to degrade faster.
TL;DR
Good mid-range CPUs: i7-6500U, i7-7500U
Great upper-range CPUs: i7-6700HQ, i7-7700HQ, i7-6820HK
Best laptop CPUs: i7-6920HQ, i7-7820HK, i7-7920HQ, E3-1535M
RAM
Random Access Memory (RAM) is an essential component to any computer that allows it to run simultaneous tasks quickly. It acts as a short-term memory, as opposed to the long-term memory that a hard drive or SSD provides.
The average amount in modern laptops right now is 8 GB. The more RAM a machine has, the more tasks it can run simultaneously, faster. When determining the best 17-inch laptops, I will be looking at for at least 8GB and optionally, 16 – 32 GB.
I prefer DDR4 over DDR3 just because it will be easier to upgrade in the future (and once DDR4 latency gets lower, it can be measurably faster than DDR3). Also, having more physical slots for memory is useful for upgrades in the future.
Storage
This is what determines how much data the laptop can hold, and how fast it can retrieve that data. The long-running standard form of storage is the Hard Disk Drive or HDD. These are made of physical discs that store and retrieve data with the aid of magnetic heads. Recently, Solid State Drives have increased in popularity as their price has significantly dropped. This is made up of flash memory, similar to a USB thumb drive, and it allows for much faster retrieval of data due to its lack of physical parts.
Without a doubt, you should prefer a fast drive over a slower one and a large drive over a smaller disk. At the same time, trying to get a fast and large SSD can add a hefty amount to your price tag.
Luckily enough, most 17″ laptops can have multiple drives. For example, one drive via M.2 connection and one through SATA III. Sometimes laptops can have 3 and in very rare cases, 4 drives.
Graphics
The ability of a laptop to render 3D graphics is determined by its graphical processing unit or GPU. In laptops, there's always an integrated GPU into a CPU. But if you want an ultimate 17″ laptop or just a gaming laptop with a large display – you will need a dedicated video card. I'll be using scores on popular benchmarks to adequately judge the performance of graphics modules.
TL;DR
For budget 17″ gaming computer, I'd look for Nvidia GeForce GTX 950M, 960M, 970M or 1050. And if you're looking for a 17″ laptop over $1500 – I'd go for Nvidia GeForce GTX 1060, 1070 or even 1080.
Mobility
Weight
Sadly, we can't do much about weight, when it comes to 17″ laptops. We can avoid heavier laptops, but for large high-performance notebooks, there can be some major issues if they try to be too compact. Primarily, they become too hot and too loud. That comes back to bite and throttle the hardware in order to prevent overheating. Also, in general, compact laptops are harder to upgrade than the bulkier models. Therefore, it's not as straightforward as just prioritizing a lighter laptop over a heavyweight model.
Battery
This is fairly self-explanatory. Basically, I'll be judging how long the best 17 inch laptops can run on a fully-charged battery. Some other factors I'll be looking for are how hot the batteries get when running, and how long of a lifespan they have. All other things being equal, we'd want a long battery life. But it's not always possible for gaming rigs that come with top of the line CPUs, GPUs, large bright displays and sometimes, multiple hard drives.
User experience
Screen
I will be judging whether a display has an IPS panel, what is the maximum resolution, what is average/maximum screen brightness (~300 nits preferred), how high is the contrast ratio (~1000:1 preferred) and if it has good gamut coverage (~90-95% sRGB).
Best 17″ Laptop Breakdown
1
i7-7500U
|
HD 620
|
16GB RAM
|
2000 GB HDD
|
1920×1080
This laptop manages to pack an impressive amount of features for less than $1000. It's got an excellent latest generation i7-7500U CPU and a decent HD 620 graphics processor. It also has 16 GB of RAM and 2 TB (2000 GB) of hard drive space. Though, it still leaves some things to be desired. Battery life is disappointing, clocking in on an average of 4 1/2 hours. While the keyboard feels good to the touch, inconvenient placement of heat vents can lead to warm fingers when typing on it.
Overall, this is a decent 17 inch laptop, but it's missing some truly excellent features like solid state storage or a 4K screen resolution. Also, it's not recommended for gaming due to a lack of a discrete gaming card.
View on Amazon
2
i7-6700HQ
|
960M 4GB
|
8GB RAM
|
1000 GB HDD
|
1920×1080
The i7-6700HQ is fully capable of handling any modern programs and games. It only has 8 GB of RAM and 1 TB (1000 GB) of hard drive space, but the tradeoff here is a much more powerful 960M graphics card. In addition to a 1080p IPS screen, this laptop has a great good battery life of 6-7 hours (if you don't engage the 960M video card)! While you may want to upgrade the RAM and storage space further down the line, the core components like the GPU, CPU and screen make this an excellent pick for watching movies, playing games, and even graphical design work, all for only a hair above $1000.
View on Amazon
3
i7-6700HQ
|
1060
|
16GB RAM
|
1000 GB HDD
|
1920×1080
This machine has the same i7-6700HQ CPU as the Acer but comes with a more recent (and a lot more powerful) Nvidia GeForce 1060 graphics card. It also has double the RAM of the Acer at 16 GB, but still only 1 TB of hard drive space. Something interesting about the screen on this laptop is that it uses Nvidia's G-Sync tech, synchronising the monitor's refresh rate with its graphics card. The boost in RAM and graphical processing power, coupled with the faster screen and quad-core processor, makes this an ideal gaming machine. Battery life is a concern: 5 hours without gaming, and significantly less while gaming. Still, Asus is one of the best consumer laptop manufacturers in the business, making this a solid buy.
View on Amazon
4
i7-6700HQ
|
1060 6GB
|
16GB RAM
|
250 GB SSD + 1000 GB HDD
|
1920×1080
|
3h
This laptop has nearly identical specs to the Asus ROG, with an i7-7600, 1060 GPU, and 16 GB of RAM. There are a few features that set this apart from that machine: namely, a backlit keyboard and a 250 GB SSD that runs alongside the 1 TB HDD. The addition of a solid state drive significantly cuts down on load times. In fact, this laptop is so well-suited for gaming that it can even be used for VR! The unfortunate downside is that battery life for this powerhouse is a pitiful 3 hours, but keep it close to an outlet and you should be good to go.
View on Amazon
5
i7-6700HQ
|
980M 4GB
|
32GB RAM
|
500 GB SSD (PCIe)
|
3840×2160
|
5h 30min
In comparison to some of the other laptops on this list, the 980M GPU in this machine is less powerful. However, this laptop makes up for that with an incredible 32 GB of RAM and a 500 GB SSD. The included 1 TB HDD is also faster than average at 7200 RPM. The screen is extremely impressive as well, with touch functionality and an Ultra-HD 4K resolution. However, what makes this laptop most impressive to me is that it manages to have all these features while still maintaining an average battery life of 5 1/2 hours. Not too impressive, but not that too shabby either. Whether it's design work, media, web browsing or modern gaming, this is the best laptop with a 17-inch screen you can buy, hands down.
View on Amazon
Table of Best 17 inch Laptops
Conclusion
Hopefully, this guide has helped you decide what 17″ laptop you want to buy. Some of the differences can seem negligible, but depending on what you plan on doing with the machine, they can make a real difference. Gamers will want to pick laptops with powerful graphics cards and processors, frequent travellers will want something with a good battery life, and designers will want ample memory and a higher screen resolution. In any case, these 5 laptops are more than capable of accomplishing simple tasks like web browsing and watching videos, as well as running modern games at decent framerates. Good luck, and happy shopping!