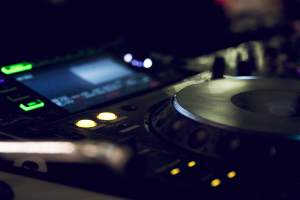 I have been working with computers and audio for almost ten years now. For the past 3, I have been studying computer science full time. During this time, I have come to understand the requirements for an enjoyable and productive computing experience. Unfortunately, the computers I have used have been at times, geared towards the wrong capabilities which make it hard to run larger DJing platforms that demand a lot of memory. Fortunately, I have learned from my experience and thus, you won't make the same mistakes that I did.
There are many requirements for a solid audio workstation. However, there are some specifications that are more necessary than others in an attempt to optimize your audio experience. In order to better understand each specification, I will go over them and explain the significance from an audio standpoint.
Knowing Your Audio Tools
The first aspect of acquiring the best laptop for DJing will be choosing your software. There are many programs that provide a great DJing experience, here are some of the best known:
Every piece of software maintains different hardware requirements. At the same you shouldn't look into them seriously. For example, Serato needs 4 GB of RAM which can be found in $300 laptops and trust me, I wouldn't want to perform with only 4 GB in my PC. Also, some requirements can range widely on your own budget and preferences. The best method of choosing the correct laptop is to have a lot of hard drive space (for your music and software), have at least double the RAM requirements of your chosen software, and ensure you have a processor that can keep up with the program.
What Is Crucial And Why?
Processor
No matter what you're trying to accomplish with a computer, if the processor cannot handle the programs or tasks you utilize, you will need to acquire a new machine. The best DJ laptop will come with a state-of-the-art processor because new DJing software is becoming more and more taxing on computers as they acquire new capabilities. Think about it this way, your computer must handle the processing on the computer, the songs you are using, the transitions, any third party hardware, and any other applications you may have on your computer at the same time. Without a modern processor, it will be tough to run all of this, let alone modern operating systems.
As a reference, you will want at least an Intel Core i5 processor for any audio production. And I wouldn't even recommend all of the Core i5 chips. You should look for i5 HQ CPU (i5-7300HQ) or any Core i7 processor. An i7 processor will come in two forms, H-series or U-series. The U-series processors are better suited for working on the road – they have a much better battery life to performance ratio. Alternatively, the i7 H-series CPUs are more powerful thus if you want maximum performance you should opt for the i7-6700HQ, i7-7700HQ or even i7-7820HK. Lastly, if you have an unlimited budget, you might look at Intel Xeon CPUs, however, they are quite rare and they are generally not found under $2000.
TL;DR
Recommended processors: Intel Core i5-6300HQ, i5-7300HQ, i5-7200U, i7-7500U, i7-7700HQ (+some in-between models)
Random Access Memory
As you open more programs on your computer, the RAM acts as the "holder" of each program. If you move from your web browser to the DJing software, your web browser contents will still be available due to the RAM. In an audio application, it is likely that you will have multiple instances of audio signal processing, multiple audio files, and the DJing software itself.
Based on this, you will need several gigabytes of RAM in order to keep everything running smoothly, around 16 GB. You can opt for higher amounts of memory, however, do not go any lower if you can afford it. If you want to ensure this computer will last you many years, opt for 32GB to 64GB in RAM. It will cost you an extra $1000-$3000, however, at this point you are paying several thousands of dollars for a machine, why not ensure its longevity?
TL;DR
Under any circumstance, do not go below 8 GB RAM. 16 GB is recommended and it is the standard starting at ~$900 line. 32 GB can be found once in a while starting at $1,350, though it is not necessary.
Storage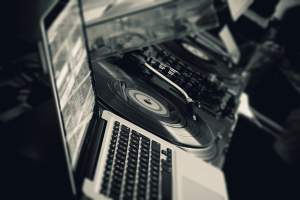 Every audio professional understands the importance of storage space. It seems that even the largest storage devices become filled up within a few months of use, making storage another central decision when considering the best laptop for DJing. As a DJ, it is likely that you will not only learn about the intricacies of DJing, you may want to experiment with creating your own music. If that sounds intriguing, you will want to buy a laptop with an extensive amount of space for your DJing applications, your music, samples and any VST plugins.
Storage comes in 2 types: SSD or HDD. SSDs are much faster than HDDs, in fact, adding an SSD to an older laptop will increase its speed drastically. An SSD is much faster (but also more expensive) than an HDD hard drive. This will not only improve the speed of your day-to-day tasks, it will improve the speed of your audio needs. Many audio programs like Serato and Pro Tools take longer than most applications to initialize. When you use an SSD, the initialization time will be much faster. Alternatively, an HDD is a great alternative if you need large amounts of space.
In general, 500GB is sufficient for most users. However, in audio it is generally good practice to have 500GB SSD on your computer and an external HDD of anywhere from 2TB to 4TB for different mappings, songs, recordings, mixes, etc.
TL;DR
At least 256 GB SSD and a laptop with multiple USB ports for external storage. Ideally, you'd want 0.5-2 TB SSD + 2 TB HDD right in the laptop, though it's very hard to find.
Things To Consider For DJing
The basics of what makes the best DJ laptop have been stated, however, there are more specifications that will make this laptop last and prove valuable for applications other than DJing.
Battery Life
For every great venue out there, there are venues that do not care about the talent as well. If you plan to use this machine for extensive DJing (touring, collaborating, etc.) it will be crucial to have a larger battery. Building on this, many audio applications are demanding. This means that most applications will make your expected battery life cut in half.
Other Requirements
Every other component like the GPU, monitor, etc, can be based on your desired. Things like the sound card can be considered however, many DJs will utilize a third-party audio interface and USB dongle in order to accommodate any third-party hardware.
The Best Laptops For DJing
1
Best DJing laptop under $1000
i7-7500U
|
HD 620
|
16GB RAM
|
1000 GB SSD (PCIe)
|
3200×1080
|
6h
The HP Ennvy Touch 13t x360 is one of the best laptops at this price range. It has many great features for DJing. First of all it comes with 16 GB of RAM which is more than enough for maintaining smooth DJing environment, next up spacious SSD. Having 1 TB for under 1000$ is a good rip-off from manufacturers so missing this deal would be a misssed opportunity to save up your pocket. Furthermore Envy is ultra-thin, it's only 1 inch and the weight is 3.2 pounds.
If you plan to use this laptop for DJing events, USB 3.1 Type C and two additional USB 3.0 will come in handy when DJs plan switch their music sets.
View on Amazon
2
i7-7500U
|
HD 620
|
32GB RAM
|
500 GB SSD (PCIe) 1000 GB HDD
|
3840×2160 IPS
|
6h
The HP Envy 15t can be considered a portable workhorse. Holding 32GB of RAM, this computer will handle all of your tasks and then some. The HP contains the same Intel i7 7500U as the Envy but weighs only 1 pound more. A great aspect of this laptop is the touchscreen accessibility. This can be incredibly useful as a beginning DJ. If you do not want to buy all the third-party hardware, you can utilize a touchscreen DJing application to see if DJing is for you. According to Laptop Magazine, the 15t contains great audio and Beats technology which results in a great audio experience. This proves this laptop can be a great standalone audio workstation. And the last great feature about the laptop is its battery lifetime. For 6 hours you can use it without the outlet so carrying cables with yourself every time won't be a problem.
View on Amazon
3
Great alternative to a MacBook
i7-7700HQ
|
1050
|
16GB RAM
|
500 GB SSD (PCIe)
|
3840×2160 IPS
|
7
Dell has always created great quality computers. Their flagship XPS model has always been considered top-of-the-line for many business applications. Relying on this computer for DJing is a great option. With an Intel i7 7700HQ processor, 16GB of RAM, 500GB SSD, a graphics card, and a healthy seven-hour battery life, this computer will handle almost everything you require. The SSD and RAM will create a fast and smooth environment while the graphics card will ensure any graphically intensive applications (like Serato) don't drain the battery life. And here's a short list of other useful features of the laptop
4K IPS Display
100% Adobe RGB
Full-sized backlit keyboard
Touchscreen
View on Amazon
4
Laptop for Gaming and DJing
i7-7700HQ
|
1060
|
16GB RAM
|
500 GB SSD (PCIe)
|
1920×1080 IPS
|
5h
If you want a great all-around computing experience, the Alienware 13 R3 is perfect for you. This computer boasts an assortment of great specifications. It stands out with a dedicated GTX 1060. This separates this machine from most of the other options on this list. Also, SSD is installed into one of the slots of M.2 which means you can add additional SSD if you lack storage space. Other great features about R3 are its 13.3″ inch design and full-sized backlit keyboard. Working in a dark club environment will be much more comfortable. The largest drawback for the Alienware is that starting off with it, you won't be able to store a lot of music or plugins as it comes only with 500 GB SSD, so for the future, you may need to use external HDD or install an additional one.
View on Amazon
5
An expensive industry standard
i7-7700HQ
|
Radeon Pro 555
|
16GB RAM
|
256 GB SSD
|
2880×1800
|
8.5h
According to the Audiomentor, Mac products are a great way to start in audio. Not only are Macs utilized in most professional recording environments, many industry standard applications are designed for the Mac environment before Windows. Furthermore, the MacBook Pro boasts an eight and a half battery life which will easily last you an entire day and the span of multiple gigs.
View on Amazon
Table of Best Laptops for DJing
Final Thoughts
Unfortunately, there is no clear winner as to what laptop a DJ should purchase. However, these are great options and as computers become more powerful, the options will expand as well. Each of the products I reviewed will be excellent for a wide assortment of computing applications and overall portability.
Please feel free to leave a comment with any questions or audio concerns and I'll get back to you with a machine that'll fit your laptop needs. I'm sorry if I don't reply ASAP — on some days I'm getting more comments than I can keep up with! Also, don't forget to check the laptop guide on FL Studio.