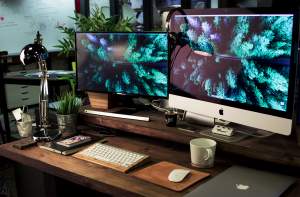 There are few computer operations that require more powerful components than 4K video editing, but fortunately, you can now find laptops that can accomplish this task. As an amateur videographer, I find it amazing that I can take some of my video editing work with me when I'm out on a shoot, but finding one of these machines isn't easy, which is why I wanted to make this guide so that you can find out which are the best laptops for 4k video editing.
What Your Laptop Will Need
RAM
Memory or RAM is incredibly important for 4k video editing. In my honest opinion the best 4K editing laptop will have at least 16 GB of RAM; any less and your limiting your video's potential. It's relatively simple; if you tend to have multiple application open – for example Adobe Premiere, After Effects, DaVinci Resolve and maybe some 3D modeling software… you'll need 16 GB.
Also, video editing programs like After Effects need a healthy amount of RAM. Fortunately, many laptops on the market have upgradeable RAM, and RAM, in general, has gone down in price, so if you find that you need more memory for your new laptop seek a machine that can be upgraded.
Space and Managing Your Storage
This is an even more important feature for your 4k video editing laptop to have. Put simply, 4K video has a tendency to be massive. This means that you'll quickly fill up a hard drive if you're not careful. As an amateur videographer, I have high capacity MicroSD cards, a 2 TB external hard drive, and several high capacity key drives so that I always have a place to quickly store my unedited video. This means that it can be very useful for you to have several spaces for peripherals on your new laptop; in fact, you should have more than one USB 3.0 slot so that you can use the faster transfer rates that this format affords.
When it comes to onboard space, I suggest always shooting as high as you can, but you can start at a terabyte or so. While this can get costly, if your hard drive is a solid-state unit, you'll find that SSDs are very valuable when you're editing 4K content because of how fast they run versus rotational units. File transfers will be quicker and accessing key 4K material for editorial purposes will be easier as well.
A Dedicated Graphics Chip
You're just not going to be able to do any meaningful 4K editing on a laptop that has Intel integrated graphics. You're actually going to need a very powerful graphics card for your rendering and editing programs to be able to process all of that 4K content. The graphics card's chief job is to convert the footage information into a visual representation that's comprised of pixels. With this in mind, your graphics card should be quick and powerful; I recommend the highest level of graphics cards on the market – the Nvidia GTX 1060 or better.
In fact, the Nvidia Quadro series of graphical processors are actually designed more for this type of graphics processor-heavy work than gaming. AMD also has strong graphical chipsets for laptops as well, so a best 4K editing laptop can also use a Radeon device like the recently released AMD Radeon Pro 400 series of cards. Though, I do not recommend getting anything slower than Quadro M2000M – then the benefits of a Quadro/FirePro card are easily outweighted by the sheer performance you'd get from a Nvidia GeForce Pascal-generation card.
TL;DR
A good pick for most is NVidia GeForce GTX 1060. For quick video previews and hardware-accelerated color grading (DaVinci Resolve) – getting GTX 1070 or even 1080 might be an useful addition to your setup. Also, look a professional Quadro/FirePro GPUs
A Powerful Processor
Your processing chipset is even more important than your graphical processing chipset. Creating 4K video is going to tax your processor the most out of all of the components in your laptop. In fact, if you want a quick editing process, your CPU is going to be the key determining factor.
Some of the top 4K video editing software packages like Sony Vegas, Final Cut Pro, and Adobe Premiere and Aftereffects work best with a more powerful processor that has multiple cores for the best computational efficiency. When a processor has multiple cores, it can run several complex computations simultaneously. Generally speaking, shoot for a quad core laptop or better for this type of job so that you can have the performance you need for 4K video editing.
If you want to see how cores affect video editing at 4K resolutions, Puget Systems did a multi-core CPU test using Adobe Premiere that provides a lot of insight.
TL;DR
In 2017, I recommend i7-7700HQ for most (or i7-6700HQ, it's not not much slower). If you're going to spend $2,000 – i7-7820HK is also an option.
A 4K Display
If you're very tight on budget – you can get by without a 4K IPS display.
But for most, when video editing in 4K, you'll need a laptop that has a 4K display so that you can see the content in its most optimal format. If your laptop has an HDMI out that allows you to hook up to a larger 4K display for playback this is useful, but when you need to edit on a laptop, you may not always have a nearby HDTV for the job.
In any case, a 4K display is absolutely imperative when you're mastering your content. Fortunately, 4K is quickly becoming more popular and many high-end laptops are shipping with this resolution in their displays.
The Best Software
I am constantly using a wide variety of video editing software packages to better master my 4K content. I've used Vegas Pro (back in the day when it was "Sony Vegas") and Adobe suite (the regular Premiere, After Effects, Photoshop setup). But there's plenty of software packages that you might use to edit 4k footage:
There are a plethora of software options out there for the best 4K editing laptop, so it may take some time to figure what works best for you. Beebom has a more exhaustive list of software, so head over and check it out.
Top 4k Video Editing Laptops
1
Mid-range laptop for 4K editing
i7-6700HQ
|
1060 6GB
|
16GB RAM
|
500 GB SSD (PCIe) + 1000 GB HDD
|
1920×1080
The truth of the matter is that if you want powerful 4K video editing capabilities, you're not going to be able to buy a truly budget laptop. With that said, this MSI laptop has all of the functionality that it needs to be able to encrypt and edit 4K video for the relatively low price of $1600. This model; unfortunately, doesn't come with a 4K screen, but it does have an HDMI and a Mini DisplayPort that can support 4K external displays at a 60Hz refresh rate.
While its display isn't top-notch, this laptop shines in almost every other aspect. It has a Nvidia GTX 1060, which provides plenty of video rendering capability, an i7-6700HQ that has four computational cores, and 16 GB of memory.
It's a little light on space, but for such an inexpensive model, you'll be able to accomplish some excellent 4K video editing. Just be sure to keep it plugged in during the process; this laptop only has a battery that lasts about four hours under a moderate load.
View on Amazon
2
A large 17-inch laptop for 4K
i7-6700HQ
|
1070 8GB
|
32GB RAM
|
500 GB SSD (PCIe) + 2000 GB HDD
|
3840×2160
|
4h
The HP Omen 17 is a great option for those looking for a large screen laptop that can accomplish some great 4k video editing and playback. The "17" in this model's name represents its screen size, which is a great screen size to use during the mastering process – you can watch the recorded footage as you edit and encrypt in full 4K resolution. It also has some great video-out capability; it incorporates both an HDMI and mini DisplayPort into its design.
Similarly to our MSI laptop, the Omen 17 runs an i7-6700HQ, which has more than enough processing power to make editing jobs, even at 4k resolution, fairly quick. With this laptop, we take a nice step up; the graphical chipset has a full 8 GB of video RAM and is capable of supporting virtual reality play if you're so inclined.
Its materials were clearly sacrificed for performance with this laptop; the body is made of a plastic material that doesn't feel very premium, but its innards are what really counts, and as I've covered, this laptop has some great components. I especially am impressed with the 32 GB of RAM that will help the already powerful processor with access speed and overall 4K video production and editing processes.
Finally, I was blown away by the storage on this; you get a full 2 TB on the SATA and another half a terabyte on the solid-state. That's impressive!
View on Amazon
3
Gaming laptop for 4K video editing
i7-7700HQ
|
1060
|
16GB RAM
|
1000 GB SSD (PCIe) + 2000 GB HDD
|
3840×2160
|
3h 15min
So what can you get for a few dollars more? Our second MSI laptop, the GS63VR STEALTH PRO, is a slightly higher cost machine that has some great features that will seem familiar. This is because it's the 4K version of our first device.
The chief differences between the two machines are this machine has an excellent and vivid 4K screen and you get more space on this laptop. Whereas the first one incorporates a 500 GB SSD and a 1000 GB SATA unit, the GS63VR STEALTH PRO adds on a 1,500 gigabytes. The laptop's screen could be a tad brighter, but overall this is an excellent machine for those looking for a lot of space and a relatively light form factor (it only weighs about four pounds).
Its most noteworthy drawback is a tendency to run a bit hot, especially when you're taxing the system, so you can expect this to happen when you are editing 4K video.
View on Amazon
4
Workstation with Quadro GPU
i7-6820HQ
|
Quadro M2000M 4GB
|
64GB RAM
|
2000 GB SSD
|
3840×2160
|
3h 50min
As Nintendo used to say, now we're playing with power. The Lenovo Thinkpad P50 series is known as a very professional style of laptop that is big in both IT and enterprise environments. This version of the Thinkpad is a powerhouse – it has a great video rendering processor in its Quadro M2000M 4GB GPU, a powerful quad-core processor in its i7-6820HQ, and an astonishing 64 GB of memory.
Like the other models of laptops, save our first, this Thinkpad has a 4K display, which is useful during the editing process. Another very impressive feature of this laptop is its storage; while 2 TB doesn't seem terribly impressive on paper, this hard drive is actually a solid-state unit, which performs very well for rendering and 4K video editing.
For some reason the 4K screen isn't terribly bright; it only has a brightness output of about 240 nits, but this is a somewhat minor foible when looking at the big picture.
View on Amazon
5
Top of the foodchain
i7-7820HK
|
1080 8GB
|
64GB RAM
|
2000 GB SSD (PCIe) + 1000 GB HDD
|
3840×2160
Well, if you're looking at this laptop, then you're clearly very serious about 4k video production and editing. This goliath laptop performs like a desktop that's slightly more portable. One of the first things that jumped out at me about this laptop is its storage; it actually has a larger solid-state drive than its SATA drive. The combined size of the drives is actually 3 TB – two for the solid-state and a single terabyte for the HDD.
The king of the Nvidia 1000 series is the 1080 and this laptop has a 1080 card under its hood with 8 GB of VRAM. Combine these features with the Intel i7-7820HK processor, which is one of the best in class (and can even be overclocked), and you'll quickly see why this machine costs $4500.
Its only drawback outside of its relatively prohibitive price is that it's a bit on the heavier side at almost nine pounds.
View on Amazon
Table of Best Laptops for 4K video editing
Wrapping it Up
There you have it, the best laptops for 4k video editing. These laptops will all get the job done when you need to edit 4K content. They all have powerful graphics, powerful multi-core processors, and pack on the RAM so that you can craft the content that you want with ease. If you have any questions about these laptops or any other laptop that you can edit on, ask in the comments. I'll be sure to respond and help you out.