Laptop is the big gun for most bloggers. It offers mobility and a relaxing way to write especially the long-form posts. On one hand it seems like there isn't much of a difference what laptop you'll choose. Blogging isn't a performance-hungry task; it doesn't rely on a specific platform. You can get a a PC, a Macbook™ or even a Chromebook™. But the lack of a clear guideline makes it that much harder separating the wheat from the chaff. There is no one best laptop for blogging, but I have selected 5 great picks for a blogging laptop according to your budget, your lifestyle and the type of blog you are running.
What is essential for a good blogging laptop?
As light as you need it to be
The lightest of laptops start off from 2.2 lbs (1 kg) but still feel feather-light up to 3 pounds (1.4 kg). For comparison – 11 inch MacBook Air weighs 2.4 pounds and 13-inch one hits just below 3 lbs. These are extremely light laptops so don't worry about weight up to ~5 lbs if it is not your priority. You should take this into consideration depending on what type of blogger you are. Are you a travel blogger? Do you blog a lot on a go? Then lean towards ~3 lbs. Do you write almost exclusively from home or don't care about a few of extra grams in your bag? Don't restrict yourself too much.
Clear and vivid screen
Unless you're planning to write exclusively indoors make yourself a service – get a laptop with a decent screen. Look for screens that have IPS (In-plane switching) and intense back-lighting. Glossy or matte finish? Whatever you prefer.
Superb battery life
This might not be important if you are a home-blogger or you write only in office. Despite that, a nice energy bank is a great bonus even if you don't move your laptop too much. Moreover, the latest achievements in hardware technologies should allow you to write for hours even on a budget laptop.
Do you need a notebook with a lot of juice in it? Consider getting a chromebook! They're best suited for online work with their almost trademark characteristics – long battery life and low price tag. What more could you ask for?
What makes a laptop the best laptop for blogging?
Quality keyboard
A decade ago a good laptop keyword was an exception. Only a few companies managed to make comfortable keyboards. A few examples would be Lenovo, HP and Apple. I'm happy to announce these times are (mostly) over. Most of laptop keyboards right now are pretty good and neat looking. Even non-business class brands as Dell and Acer started to offer well tuned keyboards in their models.
I know that it is hard to distinguish a bad keyboard from a good one online. So just to be safe, I only included laptops with positive keyboard reviews.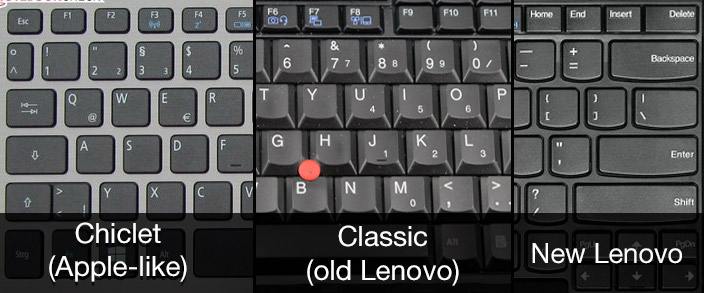 You can also find a lot of compact shallow keyboards in smaller laptops. These keyboards are usually the least favorite of all types. They tend to have no feedback while typing and result in more typos and accidental presses.
SSD
Finally SSD storage is becoming a standard. Once you go SSD, you never go back. And why would you? It makes the whole experience of using a laptop a lot more delightful. For those still living under a "hard drive rock" – SSD is a type of storage that is a lot faster, consumes less energy, makes no noise and is more resistant to damage. It is not ubiquitous since it costs significantly more compare to the more usual hard disk drive setup. Though due to progress in materials and technology getting a SSD won't break your bank anymore. That's why all laptops included in this post have a SSD.
External mouse and/or keyboard
External mouse for a laptop is almost a must (unless you're getting a Macbook – they pretty much nailed it with a trackpad). External keyboards are a less common laptop peripheral but it is still a very much so recommend add-on for writers. External keyboards especially work well with most tablet-type laptops. Then you can get the best of both worlds – a small portable tablet with a comfortable keyboard whenever you need it. What is more, if you get an external mechanical keyboard, you'll be able to enjoy (and annoy you s.o.) with the clicky and mesmerizing sound of mechanical switches.
What else should I consider?
What type of blogger are you?
If you are a travel blogger – prefer lighter laptops with good battery life. Are you a vlogger (video blogger)? Then consider how heavily you process your videos. If you mostly shoot and upload – don't worry about extra horsepower for your laptop. However, if you use a green screen, a lot of jump-cuts and simple effects in your vlog, best laptop for blogging for you would have at least 8 GB of RAM and Intel i5 processor. Anything below that will put your patience and nerves on a stress test every time you'll try editing HD footage.
I think it goes without a question that if you use motion graphics, color grading and special effects, you'll need a high-end machine. It will need over 8 GB of RAM, dedicated video card (AMD/Nvidia) and an i7 processor or equivalent.
Do you have current preferences?
Do you prefer large keyboards or small? Do you like small and neat devices or large desktop-replacement class laptops? Unless you have no strong feelings one way or the other, take that into consideration. What were your previous experiences with laptops? Are you an avid PC or Mac user? Take these things heavily into consideration. At the end, you're searching not for best laptop for (video) blogging but for the best laptop for you.
Table of Best Laptops for Blogging
At the end you might find a laptop outside these suggestions that perfectly fits your needs. Nevertheless these recommendations are good picks if you do not have special needs or preferences.
I hope this post answered you the question "What is the best blogging laptop (in 2015)?". I will regularly update these posts with new laptops since there are many new releases, especially in budget price range. You can explore more laptops here. Also, check out laptops for video blogging!