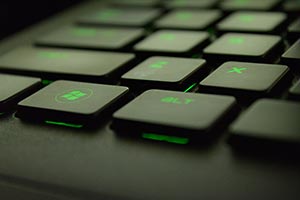 Balancing gaming and work is not an easy feat. The same can be said if you're trying to get a laptop that suits both. Though, if you're OK with a heavy laptop – balancing gets a lot easier.
I won't beat around the bush. This post is split into 2 parts – a guide to a great gaming/work laptop step by step and a list of recommended laptops.
Let's begin with the requirements for the perfect laptop for gaming and work. I think I won't surprise you by saying that finding the best laptop for gaming requires identifying what you need for working hard and playing hard.
How to find the Best laptops for Gaming and Work?
Performance needed for gaming and work
If you get a laptop that can handle the latest games, it will definitely be enough to handle any type of work application.
Choosing processor for work
If you want a laptop under $800 or you want a long battery life – going for i5 or i7 U model would be the best. Right now, that means i5-5250U, i5-6200U, i7-5500U, i7-6500U, i7-6560U, and i7-6650U.
But if you dream to have a desktop-level computer, the only option you have is HQ/HK. That means i7-5700HQ, i7-6700HQ, and i7-6820HK. There are a few processors like i7-6920HQ that can deliver true desktop-level performance, but these can be found only at $4000+ level.
Now, if you're editing video, mixing audio or rendering 3D models – you'll need i7 HQ/HK processor.
GPU
GPU is by far the most demanding specification if you want to run the latest games.
You don't need to get the best discrete graphics card to run most of the games out there. Even for latest releases, Nvidia GTX 960M should do a good job. But if you want a laptop that can handle 4K gaming and VR – you should look out for 10th gen (Pascal) Nvidia cards.
The great news about video cards is that there's very little difference between 10th gen Nvidia desktop cards and notebook cards. That means you can expect similar performance from 1060 in a laptop and in a desktop PC. It's worth mentioning that the recommendation area is not littered with these laptops (though it may be updated to include them in the future). That's because they're still quite high up when it comes to price and most of them are exclusively gaming-oriented laptops. For many, right now might be the best time to get a good deal on a laptop with a 9th gen graphics card.
To wrap up this spec, we need to consider the amount of memory that comes with any given video card. Nowadays, most cards come with at least 2 GB video RAM. But if you want to play with very high resolutions (above Full HD) or you want a VR-ready laptop – you'll need at least 4 GB (6 GB preferably).
How much RAM is needed for gaming and work?
Just like 2 GB should be your basic amount of VRAM, 8 GB RAM should be your starting amount of operational memory – RAM.
Who needs more than that? Anyone who is a heavy multitasker. I define a heavy multitasker by the number of applications, games, and tabs open in their browser. If you have ~10 applications open, maybe 1-2 heavyweight games and ~20+ tabs – wow – how can you even live without 16 GB?
If you find a great laptop that doesn't have 16 GB, check if it's upgradable (or at least its RAM is replaceable). Since we'll be looking at many 15.6″ and 17.3″ laptops, these often have plenty of room for upgrades.
Should you go for SSD or HDD in a laptop?
For the most part, I recommend getting an SSD. They're just that much faster than regular HDDs.
The very best laptop for gaming and work should have a large SSD storage. By "large", I mean 500 GB to 1000 GB of SSD storage.
But when we're trying to fit a high-end CPU, GPU, plenty of RAM and a lot of storage, we might not be able to fit it in a reasonable budget. So, unless we're looking at $2000+ laptops, we might need to consider a hybrid solution. It involves either a pair of an SSD and an HDD or a single SSHD. When we can't afford a laptop with great specs and a large SSD, I recommend resorting to a 250 GB SSD and 1 TB (1000 GB) HDD. Or we could go for a single 500 GB – 1000 GB SSHD (HDD with an SSD-type buffer).
Battery Life
Finding a remarkable battery for gaming and work is extremely difficult. It's as if we're competing in tug of war and we are pulling it on both sides.
Performance and a large display usually kill the battery life. That is not a real problem for gaming as it drains batteries so quickly that you can forget about gaming on the go. At the same time, a long battery life can be a great addition
But a good battery life (realistic 5 hours or more) is achievable in 2 circumstances:
limited performance processor (i5 or i7 U)
deep pockets ($2000+)
In all other cases – that is – performant laptops on a budget – suffer from short battery runtimes. These laptops usually can last no more than 4 hours of light work (email, browsing, spreadsheets, writing).
Optional requirements for the best laptop for gaming and work
Screen Brightness
A bright display is a great way to ensure you won't need to squint whenever the sun turns on you. But wanting a bright display and making sure you get one are entirely different. First of all, brightness metrics are found in 3rd party reviews and rarely anywhere else. Second, not all laptops are properly measured in that regard. Brightness can be found by simply googling the exact model name and "screen brightness" next to it. If the laptop has a 4K display (or any other HiDPI display for that matter) – add "4K" or "QHD", "UHD" or simply its exact resolution in numbers ("1920×1080", "2560×1440" and so on).
A good maximum display brightness is 320 nits (usually that means 300 nits average brightness). Anything below 240 nits of maximum (220 nits of average brightness) is pretty bad for a laptop.
On top of that, having IPS panel is recommended. It allows you to see non-distorted colors no matter what angle you are looking at the screen. It's a classic tell-tale sign of a premium quality display.
Backlit Keyboard
This one is for you, night owls. Even if you can touch type, a backlit keyboard is a great addition to a laptop. And if you can't – then it's almost a must for pulling all-nighters.
Best 6 Gaming and Work Laptops
Overview of Top Laptops for Gaming And Work