Searching for the best laptop for streaming can be very problematic as it requires comparing benchmarks and reading a lot of reviews. When you consider that even the best laptops will get some negative responses, it's borderline impossible to find a universally acclaimed model.
---
A quick sidenote on what type of streaming I refer to
This post is not about watching Netflix, Youtube, Hulu, HBO or anything else of that matter.
Don't get me wrong – every laptop I'll recommend is easily more than enough for this type of streaming. But this post is for you if you want to stream video to other people – likely on Twitch via apps like OBS. This includes gameplay, gaming talk shows and streaming creative work.
But since you're already here and you simply want to stream movies/clips – the following laptops will be way too good (and way too expensive) for just that. For basic streaming over Netflix, HBO Now, Youtube there are 3 basic models.
2016 July Update: I've released a new guide on getting the best laptops for watching movies. If you what a full article on that and not on livestreaming – go there.
Video streaming laptops
Windows
It comes with a Full HD screen but a not very powerful processor and integrated graphics chip. Though, don't worry – it's enough for online streaming. One caveat – this laptop has a poor viewing angle. So, if you want a better laptop that will be able to handle more than just streaming and will look good to look at – you should be interested in the latest HP Pavilion model for ~700$.
Chromebook
ASUS Chromebook Flip 10.1″ Convertible
Chromebooks are a very cheap way to set up streaming. You might need to spend a few minutes to make HBO Now works on a Chromebook but apart from that streaming services love Chromebooks. And for Chromecast users – I guess it's not a surprise that Chromebooks are compatible with them (it would be awkward if they weren't).
There're plenty of Chromebooks to choose from, but ASUS Chromebook Flip is a great choice for streamers. It has 720p resolution screen with an IPS panel (which is rather shocking for this price range) and it can be transformed into a tablet or "a tent".
MacBook
If you'd love to have a MacBook for streaming movies and video – MacBook Air should suit you the best. I prefer MacBook Air in these cases as its lighter, has a larger screen than 12″ MacBooks and even costs less.
---
How to choose the best gameplay streaming laptop
Streaming has been all the rage lately as casual gaming and play-by-play commentary has reached the mainstream while competitive gaming is gaining more prominence every year.
In this post, I'll elicit requirements for the best livestreaming laptop and then I'll finish off with some great recommended laptops. And for the techies out there, I even added a comparison spreadsheet if you want to go into more detail.
Requirements for the best laptop for streaming on Twitch
Overall requirements depends on 2 criteria:
what are you're going to stream
how are you going to stream it
What you stream is often more important than how you stream it. So first and foremost, your laptop will have to surpass requirements for any game you'll be streaming. To begin with, you need to identify your budget range:
Latest games on high settings – 2000$+ laptops
3+ year old games on medium settings – ~1500$ laptops
Casual games – ~1000$ laptops
Creative streaming – anything that suits your workflow
You can also use your laptop ONLY for streaming. Which means you won't have any games running on it – it will handle only the streaming part. This type of approach means that you probably already have a good PC already which will handle all the playing.
This is a considered a more professional setup because it is:
– more stable as your main PC could crash leaving your streaming PC intact
– predictable and easy to manage as you'll be able to provide high streaming quality no matter what you're streaming
For this setup, you won't need a powerful laptop. Even the budget options I'll give will be enough.
Processor
The processor is by far the most important piece of hardware you should be looking at.
Overall, you'll simply need a well-rounded CPU. On one hand, the most important thing for video encoding is the number of cores. On another, optional audio compression chain depends solely on single core performance.
Video encoding
1080p @ 30/60FPS (laptop with desktop i7 OR any dedicated streaming laptop setup)
720p @ 60FPS (laptop with high-end i7 CPU)
720p @ 30FPS (laptop with high-end i5 CPU)
480p
For most of us, 720p at 30FPS should be enough. Right now I have a rather old Intel i7-3630QM. It is enough for 720p at 30 FPS for games like Starcraft 2 (CS:GO, LoL, DotA demand similar amount of performance) and obviously there is no problem with casual games like Rocket League.
Audio compression
I'm an audio fanatic and I cannot ignore a good audio setup. A well built audio mixing chain is another solid reason why processor should be your #1 priority. If you're certain you'll add software compressors to your audio setup, be sure to prioritize clock speeds. Since you'll be working with 1-2 audio sources, you'll rely on 1-2 cores. Sadly, unlike video encoding, audio chains can't be split in parallel (you could read more about that on my post on FL Studio).
Software compressors can seriously cut into CPU power. Therefore, you should use them only if you have the performance to spare or you can lower streaming resolution to get well-balanced audio.
Handling the heat
Here's the deal – laptops are usually terrible at dispensing heat and keeping the CPU cold. That's why, unfortunately, having a great CPU on paper is often not enough.
Any laptop under 15″ and close to all slim/light ultrabooks will cause a lot of problems just in the heating department so forget about them if you want to stream regularly.
15 – 17-inch laptops usually can keep the CPU running within a reasonable temperature range. But as time passes and dust accumulates around fans inside a laptop, CPU will start heating up to dangerous temperatures and that's when it will start slowing down to protect itself from permanent damage. That's known as CPU throttling when core temperature approaches TJMax temperature (for Intel processors).
In short – you'll need to clean your laptop regularly (once a year) or bring it to someone who will. If you like to spend time on pushing for best possible performance – consider reapplying thermal paste once every year or two.
Good upload speeds can save your CPU
If you have at least 4 Mbps upload, you could reduce your CPU usage by a lot.
Let me explain.
There are a few technologies, which offload video encoding from a processor to other hardware. The most well-known examples are Intel Quick Sync, Nvidia NVENC (also implemented in Nvidia's ShadowPlay) and AMD VCE.
Nvidia NVENC/AMD VCE take advantage of graphics card for video encoding. This only works if you have a good dedicated graphics card to begin with, so after all, it might not be the best way to trim down your spending.
Meanwhile, Intel Quick Sync uses an otherwise idle integrated graphics chip (which is inside of CPU chip). This chip is well equipped to handle these sorts of tasks.
That sounds great! So why do I need extra upload speed?
Well, there's a catch with these types of technologies. In general, they're not designed to be flexible as a CPU can be – in fact, the whole strength of Quick Sync/NVENC/VCE is that these are highly specialized systems. Their ability to record and encode video quickly comes at a significant price of video quality per bit.
That essentially means that at the same bitrate (amount of data streamed), video quality will be worse than if you'd encode video with the processor. The one way out of this situation is increasing your bitrate up to ~3000 Kbps (which requires, at least, 3.5Mbps upload speed since you need some overhead). This solution has its own caveats – high bitrate means that people watching your stream (on "Source" quality) will need a faster internet connection too. On the bright side, 3 Mbps download connections are very common these days.
Right now, close to all new Intel processors support Quick Sync, nearly all Nvidia cards support NVENC and all AMD cards support VCE.
Recommended processors
Surely, the best streaming laptop would have a 6th generation Intel i7 (Skylake) processor not only because of their performance (which is actually still matched and surpassed by many 4th/5th-gen CPUs on the market) but for faster and more flexible Quick Sync. Of course, just a slight increase in Quick Sync performance is not enough to justify insisting that every streaming laptop should have Skylake processor.
In short:
budget laptops should have Intel Core i5-6300HQ or equivalent
1000$ – 2000$ laptops should have a processor like Intel Core i7-4720HQ
2000$ notebooks should aim for Intel Core i7-6820HK
Graphics card
The graphics card will depend entirely on what you'll be streaming.
Fallout 4, GTA 4 and some latest games will demand a high-end graphics card while most casual games will work even on low-end dedicated graphics cards. Though, I would advise against having only an integrated graphics chip (Intel).
If you're interested in using NVENC/VCE for video encoding instead of relying on CPU, getting a good graphics card should be almost as important as getting a good processor.
Because the graphics performance gap between laptops and desktops is shrinking year by year, you won't even need to buy the top-of-the-line video cards. Even mid-range cards from the latest generation of products should be enough. Of course, assuming it's enough for the games you'll play.
Recommended graphics cards
under 1500$:
1500$ – 2000$ laptops:

780M
880M
970M
M390X
M295X
1060

2000$+:

M395X
970M
980M
1060
1070
1080
Streaming setup
I know this is not a part of the laptop itself, but if you're planning your budget for a streaming laptop and you think there's nothing more to it – I've got some bad news.
Microphone
You can use a built-in microphone but many entry-level gaming laptops have terrible mics. That's one way how they cut corners to keep the prices low. As a result, you should consider getting a dedicated mic or, at least, a headset with a microphone.
Capture card
You can skip this section if your laptop will be your whole setup. But if it should play a role of a dedicated streaming computer – pay a lot of attention to this section.
A capture card is a device which will record video on your main computer and virtually display it on your laptop, which will stream what it sees.
I already mentioned how this is a good and professional practice that should be used if you take streaming very seriously. Otherwise – don't worry about it.
The whole capture card setup will cost under 200$ as you'll need:
– capture card to record your video
– a pair of HDMI cables to connect your gaming computer, capture card, and your streaming laptop
Here're a few capture cards I recommend:
Ports
HDMI/mini Display port is necessary but I would be shocked to not find one of them in any modern laptop. Meanwhile, USB 3.1 Type C (or even a plain Thunderbolt 2/3) would open up additional possibilities for audio interfaces/compressors.
In short, I'll give a slight edge to laptops that have both – HDMI and mini DisplayPort, laptops with 4+ USB Ports and laptops with USB 3.1 C/Thunderbolt.
SSD
SSD is not a necessity for streaming, but any laptop over 1200$ should have one. SSD is not a requirement for a streaming laptop as it does not impact your streaming performance – viewers won't be able to tell the difference. Therefore, it's one of the corners you can cut if you want to get a good deal.
At the same time, I would strongly recommend getting at least 120 GB SSD for your OS – it takes the whole PC experience to the next level.
A lot of storage
One storage related point you should consider is the amount of space – these days I started recommending smaller but faster drives, going as far as sometimes suggesting 128 GB PCIe SSDs over 1 TB HDDs. But that might be a very bad decision if you'll be rendering/storing videos on your own machine. If that's the case – go for 1 TB HDD. Very likely you'll be able to add additional hard drives in the future (usually 15.6″ notebooks can have 2-3 hard drives while 17.3″ tend to have up to 3-4). Worst case scenario – you'll have to buy an external hard drive over USB 3.
Screen
If this is going to be your dedicated streaming laptop – you can forget about the display. I'll just make sure my suggestions won't include terrible displays with 200 cd/m brightness, 400:1 contrast, 60% sRGB gamut on a TFT panel – there's still a few of those on the market. If this will be your main rig – I'll look out for a higher-end screen with an IPS panel or, at least, Wide-angle panel (a.k.a off-brand IPS).
As a final touch, touchscreens and Nvidia G-Sync displays will get a few extra brownie points for the effort.
Memory
8 GB of RAM is enough for budget builds, but laptops over 1000$ should have 12 – 16 GB.
Recommendations
Best streaming laptops under 1000$
1
Intel i5-6300HQ
|
GTX 960M 4GB
|
8 GB DDR3L
|
15.6″ FHD IPS
|
256 GB SSD
|
SD, MMC, 3x USB 3.0, HDMI
This Dell laptop is easily the best in this price range.
Not a big surprise when you consider its specifications. It has the 2nd best i5 processor on the market (with Intel Core i5-6440HQ being the best). It also has just enough RAM and a decent graphics card for any type of job. Of course, getting 965M/970M would be a significant jump in graphics performance but these cards don't even come into consideration for notebooks under 1000$.
It gets even better, Dell managed to throw in an IPS panel putting it a level above other budget laptops. Seeing how well this model is selling, I'm sure other manufacturers will follow this practice.
Overall, the laptop is really well-balanced. You could slap on additional 250-500 GB SSD or a 1-2 TB HDD if you need extra storage for all your video footage, games, downloads and software.
2
i7-4720HQ
|
GTX 965M 2GB
|
16 GB
|
17.3″ IPS Matte G-Sync
|
1 TB HDD
| |
4x USB 3.0, Thunderbolt 2, HDMI, VGA/D-Sub, SPDIF
This laptop is the best up to 1250$ (my next suggestion).
I recommend it if you need a huge 17.3″ IPS matte screen (with G-Sync!) with a great i7 processor and a mid/high-end graphics card.
I am pleasantly surprised by how quickly technologies like G-Sync penetrated the laptop market.
Also, seeing an old VGA port is rather rare these days but this could be a life-saver if you'll need to deal with old projectors/screens. Therefore I approve this addition, especially as there are HDMI and Thunderbolt ports for the newer displays. It would have been nice to get USB 3.1/Thunderbolt 3/mini DisplayPort but I guess you can't have it all under 1000$.
There's one major but easily solvable caveat – lack of a SSD. 1 TB HDD is great and all but I have yet to meet a person who was disappointed by upgrading to a SSD. But no worries, something like Samsung EVO 850 256GB would easily solve this problem. If your budget is limited, you might want to delay this upgrade a bit – in that case just remember to leave your System partition (C:) under 250 GB for an easy upgrade. Since this laptop (as nearly all 17″ laptops) has 2 hard drive bays – you will be able to use a SSD and a HDD at the same time.
Best streaming laptops under 1500$
3
i7-5700HQ
|
GTX 960M 2GB
|
16 GB
|
15.6″ WA
|
256 GB SSD + 2 TB HDD
|
4x USB 3.0, mini DisplayPort, HDMI
This custom-built MSI GE62 is perfect if and ONLY IF you will be using it as a dedicated streaming/video editing laptop OR you won't be streaming the latest games at high visual settings. Instead of 965M/970M graphics card, this model comes with a lot of storage (2 TB!) + 256 GB SSD for a system drive.
The only other problem I see with this particular model is lack of an IPS panel which is found in ~70% of models in this price range. Though, this one performs significantly better than others and that's why I featured this notebook instead of other less capable models.
Best streaming laptops under 2000$
4
i7-4720HQ
|
GTX 980M 4GB
|
16 GB
|
17.3″ IPS G-Sync
|
128 GB SSD + 1 TB HDD
|
4x USB 3.0, Thunderbolt 2, HDMI, VGA/D-sub, SPDIF
Nvidia GTX 980M. Do I need to say more? If you want to stream the latest games on high graphic settings – this laptop has to be your starting point.
I'm starting to regret buying my laptop before this G-Sync era. For those that don't know, G-Sync synchronizes display's refresh rate with on-screen FPS. That means that games look smoother and there are no more of these glitchy mid-frame cuts (which can be visible even when watching videos on Youtube).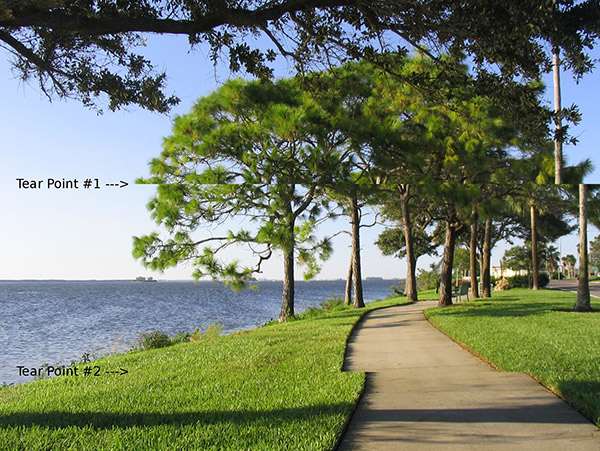 Since the laptop has 2 SATA hard drive slots and the 128 GB SSD is using a mSATA port, you could easily add an additional SSD if your heart so desires (and it should, heh).
It is worth mentioning, that if you prefer a large SSD and you're okay with 970M, there's a very similar model you need to consider.
Best streaming laptops over 2000$
5
i7-6820HK
|
980M 8GB
|
64 GB
|
17.3″ IPS Matte G-Sync
|
512 GB PCIe SSD + 1 TB HDD
|
Thunderbolt III (via USB Type-C), USB 3.1 Type-C, 4x USB 3.0, HDMI
This is the final and the best laptop for streaming games on Twitch, Plays.TV, Azubu and other services.
Great Skylake-generation processor? Check. Best graphics card? Check. More RAM than you'll ever need? Check. Massive SSD over PCI-Express? Check. All the latest ports and a huge 17″ IPS screen w/ G-Sync? Check and check.
If you want a laptop that can handle everything you'd throw at it – this is it.
---
Table of Best Laptops for Streaming
---
And if that's not enough, for those who managed to get down here, I present the comparison sheet of various laptops for streaming which surely should come in handy.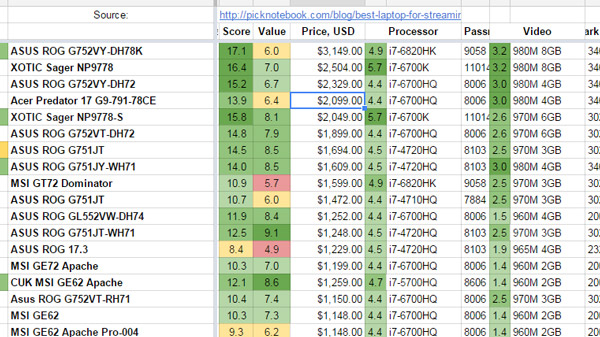 If you found this article helpful, don't forget to share it and to leave a comment down below! GL HF!