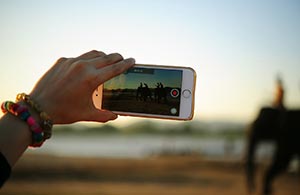 This will be a short one. Finding the best laptop for youtube is not that hard – well, at least if you don't insist on the literal definition of "best". So, let's say we just want the best laptop for Youtube at some specific price point. It's quite easy to identify these laptops once we're crystal clear what we're looking for.
So in this post, I'll break down part-by-part, no fuss, no BS how to simply find the best laptop for Youtube without overspending.
How to find the Best laptop for YouTube?
Since almost every new laptop can run Youtube and play Full HD videos, why not start with the least expensive laptops first?
Chromebooks
If you're on a tight budget or just not in a mood to spend money on the features that you won't use (and who is?) – then a basic ~13.3″ Chromebook would be ideal. Chromebooks are laptops made specifically for the internet – they're web machines. They're designed for web browsing, email and video streaming in mind. They are light, they have some of the best battery runtimes you could find and they're great for light work and watching Youtube and Netflix.
Chromebooks are just as well defined by what they aren't. They are not gaming machines, they shouldn't be your go-to choice if you're working with computationally intensive applications. That includes nearly all types of 3D modeling, audio processing and etc. By not trying to be the jack of all trades
At the same time, if you're dependent on Windows/macOS software – you'll need to ignore Chromebooks altogether.
Memory
For a Chromebook, a minimum of 2 GB RAM is needed, but 4 GB is optimal. Then you'll be able to have a few long Youtube videos in different tabs and they won't cause lag in your other apps.
Since Windows has a larger memory overhead, you'll need at least 4 GB for a Windows laptop and more preferably you should aim at 6 or 8 GB.
Screen Size
Screen size can be a personal preference, but anything in the 11.6″ – 15.6″ will work just fine. If you want a lighter laptop – 11.6″ or 13.3″ laptops should be your first choice, but if you want a larger screen for watching Youtube – 14″ or 15.6″ would be the way to go.
Processor
Performance for watching YouTube watching isn't that important – if you're not getting the very worst CPU – you'll be OK. So what to look for and what to avoid?
If you get any Intel Core i3, i5 or even i7 processor – they'll do a fine job handling all kinds of videos. All kinds. Most Intel Pentium and AMD CPUs are also good enough. It gets tricky when we step into Intel Celeron line. These should be generally avoided unless you're buying a Chromebook.
Secondary requirements for a Youtube laptop
Good screen quality
The checklist of what makes a good display is rather simple (at the first glance):
IPS Panel
Full HD resolution
300 nits brightness
1000:1 contrast
90%+ sRGB coverage
Now, I'm not saying we need to focus on every metric equally. 80% of the results will come from making sure you're getting an IPS panel, which allows watching the screen from different angles without color distortion and a Full HD 1080p resolution to see all the details. On top of that IPS panels more often than not have a better contrast ratio than the cheaper TN panels.
The brightness should be taken into consideration if you want to watch Youtube outdoors. Strong brightness prevents the screen from being overpowered by the sunlight and looking like a dim washed-out board. This metric is not as easy to come by as the panel type and resolution. Those can be found on almost every page that sells that particular laptop and in every review, no matter how shallow. But brightness benchmarks are usually found only in in-depth reviews. In the recommendation list, I'll list what is the display brightness of every recommended laptop and I take it into account when picking the best laptops but I wouldn't blame you if you didn't if you decide to do some research on your own.
If you want a laptop under $500, you might not be able to get a good display. But even then, trying to reach at least a few of these specs will prevent you from getting a deal you'd regret later.
Lightweight
Laptop weight is very closely tied to their screen size (measured diagonally). That's why almost all 11.6″-13.3″ laptops are lightweight. This is ideal for carrying the laptop around. Unlike for some other use cases, you can very easily get a lightweight laptop since we don't need a large high-performance laptop.
What would be nice to have?
Touchscreen
A touchscreen support is a great addition to a Youtube laptop. It is an alternative that replaces trackpad. After you finish the video, you just click your screen a few times and you are ready to watch more. I'm not the biggest fans of touchscreens when it comes to laptops – I still view them as primarily a tool for work. But the one area where I appreciate touchscreen displays is watching videos.
Convertible
A convertible 2-in-1 laptop is the best choice for YouTube. It has great synergy with a touchscreen display – just flip the laptop over and you've got yourself a (very thick) tablet. It's great for watching a few videos on lazy Sundays or using the "tent" mode and watching a video while you're trying out a new recipe in the kitchen. Just don't get too distracted.
Silent fanless cooling
Fanless cooling is… just a lack of cooling. That is only possible with processors with very low power consumption. So, don't expect a dead-silent laptop if you're going for an Intel Core i-series processor. Fanless laptops usually have Intel Celeron or Core M processors. Also, CPUs designed for laptops do not require any fans but due to their limited performance, I'd avoid them altogether.
Video editing
Some of you want to watch YouTube videos and edit them at the same time with the same machine. While this article wasn't targeted for this particular audience, I have a guide on how to choose the best laptop for photo and video editing.
Best YouTube Laptops
Table of the best laptops for watching Youtube
That's all for the roundup of the best laptops for watching Youtube! By now you should be well on your way of either picking one of the recommended laptops or you're already searching one on your own with what you've just learned. Please subscribe and (heh) let me know in the comment section below if you need some personalized recommendations.