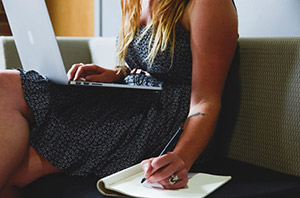 Choosing a laptop for online college is a bit easier than searching for one for a regular college. That's because you don't need to stress its weight and battery life as much. And anyways, a good laptop for online college is just a good laptop overall. Obviously, there are some variations between various courses, but overall, there are a few clear guides on choosing the right one no matter what you'll be studying. In the next 5 minutes, I'll lay out the most important bits of the best laptop for online college and which options might fit you best.
What am I looking for in the best laptop for online college?
The key to finding any great laptop is outlining what exactly should be on that laptop. These requirements will be a guiding light and our measuring stick when searching for the best laptop for online college.
For online college, there are 3 main requirements – the essentials – and 2 additional nice-to-have sets of specs that we're looking for in a quality notebook for our online studies.
Major requirements for a Online College laptop
Major requirement

Good processor

In most cases, I'd simply recommend getting an Intel Core i7 processor. Of course, that's just a general starting point. There's more to it than just a CPU series.

But since I don't know how much you're willing to spend on a laptop, I'm not going to make Core i7 as a requirement. These processors start to come into play as we pass $720 mark. It's quite interesting how close to no laptops at all below that price point come with an i7 and how many notebooks just over $720 have it.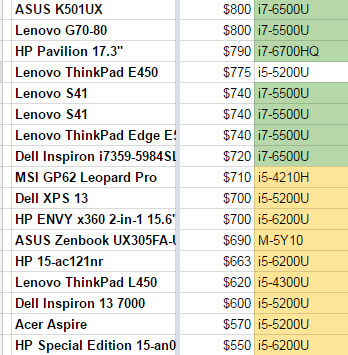 To make it a more general rule of thumb for 2016, I'll round it up to $750 mark:
laptops over $750 should have Intel Core i7
laptops under $750 should have at least 5-th generation i3/i5
Recommended laptop processors for Online College:
up to $750: i3-6100U, i5-4300U, i5-4210H, i5-5200U, i5-6200U
$750 – $1000: low-end i7: i7-5500U, i7-6500U,
$1000 and above: higher-end i7: i7-4720HQ, i7-5700HQ, i7-6700HQ
Major requirement

SSD Storage

I think I don't even need to make a case on why SSDs are far superior to HDDs. They're faster, lighter, more resilient, they last longer and they come at an affordable price. I definitely would prefer you getting an SSD over an HDD but again, I'm not aware what your budget limits may be. So I'll lay out what you really should expect and even demand at every price range:

What you should expect at every price range:
Under $800: 1 TB HDD
$800 to $1150 – 250 GB SSD
$1150 and above – 500 GB SSD (optionally, with 1 TB HDD)
In contrast to processors, the lines are a bit more blurred. For example, if you REALLY prefer a large SSD over anything else – there are $775 laptops with 1 TB SSD (custom Lenovo ThinkPad E450). Though, a bit limiting processor and a very underwhelming screen discourage me from recommending that laptop for online college. It is not very well balanced. On the other end of the spectrum, there are models over $2000 (Alienware 17) with a great processor and graphics card but no SSD at all.
But to have a balanced laptop for your studies, you should measure the laptops according to the requirements by price range that I lay out above.
Major requirement

8 GB of Memory

8 GB is the sweet spot when it comes to laptop memory. Any laptop over $550 should have a 8 GB built-in. With anything under $550, it's not a given. There're very few cheap laptops that could squeeze out 8 GB of memory without compromising in other compartments.

Now, when you'd need 16 GB and at what price point you should start expecting to find it?

For 95% of students, 8 GB is enough. 16 GB would help out only if you'll studying engineering, computer science, architecture, video editing or photography. At least these courses come to mind considering the software usually used in them. But even then, that amount of memory would help you out in a very limited extent, as in, it would save you maybe ~5 minutes of your time throughout the year. In a more practical sense, I recommend getting more than 8 GB if… you like to have A LOT of tabs open in your internet browser (Chrome, Firefox, etc). I'm talking 20 tabs or more.

I'd say there are some good well-rounded options with 16 GB RAM starting from $960. At the same time, getting that much memory is not crucial since you can upgrade it whenever you'll feel that you need it. Most laptops above 13.3″ have multiple slots for memory which makes them very easy to upgrade, even for someone who hasn't done it before. That's why, even when you'd prefer 16 GB, a laptop with 8 GB of RAM is still a good choice.
Minor requirement

Good battery life

Unlike students that have to physically go to lectures, online students can get away with a laptop with a very weak battery runtime. That way, you could get a laptop with top-notch hardware and very good performance at a reasonable price.

Despite that, all of us would like our laptops running for a full workday just on their battery. But since this is not as crucial as for a student of a regular non-online course, I label battery life as a minor requirement. For the most part, I'll just nudge you away from laptops with below-average battery performance instead of prioritizing it over every other component.

This spec is a lot harder to pinpoint to a clear price tag. For example, $700 laptops like Dell XPS 13 have great battery performance (~7h browsing/light work through Wi-Fi). At the same time, ASUS ROG G752VY ($2600) runs only for 3 hours under the same conditions. Though, the general trend is that gaming laptops with powerful dedicated graphics cards do not have good battery life. Meanwhile, laptops with mid-high range U-series processors (i5-6200U, i7-5500U, i7-6500U) and integrated graphics should last for ~6 hours on average.
Minor requirement

Additional features

There are a few nice bonus features that you might appreciate and would be willing to spend a few extra dollars on.
Graphics card with dedicated memory
A dedicated graphics card should be considered if you can spend over $800. For any student and any casual gamer, Nvidia 950M and 960M should be more than enough to drive their software and games.
Meanwhile, if you want to play the latest graphic-intense gaming releases, you should aim for high-end mobile graphics. These come with laptops starting from $1500. The 2 cards you should lock your eyes on are 970M and 980M (with 980M being the most powerful one and usually found in laptops over $2000).
Touchscreen
Another great addition to any laptop is a touchscreen. Now, roughly half of all laptops on the market come with a touchscreen as a standard. For the most part. Whether you need a laptop with one is for you to decide. Usually, those studying and working on the go, a touchscreen should be a worthwhile addition. Meanwhile, students using their laptops mostly at their own place tend to find little to no use for them.
Full-size backlit keyboard
Finally, having a full-sized keyboard (with the number pad) is a nice addition for anyone having to work with a lot of numbers – which is the larger part of students. Though, it's not crucial. Right now, I'm typing on a small portable keyboard and for the most part, I don't find a lack of the num-pad as a big deal. It only annoys me a bit when I can't enter special characters with num-pad codes. That's quite handy for currency symbols. Meanwhile, a backlit keyboard definitely would be appreciated by most. Whether it's a critical requirement is, of course, for you to decide. In my recommendations section, I gave a very slight edge to laptops with full sized and/or backlit keyboards.
My recommendedations for the best laptop for Online College
1
Best laptop for online college for $500
i5-4210U
|
HD 4400
|
8 GB
|
1 TB HDD
|
15.6″ 1080p Touch
|
5.3 lbs (2.4 kg)
|
5 hours 30 minutes battery life on Wi-Fi
I'll start off with a budget option first. I'll break it down by each requirement:
| Requirement | Evaluation |
| --- | --- |
| Processor | It has a very basic processor but it's enough for college tasks. Nowadays, a very fast CPU for most people has a lot less impact than it used to 2 or 3 years ago. |
| Storage | Not surprisingly, it does not have a SSD. At the same time, HDD is at least large enough for plenty of downloads, images and videos. |
| Memory | I'm very glad that even the cheapest option manages to pack 8 GB of memory. In result, that's enough RAM for nearly all tasks. |
| Battery Life | 5 hours and 30 minutes is a bit above average for a laptop around $500. Usually, better figures at this price point are only reached by Chromebooks. |
| Additional features | It has a touchscreen and a full-size backlit keyboard. These small additions round out this computer and make it one of the best options under $550. |
The main reasons why I recommend this laptop over others is its well-rounded specs. It does not try to squeeze in more than it could at its price point. That's how it manages to be the best laptop for online school under $600.
View on Amazon
2
Best small laptop for online college under $900
i7-6500U
|
HD 520
|
8 GB
|
256 GB SSD
|
12.5″ 2060p IPS
|
2.9 lbs (1.3 kg)
|
8 hours battery life (on Wi-Fi)
This is the smallest, lightest and the most portable option on my list. Toshiba Satellite Radius was designed with a long battery life in mind and a surprisingly good performance considering its size.
| Requirement | Evaluation |
| --- | --- |
| Processor | This is a mid-range processor is capable of delivering good performance for any type of work. Compared to other Core i7s, it is only a dual core processor which is not ideal if you'll be studying a software-intensive course such as engineering, computer science, architecture etc. Apart from that, it's a good processor. |
| Storage | This is one of the cheaper laptops with an SSD storage. That's why it's one of the smaller ones. But in the age of cloud storage and ridiculously small and fast external storage that is not a big issue for most people. I would only consider it a problem for gamers with a large (Steam) gaming library and students of Multimedia courses and any other course with a lot of focus on audio/photo/video editing. |
| Memory | 8 GB. Just as much as you'll need. But you should know that the RAM is not upgradeable. |
| Battery Life | Battery life on Wi-Fi is outstanding. It lasts around 8 hours and it can pull off even more if you'll dim down the screen to a minimum and downscale the resolution down from the default 3840×2160. |
| Additional features | It is a 2-in-1 laptop without a touchscreen but with a backlit keyboard. |
On top of all of this, it also has a good screen: IPS panel, 4K resolution, plenty of brightness, reasonably wide color spectrum with a below-average contrast being the only drawback. Though, it's still better than most in this regard which is surprising considering its other hardware and the small frame everything is packed in.
View on Amazon
3
i7-6700HQ
|
HD 530
|
16 GB
|
500 GB SSD
|
15.6″ 1080p Touch IPS
|
5.3 lbs (2.4 kg)
|
4 hours 30 min
| Requirement | Evaluation |
| --- | --- |
| Processor | HP Pavilion has a performance-oriented i7 HQ-series processor that is enough for the most demanding software. It passes this requirement with flying colors. |
| Storage | 500 GB Solid State Drive is a great and it should be enough for nearly-all online students. |
| Memory | 16 GB is more than enough. |
| Battery Life | Battery life is a bit underwhelming. You should get this one if only occasionally you'll need to use it outside your home. |
| Additional features | It has a touchscreen and a full-sized non-backlit keyboard. Also, it will not suit many gamers due to its integrated graphics chip. It will be enough to run the latest graphic-intensive releases. |
View on Amazon
4
Best laptop for online college and gaming under $1300
i7-6700HQ
|
960M 2GB
|
16 GB
|
512 GB SSD + 2 TB HDD
|
15.6″ 1080p WA
|
5.3 lbs (2.4 kg)
|
3 hours 20 minutes of battery runtime on Wi-Fi
This laptop is all about application performance which can be a critical requirement for many courses.
Requirement
Evaluation
Processor
Just like the HP Pavilion, it has a very fast CPU.
Storage
This model has the most storage out of any on my list and there aren't many laptops in the market that could offer more. 500 GB SSD and 2000 GB HDD is enough even if you have a large music, photo, video and games collection.
Memory
16 GB is a plenty of memory for any type of task.
Battery Life
Battery life on this gaming rig is limiting. Just like HP Pavilion 15.6″, it is not suited to be used while not plugged in for long periods of time.
Additional features
Obviously, a gaming laptop would not be complete without Nvidia GeForce 960M graphics card with 2 GB of dedicated memory.

If you like flashy laptops, you'll enjoy the fact that the full-sized keyboard can be lit in a variety of modes and colors. Also, as most gaming-oriented laptops, it does not come with a touchscreen.
View on Amazon
5
Best laptop for online college overall
i7-6700HQ
|
960M 2GB
|
16 GB
|
512 GB PCIe SSD
|
15.6″ Touch 2160p IPS
|
5 lbs (2.3 kg)
|
5 hours 40 minutes of battery life
Finally, the overall best laptop for online college. Yes, you could get a better laptop by spending more, but to get even a marginally better one, you'd need to spend ~$300. And noticably better notebooks like Dell XPS 15 and Apple MacBook Pro 15″ are ~$600 more expensive. This is the best laptop under $2000 for online college and there's very little reason to go beyond that for 98% of students.
Requirement
Evaluation
Processor
It has the same great i7-6700HQ which is fast enough for any type of work or any game.
Storage
500 GB of SSD storage is connected via the PCI-Express which is even faster than the regular SSD over SATA connection. I cannot be sure how much the drive Asus used for this model can utilize the faster connection. But if it does, it might be noticeable by some heavy multitaskers.
Memory
As with previous models, 16 GB is more than enough for anyone's heart's content.
Battery Life
It runs between 5-to-6 hours on battery depending on how you'll be using it. Of course, playing games will drain out the battery a lot faster but gaming on the go has never been a great idea.
Additional features
Nvidia 960M is a upper-mid-range graphics chip that should be enough for all but the most demanding gamers.

It comes with a touchscreen and a full-sized backlit keyboard.

It also has a wide selection of essential ports: Thunderbolt III (USB 3.1 Type C), 3x USB 3.0 and HDMI.
This ZenBook has a gorgeous 4K screen with its average maximum brightness being the only limitation.
View on Amazon
Table of Best Laptops for Online College
I hope this guide cleared up on what you should focus when searching for the best laptop for online college. If you have any custom requests, leave a response down below and don't forget to share it with any friends also looking for a laptop for their course.