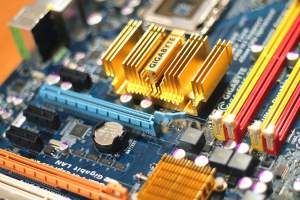 One of the best parts of owning a personal computer is the level of control you have over the entire system. Nowadays, computers can be seen as a sum of very powerful components, with a great deal of customization available for the discerning consumer. This is often the case with desktops, where many enthusiasts will assemble separate parts to create a powerhouse from scratch. However, what many don't realize is that laptops can offer a great deal of customization as well, even if not at quite the same level as their non-portable counterparts.
I've assembled a list of laptops that are great picks for anyone searching to build a portable machine of their dreams. When looking for the best upgradeable laptop, you want something that can push the bounds of your laptop's existing computing power, attach extra parts to soup up a less powerful machine, or can be converted into a media server or some other radical re-imagining. I have compiled this list based on very particular criteria: overclocking ability, available slots for storage and RAM, support for additional hardware, and support for alternative OSes. With the aid of this list, you should be able to find the best laptop for upgrading that will suit your needs.
Great built-in hardware
Not everything can be upgraded. That's why we must get the initial components right. That includes the processor, graphics card and motherboard (as a few laptop motherboards have max RAM limit of 16 GB).
Slots
In order to attach and run certain parts on your laptop, you will require open slots. RAM comes in DDR slots, with recent generations fitting DDR3 or DDR4 slots. Higher models of DDR ports can support individual RAM sticks with higher amounts of memory, such as 8 GB or 16 GB.
For hard drives or SSDs, we have 2 options: SATA and M.2. These days, M.2 is preferred over SATA due to M.2 speed (if it uses PCI-Express and not SATA interface), smaller size and lighter disks. SATA these days is best left for slower spinning-disk hard drives while M.2 is becoming a de facto standard for SSDs. Preferably, we should opt for M.2 connections over PCI-Express with NVMe support (in short, lower latency).
Ports
Another important slot needed for upgrading laptops are the USB ports. Standing for Universal Serial Bus, the USB port is the most common type of connection needed to attach additional hardware and peripherals. The more USB ports a laptop has, the better: almost every hardware peripheral, from an external mouse or keyboard to disc drives and gamepads, run off USB.
We care about the number and the versions of the USB ports. First off, I recommend at least 3 USB ports where 1 of them is USB 3.1 Type C with Thunderbolt III controller and others are USB 3.x Type A (that's just regular USB, preferrably Gen 2 (10 Gbps vs 5 Gbps of Gen 1)).
Additional Hardware
This is a more broad category. Essentially, it covers any room the laptop contains for adding additional components, as well as the quality of its preexisting components that aren't replaceable. The best upgradeable laptop in this category could have a section available for a dedicated graphics card, superfluous additions such as a disc drive being replaceable with another hard drive, or multiple display ports allowing for extended displays. Sound cards, wireless receivers, fans, or keyboards also fall into this category: if they can be replaced or modified in some way, that's more points for the laptop.
Overclocking
This is a process where you can extract additional computing power from machines: the extra power that the manufacturers didn't intend for you to use! When components such as processors and graphics cards are being made by the manufacturer, they impose artificial limits on their computing power. This is done for a few reasons: to prevent overheating or instability, to ensure all parts in one generation run identically, or to release incrementally better models out of the same components (a nefarious yet sadly common business practice). Laptops with unlocked processors or graphics cards will allow you to overclock them, reaching higher clock speeds with a bit of tweaking.
There are just a few notebook processors that can be overclocked. Most common models are i7-6820HK and i7-7820HK.
All other mobile CPUs are actually underclocked and only return to their set frequency ceiling when the task at hand demands it.
OS
Many computer users don't know this, but there are more operating systems available for their machines than Mac or Windows. In fact, there are nearly countless iterations of custom operating systems available to install, supporting a wide range of devices. Linux-based distros are able to accomplish more tasks than either Windows or OS X, while managing to be cheaper and lighter on performance. These operating systems are very popular among programmers, hackers, developers and political activists who support truly 'free' software. This category tests the ability of each laptop to run popular third-party OS's, such as Ubuntu, LinuxMint, and SteamOS for gaming, as well as the level of support from the manufacturers and the Linux community. I also have guides on Linux laptops and Ubuntu-ready machines.
Best Laptop for Upgrading, the Top Choices
1
Good starting point
i7-6500U
|
950M 2GB
|
8GB RAM
|
250 GB SSD
|
1920×1080
|
N/A
This is an excellent starting point for anyone looking to upgrade their machines incrementally. It features two memory sockets with a maximum capacity of 16 GB, which is decent but not the best. An additional SATA port is available for expanding storage from the already installed 250 GB SSD. Two USB 3.0 ports are nice for faster data transfer, but with only two more USB 2.0 ports on the machine, you'll most likely want to invest in a hub to expand the number of ports. A full-size keyboard is included, which is a rarity for laptops this size, but it suffers from lacklustre speakers and touchpad. Finally, LinuxMint and Kali Linux run well on this laptop, but customers have had issues with Debian, and Asus doesn't support hardware drivers for Linux.
View on Amazon
2
The best laptop for upgrading under $1,000
i7-6700HQ
|
GTX 960M
|
12GB RAM
|
120 GB SSD (PCIe) + 1000 GB HDD
|
1920×1080
|
2h 40min
Unfortunately, the i7-6700HQ processor included doesn't support overclocking. However, there is plenty of room for upgrading other components! This MSI laptop has a capacity of 32 GB of RAM, and an open 2.5″ port alongside the included 1 TB hard drive installed. Two USB 3.0 ports and one USB 2.0 port are nice, but the additional USB 3.0 C port allows for a bit more functionality with smaller USB devices. Variable fan controls and multiple display ports from its dedicated graphics card allow for some extra customization, although the Steelseries keyboard is uncomfortably rigid. Finally, Linux distros can be installed, but support is very limited. This is more of a hardware upgrading machine than a software upgrading one, but it's still very modifiable.
View on Amazon
3
Great mid-range laptop for upgrading
i7-6700HQ
|
1060
|
8GB RAM
|
120 GB SSD 1000 GB HDD
|
1920×1080
|
N/A
Even if the included i7-6700HQ doesn't have the ability to overclock natively, there is still plenty of room to upgrade the rest of the hardware in this beast of a laptop. It has a maximum RAM capacity of 32 GB, and the two hard drive slots can support SATA and PCIE hardware. In addition, 3 USB 3.0 slots and a USB 3.1 C slot means all the included USB ports are lightning fast. The keyboard works well enough, with a dedicated number pad offering the same experience as a desktop keyboard. The fans can get a bit noisy, considering there's a lot of powerful machinery under the hood generating heat, and it would only be worse with incremental upgrades. However, this laptop is excellent for upgrading, as it is compatible with all the newest tech: even with limited Linux support.
View on Amazon
4
The whole package
i7-6700HQ
|
980M
|
16GB RAM
|
250 GB SSD 1000 GB HDD
|
1920×1080
|
6h
This is the holy grail of upgradeable 17-inch laptops (almost). The capacity for RAM in this machine is a staggering 64 GB! The additional ports available are equally impressive: 4 USB 3.0 ports, 1 USB 3.1 port, a DisplayPort and HDMI graphics output port, and an SD card reader! It also includes its own Bluetooth receiver and wireless card, both of which are removable for incremental upgrades in the future. It even comes with a Blu-Ray burner, which can also be removed and replaced with other disc drives or even another hard drive to go along with its 1 TB HDD and 250 GB SSD. Linux isn't yet supported fully by this laptop, but with a dedicated community, it's only a matter of time. Even without Linux support or overclocking, however, this is hands down the best laptop for upgrading, since it has incredibly powerful base components and tons of room for improvement.
View on Amazon
Table of Best Laptops for Upgrading
In conclusion
Not all of these laptops can be upgraded in the same way. Some of them are based more on upgrading software: features like overclocking the preexisting components to squeeze extra juice out of them, or installing alternative operating systems to create a lightweight media server or virtual machine. Others on this list are better for hands-on types, with plenty of removable parts and capacity for extra memory and storage space. Whatever type of upgrades you plan on implementing in your build, one of the laptops on this list is sure to have the features you need to achieve the build of your dreams. Who says only desktops can be customized?