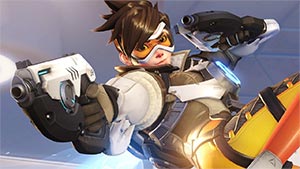 Though most people would say that large screen desktop is really the only way to play and enjoy the game, if you're looking for a portable system, it isn't as farfetched as you might think. The best laptop for Overwatch will include some extensive system requirements, though not as high as you might think.
Working through the competitive mode, you'll need to make sure that your system allows for smooth and fault free game play. The system requirements will include some pretty major specifications for a laptop, though in terms of desktop playability Overwatch is relatively simple. Let's take a look at what the best laptop for Overwatch requires for smooth game playing.
What's needed for an Overwatch laptop?
Requirements
I've updated the relevant system requirements from the official Battle.net page to match laptop constraints. So here are the minimum requirements for Overwatch laptop:
| | Minimum | Recommended | Best (min) |
| --- | --- | --- | --- |
| Processor | Intel Core i5-5200U / AMD A8-7200P | Intel Core i7-6500U / i7-7500U | Intel Core i7-6700HQ |
| Video (Nvidia) | 945M | GTX 960M | GTX 970M / GTX 1060 |
| Memory | 4 GB | 8 GB | 8 GB |
| Storage | HDD | SSD | SSD |
| Resolution | 1024×768 | 1920×1080 | 3840×2160 |
Now, let's go through the requirements one by one.
Processor
Overwatch gameplay requires heavy lifting from your processor to handle the load but isn't as intense as you might think. Blizzard recommends getting Intel Core i3 for a desktop machine, which roughly translates to an i5 CPU for a laptop.
Anything less is going to take its time to load and lead to choppy gameplay dropping below 30 FPS from time to time.
Generally, for a mid-range gaming laptop, I recommend i3-6300HQ, i7-6500U or i7-7500U. And for a high-end Overwatch laptop for Epic settings – you should get i7 HQ/HK processor. The most common example of such a processor is i7-6700HQ.
Memory and Storage
Minimum storage requirements are also not very high. Minimum calculations are only about 30GB of hard drive space, though obviously, you are going to use your laptop for other functions besides the one game.
You should focus on getting an SSD. A cheap laptop could have 128 GB SSD, but 250 – 500 GB is recommended as that's enough for most people.
It can run on 4GB of RAM but recommended specifications are at least 6 GB. RAM is what allows your computer to perform its daily functions and so going for a little more ensures that your game will load quickly and efficiently. If you are ever planning to upgrade to a virtual reality compatible system, the best Overwatch laptop will have a higher RAM as well.
Graphics
Gaming requires a bigger investment in a graphics card. If your processor can handle the game running, but you're only getting a laptop with an integrated GPU and not with Nvidia (or in a few instances – AMD Radeon) – you'll not be able to play Overwatch on anything but lowest settings and a very display low resolution.
Sadly, you'll need some type of a dedicated graphics card. Even though Blizzard does a fine job optimizing their games, it still has higher requirements than older titles like League of Legends, World of Warcraft or Sims 4. The very minimum cards are Nvidia GeForce GTX 940M, 940MX, and 945M. But if you can, go for something a little more advanced so you have more options with your gameplay. If your graphics card is better, you can run the game on higher settings, maybe even Epic settings without experiencing game lags and choppiness.
I just hate lag in any competitive game – it somehow gives my brain an excuse why I missed my shot and that's never a good thing if you're trying to get better at it. If you think the same and you're up for spending ~$900 – you should target for GTX 960M. Anything above that is left best for 10th generation graphics – 1050, 1060, 1070 and 1080. These can deliver desktop-level framerates.
Other Requirements
It's best if your laptop is a Windows system, and 64 bit, which includes Windows 7, Windows 8 and Windows 10. You will also need the latest service pack. If you're getting a new laptop – that's not an issue.
In terms of resolution, any display will suffice. But most gamers would like to get a Full HD display.
Now that you know what kind of laptop you are looking for, let's take a look at our list, so you can find the best Overwatch laptop for you.
Recommended laptops for Overwatch
1
Processor: Intel Core i7-6500U
|
Graphics: Nvidia Geforce 940MX 2GB
|
Memory: 8 GB
|
Storage: 250 GB SSD
|
Screen: 15.6″ 1920×1080
|
Battery life: 8h 30min
The first laptop on the list comes with more than the minimum processor requirement, an Intel Core i7-6500U. This is going to be more than enough to handle the gaming requirements. It comes with 8 GB of RAM, which is the "golden number" when it comes to laptop memory these days.
Storage is pretty good as it comes with a 250 GB solid state drive. The graphics card is just enough as well. It comes with the Nvidia Geforce 940MX 2GB. This particular video card is on the lower end but it should be just enough to play with medium graphics quality.
Two drawbacks to this laptop are that the touchpad lacks any sort of feedback on click, which might take some getting used to. The other is that the keyboard may not be very comfortable to some players because it's a rubber based finish. It also features a somewhat dim display, offering a 15.6-inch screen at 1920 x 1080.
The battery life is awesome. It's currently measured at 8 hours and 30 minutes on realistically ideal settings, though if you are playing overwatch, it will last a lot less – no more than a couple of hours.
2
Processor: Intel Core i7-6700HQ
|
Graphics: Nvidia Geforce 960M
|
Memory: 12 GB
|
Storage: 120 GB SSD & (PCIe) 1000 GB HDD
|
Screen: 15.6″ Matte IPS 1920×1080 (low brightness & contrast)
|
Battery life: 2h 40min
The MSI laptop features an i7 6th generation HQ model Processor. This offers significantly better performance than the U Series. It also has 12 GB Ram, another excellent gaming feature that means your game will run smoothly throughout gameplay.
Overwatch doesn't require as much storage as some other games, so 120 GB SSD can be used, but for running other programs or games, you'll have to tap into the 1 TB HDD. Either way, you should be fine.
For graphics, it has the Nvidia GeForce GTX 960M, which offers the best bang for your buck as far as graphics cards go. Unless you're investing in a much more expensive laptop, this is about the best you'll get. In terms of gameplay, it will run Overwatch smoothly on High settings, over 60 FBS, and somewhat smoothly on Epic settings.
One downside is the battery life. Current estimations put it at 2 hours and 40 minutes on ideal settings, meaning this is a laptop you'll want to keep plugged in when you're in-game. It seems odd to buy a laptop that you'll have to keep plugged in, but the upside to this is you can at least take it with you on the road, whereas your desktop would have to wait until you get back home.
3
Processor: Intel Core i7-6500U
|
Graphics: Nvidia Geforce 960M
|
Memory: 16 GB
|
Storage: 250 GB SSD (PCIe)
|
Screen: 13″ Touch IPS 3200×1800
|
Battery life: 4h 30min
Alienware's laptop offers a 13-inch high-resolution laptop with a fantastic 16 GB memory. The screen is IPS 3200×1800 and offers touch screen support, though if you use it primarily for gaming it might seem a little useless, aside from bragging rights.
The processor is the i7 6th generation U series, which is good enough, and the graphics card is the Nvidia GeForce 960M. Both of these systems are decent, and won't give you much to complain about.
This particular laptop tends to overheat, so you'll want a cooling pad for a smooth gaming session, but the battery life is a decent 4 hours and 30 minutes. If you are a marathon gamer, this won't seem like much, but it should offer you the chance to play for a little bit even if you aren't close to a power source.
Storage is good with a 250 GB solid-state PCIe drive, which should be enough to play the game and should allow you to run some other programs without reaching for any type of external storage.
4
Processor: Intel Core i7-6700HQ
|
Graphics: Nvidia Geforce 1060 6GB
|
Memory: 16 GB
|
Storage: 500 GB PCIe SSD & 1000 GB HDD
|
Screen: 14″ IPS 1920×1080
|
Battery life: 4h
The last laptop on the list is another MSI, the Phantom. Although it's the most expensive laptop on the list, it offers quite a few upgrades in terms of gameplay.
The processor is the Intel Core i7-6700HQ, an upgrade from the U series processors, and features a 16GB ram. It can run Overwatch flawlessly even on Epic settings and can even be used to play on an external 4k display with Epic settings as well.
It also comes with plenty of storage, 500 GB PCIe solid state drive plus 2TB HDD. Plenty for gaming and running other programs.
The GPU is the newest generation Nvidia GeForce GTX 1060 6 GB graphics card, which is also virtual reality compatible. It has an HDMI 1.4, mini-DisplayPort 1.2 and USB Type-C with Thunderbolt controller, offering plenty of options for more external displays that can be hooked up to take advantage of the powerful GPU.
At 4 pounds, it's actually pretty light for such a powerful laptop. The battery life is decent too, clocked at about 4 hours on ideal settings. It handles heat better than the previous laptop, with faster, though slightly louder, fans to keep itself cool. The screen itself isn't bad, a 14″ IPS 1920×1080 that gives good brightness and color display, but lower contrast than expected.
If portability isn't really an issue, the GE62VR or GT72VR models offer similar specs but are cooler and more quiet.
Table of Best Laptops for Overwatch
It isn't farfetched to buy a laptop for this type of gaming. If you are a regular gamer who travels for work or school, then finding the best laptop for Overwatch means that you won't ever go for long without the equipment to play. All of the laptops on the list provide more than the minimum requirements, so you won't be disappointed with any of these choices.
Which laptop did you choose? Let me know in the comments.