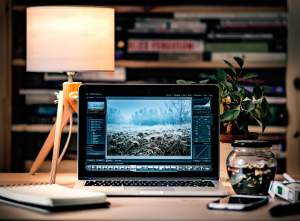 Adobe Photoshop CC includes some impressive upgrades for 2017. Internet connectivity is now required to use the software, and a host of add-ons, templates and images are available for download. The long-time favorite in photo-editing software, Adobe has improved Photoshop's 3D imaging and video-editing capabilities as well. The best laptops for Photoshop CC & Lightroom have a high-quality display, a fast processor, good storage and a lot of RAM.
i5 or i7 Processor
The minimum requirement for Photoshop CC is a 2 Ghz processor. However, if you go with the minimum, you will spend a lot of time waiting to open, save and render your work. Some of the more memory-intensive filters, like liquify, might not function properly on a larger drawing if the processor can't keep up.
You can use a i5 processor. Many of them are over 2 Ghz, but you're better off going with an i7. Raster image sizes are increasing as cameras take higher resolution and larger-sized photographs. Videos, 3D animations, renderings and other multi-media are increasing in demand. Even if you don't need the i7 processor right now, you still want the option to process the larger files when you do need it.
SSD storage
SSD storage is faster and more reliable than HDD storage. It's also more expensive. The best Photoshop laptop will have a large amount of memory for storage. However, with the Creative Cloud option, more projects and materials can be stored in the Cloud. You still need a lot of room to store all of your work and digital art supplies, but if price is an issue, this is a place where you can cut back.
How much storage space you need depends on what you make. 3D animations create much larger files than ebook covers. Most photoshop users want about 500 GB of storage space. You can get by on 100 GB of storage as long as you're not doing a large amount of video. If possible, use an SSD for your main drive.
8GB memory
If you run Photoshop 32-bit mode, it can only use 3 GB of RAM. For the best Photoshop laptop performance, you must run it in 64-bit mode, so it can use all the RAM. Creative Bloq recommends setting Photoshop to use between 70-85% of the RAM to boost performance without causing memory errors.
Now that Photoshop is set to use the RAM, a good laptop for Photoshop will have 16 GB of RAM. You can use 8 GB if you do mainly photo retouching and raster image editing. A professional that deals with large files will want 32 GB of RAM.
Graphics and Display
Photoshop CC requires at least 512 MB of VRAM. Video features become automatically disabled when the VRAM is less than 512 MB, and the video features are not supported on 32-bit Windows OS. A good Photoshop laptop will have a minimum 2 GB of VRAM. If you plan to use a lot of video and animation, you may want to speed the program up with a better graphics card.
Adobe sets 1024 x 768 as the minimum screen resolution, but you really need more pixels for detailed visual editing. The best laptop for Photoshop will have a screen that is at least 14" wide. Matte or non-reflection is less distracting to work on than a glossy screen. 1920 x 1080 is a good size for Photoshop. You use a 4K or 3840 x 2160 screen and see even more detail, but you will need to adjust the Photoshop display settings. You also need to calibrate the screen for color accuracy, and set the Photoshop preferences to AdobeRGB to get the best color display.
Long Battery Life
The best notebook for Photoshop, or any graphic art program, has a long battery life. Long battery life is preferred in general, but photo and video editing can be time-consuming and can draw a lot of power. However, if you can work close to an outlet or can recharge regularly, this is a good place to cut back.
You will be struggling with a laptop that can only run Photoshop and maybe another video or graphics program for an hour. Unless you intend to plug it in wherever you go, 2 hours should be the minimum battery life for a good notebook for Photoshop. If you can afford it, go with 5 or more hours of battery life.
Lightweight
The best laptops for Photoshop focus on processor power, fast RAM, big storage and beautiful color-accurate display. If that comes in a stylish package, that's great. If it comes in a big, heavy laptop that's cheaper than a stylish package, that's great too.
I also recognize that many people love sleek, light and stylish laptops, so I will add that the best Photoshop laptop weight is probably 3 or 4 pounds. You don't want to go too small or light because you need a larger screen and powerful hardware.
1
i7-6700HQ
|
960M
|
16GB RAM
|
120 GB SSD + 1000 GB HDD
|
1920×1080
|
3h
Designed to be a laptop for gamers, the combination of a i7-6700HQ processor, a powerful graphics card, a 1920 x 1080 resolution matte screen and 16 GB of RAM makes the Asus ROG GL552VW-DH74 a perfect laptop for Photoshop and other graphics programs like After Effects and Premiere Pro. The downside is the battery life is three hours for lighter editing, and the SSD is only 120 GB. It is also heavy at 5.6 pounds, but the HDD drive has 1000 GB of additional memory. It's a good Photoshop laptop for around $1,000.
2
i7-6700HQ
|
960M 2GB
|
16GB RAM
|
500 GB SSD (PCIe)
|
3840×2160
|
5h 40min
The Asus ZenBook Pro UX501VW (Signature Edition) has a 5 hour battery life with a sleek 5 pound design. This laptop features a 15.6″ screen with a 3840 x 2160 resolution. The screen is glossy, but it has amazing resolution, color coverage and contrast for around $1,500. The storage is a 500 GB SSD, and the processor is an i7-6700HQ. Add a fast graphics card and 16 GB RAM, and the Asus ZenBook Pro UX501VW makes a great notebook for Photoshop.
3
i7-6700HQ
|
1060 6GB
|
16GB RAM
|
500 GB SSD (PCIe) + 1000 GB HDD
|
1920×1080
A solid choice for video and digital art programs, the MSI GS63VR Stealth Pro-068 features an i7-6700HQ processor and a 1060 6GB graphics card. The display is an IPS 15.6″ non-reflection screen with 1920 x 1080 resolution. The MSI GS63VR Stealth Pro-068 is a great laptop for Photoshop users that need a lot of storage. It has 500 GB SSD (PCIe) and 1000 GB HDD. It has 16 GB of RAM and weighs 4 pounds. However, the battery life is short, and it may heat up during a long work session.
4
i7-6700HQ
|
1060
|
16GB RAM
|
500 GB SSD
|
1920×1080
A favorite among gamers, the Razer Blade laptop has a i7-6700HQ processor and a 1060 graphics card. The display is smaller at 14″, but the matte screen has a 1920 x 1080 resolution and can support 115% sRGB. The storage is a 500 GB SSD. It comes with 16 GB of RAM, but the laptop has additional slots increase the RAM to 32 GB. It weighs 4.2 pounds. The battery can last for 4 hours, but it needs a cooling pad for heavy processing.
5
i7-7700HQ
|
1050
|
16GB RAM
|
500 GB SSD (PCIe)
|
3840×2160
An amazing laptop for Photoshop CC is the Dell XPS 15 XPS9560-7001SLV-PUS. It has a i7-7700HQ processor, a 1050 graphics card and 16 GB of RAM that can be upgraded to 32 GB. The 15.6″ screen is 4K with a 3840 x 2160 resolution. It supports 100% of Adobe RGB. The storage is 500 GB SSD (PCIe), and the battery can last for 7 hours. It weighs 3.9 pounds and has great WiFi speed which the Creative Cloud features of the new Photoshop need.
The best gaming laptops can be the best laptops for Photoshop CC because the speed, storage, display and graphics requirements are all there. Photoshop CC relies heavily on the internet with its cloud connections and online libraries and templates. The video features, 3D rendering and smart filters are also pushing toward a laptop that can handle more than just still images. Photoshop CC is not designed to stand alone. It's meant to interact with other programs and media and to post to and draw from the creative cloud.
Table of Best Laptops for Photoshop
You Might Also Like