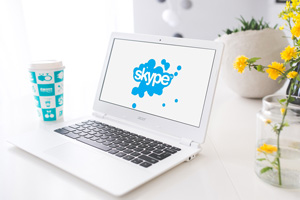 Whether you need the best laptop for Skype while you're at home or the best Skype laptop while you're moving between cities – I'm here to cover all the bases.
Staying connected with relatives, colleagues or clients is hard. Sometimes, a quick message or a chat is not enough. In those cases, it is essential to have a laptop that is capable of making high-quality voice and video calls. At the same time, it shouldn't run out of battery juice every other hour. And there are some great laptops just for that that don't demand of you to empty your wallet.
First things first
Chromebook Support of Skype
At the first glance, if you want to buy a cheap laptop for Skype, you might start by considering Chromebooks. Chromebooks are extremely cheap internet-driven notebooks for everyday use. Sadly, Skype is not officially supported on Chrome OS – you can use Skype on Web. At the same time, it's a bit buggy and only recently voice calls became available. So I'd recommend looking for a Windows or a MacOS laptop instead. It's just better to avoid Chromebooks for confusion and unnecessary hassle.
Windows vs MacOS for a Skype laptop
Whether you want a Windows laptop or a MacBook depends entirely on your own preference. Of course, as a default, I would recommend a Windows laptop as they're cheaper and there are a lot more options. But there's nothing wrong with looking for a MacBook Air if you're already in the $1000 budget range. At the same time, I'd guess most people wouldn't want to spend that much on a Skype laptop.
Best laptop for Skype: Important Factors Portability
Since we don't need a lot of performance to get the best laptop for Skype, we can prioritize portability.
If you want to carry the laptop around the house or to take it with you when you're traveling or going to work – you'll definitely appreciate a lightweight laptop. Judging laptop's weight is not that hard. Here's a basic weight vs size table of what you should expect.
| Laptop size | Lightweight | Average |
| --- | --- | --- |
| 17″ | 6 lbs (2.7 kg) | 7.7 lbs (3.5 kg) |
| 15″ | 4.8 lbs (2.2 kg) | 5.4 lbs (2.4 kg) |
| 14″ | 3.5 lbs (1.6 kg) | 4.2 lbs (1.9 kg) |
| 13″ | 2.6 lbs (1.2 kg) | 3.3 lbs (1.5 kg) |
| 10″-12.5″ | 2.2 lbs (1.0 kg) | 3.1 lbs (1.4 kg) |
For most, I'd recommend steering away from 17.3″ laptops. As you'd have guessed, they're very large, not easy to carry around and more often than not they have a short battery life. And for the best laptop for Skype, I think all of these are important requirements.
Of course, you can look for a heavier laptop if you're a fan of extra screen space but it's not necessary for using Skype.
Battery Life
If you prefer to use the laptop unplugged – look for a long battery life. That would be 6 hours or more. And when I say "6 hours" – I do not mean the battery life that is claimed by a manufacturer. That's a simple rule in my guides – I cover realistic battery runtime when browsing the internet on Wi-Fi with a dimmed brightness setting.
Having an all-day battery life is critical for travelers – you won't need to worry about finding the nearest electricity plug mid-day.
In short, minimum of 6 hours battery life is recommended but you can find laptops that can last up to ~10 hours on Wi-Fi. But I don't know if I've had a Skype conversion last that long.
Camera and Microphone
When skyping, the difference between a good webcam and a bad one is easy to spot. The same can be said about the microphone.
There are some Skype Certified Laptops that are known to have a high quality camera and microphone. But they're not the only ones worth considering. There are plenty of laptops that are suitable for voice and video calls but are not officially endorsed by Skype.
The quality of a webcam can be pretty accurately judged from its resolution (measured in megapixels). In short, avoid 0.3 Mpix and VGA resolution cameras. Look for 1.3 or even 2 megapixels. Also, some cameras are better than others when handling poor lighting. That's relevant if your room is not very well lit. In that case, keep an eye for "backlight compensation" or other similarly sounding "technologies".
Best Skype laptop: Secondary Factors Screen
Having a good camera and microphone is just one side of any Skype call. The other side is seeing the other person as vividly as possible – with as little screen distortion as possible.
First of all, an IPS panel is a big plus for heavy Skype users. You see, an IPS panel improves viewing angles. That means, your friends and family won't see distorted colors if they're not sitting right in front of the laptop.
We're looking for screens of at least average brightness and contrast. If you want the best laptop for Skype calls, then sure, you could look for laptops with high color coverage and accuracy but this is entirely an optional requirement that you shouldn't stress.
A note on screen sizes. If you have to move further away from the laptop, screen size becomes increasingly important. That's especially relevant if you're searching for a laptop for an elder person. But for most people, a smaller screen is not an issue.
To sum up, the best laptop for Skype would have an IPS panel, above-HD resolution and above average screen brightness.
Connectivity
Having 3G/4G connectivity is a great addition for travelers. But if a laptop doesn't have it – it is not the end of the world. Wi-Fi zones are not that hard to find and there are some small 4G LTE USB modems that you can order online. But don't forget that these most likely will need a recurring monthly payment.
Bluetooth support is a small plus as it can simplify connecting some external wireless mice.
Processor and RAM
In our case, these technical requirements are not at the top of the list but they still should be taken into consideration. A good processor is key if you want to use your laptop comfortably for more than just for Skyping with your friends and family. For example, if you're planning to use it professionally, you might opt for a better processor.
And if you want to do some serious work on it, you should look for laptops with i5 (or even i7 processor) and 8 GB of RAM. Going beyond that is an "overkill" for a Skype laptop.
5 Best Laptops for Skype
Here are 5 best laptops for Skype in no particular order. Not every laptop might match your budget and needs but I would be shocked if you wouldn't find at least one of them worth your attention. If you find anything better – please let us know in the comment section.
1
Cheap Skype Laptop
Pentium N4200
|
HD Graphics
|
4GB RAM
|
500 GB HDD
|
15.6″ 1366×768
|
5h 30min
This is one of the cheapest laptops for Skype. It's not glamorous – it doesn't have a stunning screen (actually, far from it) or a great application performance. But if you want a laptop for Skype on a small budget – you have to consider this Lenovo laptop.
2
Better in all ways
i3-8130U
|
UHD 620
|
6GB RAM
|
1 TB HDD
|
15.6″ 1920×1080
|
9h
Acer Aspire is another truly cheap laptop for Skype. It has a much faster processor, larger storage, more working memory and a long battery life of 8-12h. So it will run Skype with fewer issues than any other laptop in this price range. Also, due to its long battery life, it can be used around the house without a power cord.
Sadly, it doesn't have a good quality screen or a good webcam. But at this price point, we need to make some compromises.
3
Laptop for Skype with SSD
AMD A6-9220
|
Integrated graphics
|
8GB RAM
|
256 GB SSD
|
15.6″ 1366×768
|
n/a
4
Best 14-inch laptop for Skype
i5-7200U
|
HD 620
|
8GB RAM
|
1 TB HDD
|
14.0″ 1366×768
|
7h
In almost every regard, this is a great laptop for video chat. But there are 2 big limitations – poor display resolution and a lack of SSD.
5
Best MacBook for Skype
Core i5
|
HD Graphics 6000
|
8GB RAM
|
250 GB SSD
|
13.3″ IPS 1440×900
|
10h 30min
Apple is known for their obsessive attention to the details. It's no surprise that their webcam quality for Skype is one of the best you can find. That includes FaceTimeHD calls.
This MacBook Air has a top of the line battery runtime considering its fast Intel Core i5 processor. Moreover, it's very light and easy to carry around. And a bright screen with an IPS panel means that the display will not seem "color-shifted" to anyone sitting right beside you as it does on cheaper lower-quality screens.
Remember that MacBook Air is significantly more expensive than other laptops. But compared to other $1100 laptops – it's a good pick for Skype calls.
Table of Best Laptops for Skype and video chat
Finally, if you want a recommendation for a custom laptop, please leave a comment below outlining what type of laptop you're searching for and I'll get back to you with a personal suggestion.