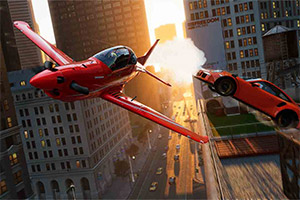 The wait is finally over and we got a worthy successor for The Crew. Together for Forza Horizon, TC has become the go to game for casual racing. The Crew 2 is back in town to show that it's the OG in its niche and that Need For Speed Payback can't touch it.
These days many new games require brand hardware to run them properly. But it seems Ivory Tower did a fine job optimizing the game so The Crew 2 will reach high framerates on a upper mid-range laptop. But the minimum requirements are rather high and that can be a big problem especially if you're looking for a laptop to play TC2. Entry level laptop just won't cut it. We'll need some research to find great options to choose from for the best laptop for The Crew 2. Luckily enough, I've already done it for you.
Official requirements
First off, The Crew 2 does not need a fast PC to run it. That means that even a basic setup will be able to run TC2. Let's start with Ubisoft's official requirements for The Crew 2:
Minimum:

Processor: Intel Core i5-2400
Graphics: Nvidia GeForce GTX 660

Recommended:

Processor: Intel Core i5-4690K
Graphics: Nvidia GeForce GTX 1060
But these requirements are tailored for a desktop. If we would adjust the requirements so they would address the exact components found in laptops, that would result in:
The Crew 2 laptop requirements:

Minimum:

Processor: Intel Core i5-8250U (i5-8350U, i5-6300HQ)
Graphics: Nvidia GeForce MX150

Recommended:

Processor: Intel Core i7-6700HQ
Graphics: Nvidia GeForce GTX 1060
These requirements are NOT official – I used the official requirements to match their recommended components to equivalent laptop parts. I used 3rd party benchmarks including 3DMark and 3DMark tests.
Now, let's go in depth on these CPU, GPU and some additional requirements so we get a well-rounded laptop for The Crew 2.
What is crucial for a The Crew 2 laptop?
Primary requirements
Major

Processor

I recommend buying a laptop that has 7th or 8th generation Intel processor or an AMD Ryzen 7 processor. To know if its 7th or 8th gen, just make sure that a processor starts with a 7 or an 8 in its 4-digit model code.

They are the most up-to-date processors that offer great performance and usually lower power consumption than their predecessors. Furhtermore, latest processors can be used as a proxy for overall laptop quality – laptops with more recent processors are newer and tend to have better touchpads, displays, webcams and speakers. Of course there's no causal relationship here but it's a soft indicator.

And we'll need a good processor because Ubisoft has surprisingly high requirements if you want to reach 60 FPS on a laptop. Even 30 FPS requires a decent processor which rules out all but Core i5, i7 and AMD Ryzen 7 processors.

In fact, there are so few processors that can run The Crew 2 at a constant 30 FPS that I can even list them out:

Processors for 30 FPS configuration:
i5-7300HQ
i7-7500U
i5-8250U
Ryzen 7 2700U
Processors for 60+ FPS configuration:
i7-8550U
i7-6700HQ
i7-6820HK
i7-7700HQ
i7-7820HK
i7-8750H
Major

Graphics card
Integrated graphics
Integrated graphics are out of the question so we will need a dedicated graphics card.
Dedicated graphics
There are dedicated graphics cards from Nvidia and AMD. I'll primarily focus on Nvidia cards as they're the most abundant in laptops. Roughly 95% of gaming laptops come with them.
As a minimum requirement, we should aim for Nvidia GeForce MX150 or 960M. These chips might struggle to reach 30 FPS on water races as these tend to have ~20% lower FPS but apart from them it should be do an OK job.
For many, the sweet spot for The Crew 2 are Nvidia GeForce 1050, 1050 Ti and 1060 Max-Q. These cards come in laptops under $1,000 and can produce ~45 FPS on high settings.
But if you want to reach 60 FPS on highest settings, you'll need a full GeForce GTX 1060. You might have to disable Contact Hardening Soft Shadows (CHS) in visual settings to consistantly reach the 60s but that's not a big compromise.
Anything above GTX 1060 – that is 1070 and 1080 – is only needed if you want to play more demanding games. I would recommend these faster video cards for some enthusiasts but sadly The Crew 2 is capped at 60 FPS. That eliminates any need for high-end graphics modules or a high refresh rate monitor which is a shame for PC users.
Minor

Memory

For starters, since we're only looking for modern laptops with 7th/8th gen i5 and i7 processors, there's no need to go below 8 GB of RAM. That is a minimum requirement for The Crew 2 and should be for nearly every other game.

Right around $1,000 we should start expecting 16 GB especially if we're willing to cut some corners at the expense of a heavier build and display quality.
Secondary requirements
Optional

Solid State Drive

I'm a big fan of SSDs. Well, everyone who's tried one is. It is one of the few "try it and you won't want go back" experiences in computing world. It will not heavily impact The Crew 2 gameplay apart from a longer startup and map loading times.

But I recommend an SSD not for gaming but for general quality of life and comfort. It will lead to faster laptop startup & shutdown, less noise, longer battery life and a quick application startup.

The only problem is the capacity. If you're OK with mixed storage – I would be fine with 128 GB SSD + 1 TB HDD setup. Otherwise I would look for 250 GB or more.

Cutting out an SSD is an easy way to save some money but if you want a laptop that will perform well for years to come – I see no other way but buying one with a Solid State Drive.

Whether it uses SATA or PCIe interface is a non-concern to us.
Optional

Good display

Gaming laptops often suffer from the 3 deadly sins of poor display quality, short battery life and bulky build. The last 2 are really hard to solve as they require absolutely opposite approaches to address them. But a laptop with a poor display is totaly avoidable. It seems gamers have looked past displays in order to grab better internals but it's not always a worthy trade-off. At a time when IPS panels are becoming more affordable than ever there's little reason to not go for one.

I'm not saying I will make sure every laptop has a MacBook-like display, because I care first and foremost whether a laptop can run The Crew – I'd rather take poor color contrast over lag and strutter. But whenever possible, I'll try to squeeze in the best display without severely compromising the internals.

As for the metrics, a good display has 5 key tenets:
Panel type – IPS > TN. Don't get fooled by some "IPS-like" panels. More often than not they're garbage. It's like calling a Ford Taurus a Ferrari-like car because it has 4 wheels.
Resolution – 1920×1080 and nothing lower. Some might like a 4k display but that would require a GTX 1070 or 1080 for 45-50 FPS. Even 1080 Ti struggles to keep 60 FPS on 4k Ultra settings.
Brightness – 250-300 nits is the average. Gaming laptops rarely have more than 350 nits. This benchmark is not easy to find and might require some review crawling (as the next 2).
Contrast – 1000:1 or at least 700:1. Stronger contrast is better.
Color accuracy and range – this one is not as important to us but for the sake of interest, I can tell that ideally it would be 100% sRGB, 80%+ Adobe RGB and a callibrated display to match.
Best laptops for The Crew 2
Laptops to play The Crew 2 on 30 FPS
1
Cheapest laptop for playing The Crew 2
i5-8250U
|
GeForce MX150
|
8 GB RAM
|
256 GB SSD
|
15.6″ 1080p (poor display)
Acer Aspire E 15 is a basic laptop for casual gamers and anyone on a tight budget. It makes a few compromises along the way but they're all worth it in the end.
First of all it comes with a CPU&GPU combo that is just enough to play TC2 and other latest racing games. Therefore you'll reach ~25-30 FPS and you might need to drop down the resolution and visual settings for a smooth gameplay.
It comes with a Solid State Drive just as every other laptop on the list. That will guarantee quick startup times and a long laptop lifespan.
But I must criticize the display quality in this laptop – it's not terrible as I've used laptops with similar screens but it does not even try looking like a flagship laptop. It clearly shows its colors or in this case, lack of it.
I find it worth the trade-off for most but if you want a bright and crisp display on a laptop – you'll need to spend a lot more than what's on Acer Aspire E 15 pricetag.
View on Amazon
2
A great deal if you don't mind the TN display
i7-7700HQ
|
GeForce GTX 1050
|
8 GB RAM
|
128 GB SSD + 1 TB HDD
|
15.6″ 1080p (poor display)
MSI GL62M is like Acer Aspire E 15 but on steroids – much better processor, graphics card and more storage space. Sadly it still keeps its main caveat of a sub-standard display but it is the only laptop that can deliver ~45-55 FPS on high settings at this low price.
View on Amazon
Laptops to play TC2 on 60 FPS
3
Desktop-replacement laptop for playing The Crew 2
i7-7700HQ
|
GeForce GTX 1050 Ti
|
16 GB RAM
|
512 GB SSD
|
17.3″ IPS 1080p (good display)
If you want to play The Crew 2 on High settings without an issue and you are OK with a slightly bulkier laptop – Eluktronics N870HK1 is a great choice. It not only runs games faster than laptops before it, it also has a large 512 GB SSD, 2″ larger display and a much better IPS screen panel. Its almost a perfect laptop apart from the fact that it's larger and heavier than most.
View on Amazon
4
Ideal gaming laptop for The Crew 2
i7-8750H
|
GeForce GTX 1050 Ti 4GB
|
16 GB RAM
|
500 GB PCIe SSD + 1000 GB HDD
|
15.6″ IPS (340 nits, 900:1)
HP Omen 15t comes at a price of an extra $300 but it brings an even faster processor – nearly the fastest one you can get, more storage, same good IPS display and it manages to cut down the weight by 1 lbs. That still makes it heavier than an average laptop but not by much.
There's a viable alternative that I didn't include due to its very similar price. It has a slightly worse display, but a better graphics card (GTX 1060) – it's this custom built HP Pavilion 15t.
View on Amazon
5
Ultrabook for gaming
i7-7700HQ
|
GeForce GTX 1050 Ti 4GB
|
16 GB RAM
|
512 GB SSD
|
15.6″
If you don't want a large gaming laptop and you would instead go for a sleek neutral ultrabook – Asus has a great option. It does not outshine other laptops in terms of speed even though it has plenty of it. Where ZenBook performs well is everything else you'd expect from a modern laptop – great battery life, good display and fine design.
It has by far the best battery life out of every laptop on the list – up to 10 hours of browsing Wi-Fi, but probably only ~2 hours of gaming.
It is best suited if you want to game on the side but that's not your primary objective when buying a notebook. Larger laptops are better suited for exclusive gamers as they have better cooling and they are easier to upgrade and maintain. Asus ZenBook is more suited for someone who wants a laptop for gaming and studies & work.
View on Amazon
Table of Best Laptops for The Crew 2