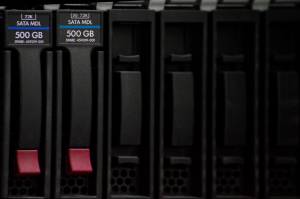 Server virtualization is the computing wave of the future, with virtual machines taking the place of larger server rooms and streamlining the resource management process. Virtualization has been around for quite some time but it's becoming increasingly popular in the enterprise, so now is the time to get on board before you get left behind. Recently, I decided to really start learning how to work in a Linux virtual machine environment so that I can learn more about cloud security. As a result, I ended up buying a more powerful laptop, which is why I decided to help you find the best laptops for virtualization so that you can have an easier time than I did.
Virtualization let's you do some cool things, so with that said, let's get into what you'll need to get started.
What Kind of Machine You'll Need
Virtualization isn't something that you should use a bargain laptop for. Simply put, your machine should be fairly performance-oriented and should almost work more like a workstation than a Chromebook. As a result, it should meet at least the system requirements for VMware, which is a fairly standard resource for virtualization. The VMware Fusion 8.5 requirements are:
| | |
| --- | --- |
| | System Requirements |
| Processor | A 64-bit processor from Intel or AMD such as an i3, i5, i7, or Xeon |
| RAM | 4 GB or Better |
| Operating System | Microsoft Windows 7 or better or Mac OS X 10.9.0 or later |
| Graphics | Nvidia 8600M or better or AMD Radeon equivalent |
Optimized Virtualization Machine Recommendations
While these base system requirements are fine and dandy, for modern virtualization, I feel like you'll need a more performant machine. Here's my take on what components you should consider when starting out on your path to virtualization:
Processor
Virtualization is one of the most computationally-intensive processes that you can engage in on your new machine. If you're going into security like I am, you'll need programs like Kali Linux for penetration testing and when you're doing this, a multi-core machine is integral. While you won't get any more cores than four on a laptop today, this is generally enough for most virtualization needs.
As a general rule, with two cores or so, you'll also have a harder time distributing your processing abilities across your virtual machines. Remember, when you are running a series of virtual machines, they are pooling their individual resources to benefit the entire server structure, so the more cores on each node, the more processing and computational power you'll have to work with.
A good choice for a mobile processor will be an i7 or greater CPU. You can select a sixth/seventh generation i7-6700HQ or i7-7700HQ and be pretty good to go on your virtualization laptop.
RAM
Since you'll be shooting for multiple cores, you'll definitely need a lot of RAM so that your access times aren't bottlenecked by memory limitations. While VMware suggests 4 GB of RAM, I feel that 8 GB of RAM is better or more. In fact, outside of heavy duty encrypting or Hadoop work, virtualization is one of the few fields where it's perfectly reasonable to have a machine with 64 GB of RAM.
Storage
While outright capacity isn't the most important factor in purchasing a virtualization machine, you should have at least a terabyte drive to manage your shared storage framework. One of the chief considerations that you should make when considering your storage is what kind of drive you want. For my money, solid state drives have some key advantages over traditional mechanical hard drives. The chief one is the fact that solid-state's access times are lightning fast in comparison, which means that your virtual machines will boot much faster.
Also, when it comes to solid-state drives, for virtualization, an M.2 PCI-E NVMe SSD is slightly better than a SATA-based SSD. In fact, NVMe SSDs run significantly faster than the other type but are also a bit more expensive than SATA as well.
Form Factor
If you want to do some virtualization, then you're going to need a larger machine. Not only do larger laptops have larger displays, which is advantageous when running programs and security applications, but they also tend to have num pads, which are also useful when you have to do some programming.
Additionally, larger machines are also more friendly for upgrading. Need more RAM? A larger laptop is more apt to have upgradeable memory and storage. Since you'll be running some component intensive processes on this new laptop, a larger system will also benefit you because larger systems don't cut down on cooling. Simply put, with a more robust structure, a larger system simply will handle the stress much better than the thinner systems that are popular today.
Graphics
In all honesty, this is probably the least important component of a virtualization-ready laptop. That being said, if you plan on doing any gaming on your new laptop, shoot for the current gen Nvidia Pascal 1000-series GPU. Additionally, systems with these kinds of chipsets can actually benefit your virtual machine by providing CUDA technology that can actually add a bit of computational power to your virtual environment.
Laptop Reviews
Table of Best Laptops for Virtualization
Wrapping it Up
It's definitely time to consider virtualization; it's the wave of the future and it's only going to grow in its vitality in business. Each of the machines that I covered here is excellent for virtualization, so review each again and decide which works best for your needs. If you ever need additional feedback or have any questions, pop a comment down below; I'll be sure to get back to you.