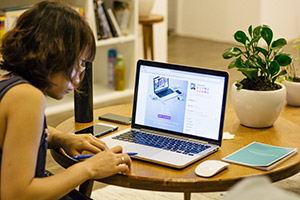 The best laptop for word processing and excel doesn't mean that should be expensive. At the same time, when brands release entry-level laptops, they are forced to make some strong compromises. And I won't shock you by saying that some laptops have made very bad ones.
That's why getting a first cheap laptop off the shelve will not work. Or at least, you'll have a worse laptop than you could have. And I don't know much about you, but I hate knowing I could have found a better deal and I didn't due to my own fault.
That's why I'll share my knowledge on finding the best cheapest laptops for word processing and best laptops for excel. First, I'll outline the requirements that will narrow our focus to the essentials and at the end, I'll reveal the best cheap laptops for every price range.
Let's dive right in.
What are we searching for in a word processing and excel laptop?
There are not many things you can get wrong with when buying a computer for Word, Excel, and other basic office software. But if you want to get the best cheap laptop for word processing and the internet, you'll need to spend your money just in the right areas and ignore the rest.
What is essential for the best laptop for word processing?
Major requirement

Mid-range processor

There are 2 key parts when considering general laptop experience: a processor and hard drive.
Under $400: basic processor and regular hard drive
$400 to $700: mid-range processor and regular hard drive
$700 to $1000: good processor small SSD storage
$1000 and up: good processor large SSD storage
You probably noticed, that I slightly prioritize a better processor. That's because a hard drive can be replaced, upgraded or at least defragmented if it is becoming frustratingly slow. Meanwhile, the processor cannot be changed under any circumstances and there aren't many ways how to speed up laptop processors.
A basic processor is enough for word processing. At the same time, I'd advise getting an Intel Core i5 processor if you'd like to have a good experience using your notebook for years to come.
Also, you don't need to break a bank to get a laptop with Intel Core i7. Laptops with i7 start from $710. Of course, it's entirely optional and I would recommend getting a laptop with a performance-oriented CPU only if you'd like to use it for more than just word processing.
Recommended laptop processors for word processing and excel:
Low-end (under $550): M-5Y10, i3-5010U, i3-5020U, i3-6100U
Mid-range (under $750): i5-6200U, i5-5200U, i5-4210U, i5-4300U
High-end (above $750): i5-4210H, i5-6300HQ, i7-5500U, i7-6500U, i7-6700HQ
Major requirement

Storage

There are 3 storage drive options when getting a laptop. The 2 most common types are HDDs and SSDs. The 3rd one is a compromise between them – SSHD. All you need to know is that SSDs are by far the fastest and SSHDs are somewhat faster than HDDs.

Usually, I strongly advise people to get a Solid State Drive, but word processing does not demand a fast storage.

SSHD is a regular HDD with a fast SSD-type buffer and this is a viable option. SSHD are significantly faster than HDDs for computer start-up and they do not cost much more than them.

SSD is not mandatory at all but it will be a nice addition if you're looking for a long-term laptop (for more than 2 years). SSDs are great not only because of their performance. They also last longer, they don't need defragmentation at all and they are more resistant to damage.

Also, unless you'd like to get a small and compact 11″ or 13″ laptop, there's always a way to upgrade a slower drive with a larger/faster one. And in many cases, even using an external drive or USB stick is absolutely fine.
Major requirement

4+ GB RAM

I would always insist on 8 GB as a minimum requirement but word processing does not need that much. That's why you're absolutely OK with 4 GB as a minimum requirement. But I would recommend getting 8 GB if you're looking for a laptop above $600.

Getting 16 GB is also possible, but that would be an overkill for writing or office work.
What would be nice-to-have in a best laptop for excel?
Minor requirement

Bright screen with IPS Panel

I use several of metrics when checking the screen quality: panel type, resolution, brightness, contrast, and color gamut.

The panel, resolution, and brightness are the only relevant ones. And then they can be ignored for a low budget laptop. For the cheapest laptops, I strongly advise getting a laptop with at least 1600×900 resolution.
Minor requirement

Full sized backlit keyboard

I've spent most of the time talking about the quantitative and easy-to-benchmark specs. But obviously, laptops are more than just that. Word processing, writing, and office work especially benefit from a good keyboard. At the same time, the differences between laptops keyboards are very minimal and often the same laptop keyboards can get widely different responses from different reviewers.

There were 2 things I took note when searching for the best laptop for word processing. I preferred laptops with backlit and full-sized keyboards.
What does not matter when buying a basic word and excel laptop
graphics card
weight – just buy a laptop of your preferred size. 13″ is good if you're going to use it on-the-go, 15″ is a good choice if you're going to use it mostly in your work or at home and 17″ is the best you need a powerful desktop replacement that doesn't need to be carried regularly.
more than 8 gb ram is usually an overkill for word processing and excel
touchscreen is entirely your preference. It would be nice to have one, but touchscreens have some invisible costs – a bit lower battery life and usually a bit dimmer screen.
battery life requirement should be adjusted accordingly to the way the laptop will be used. It's entirely reasonable to ask for a laptop to last for 5 hours even if it's a cheap one. But pushing it more than 5 hours usually means you'll have to either sacrifice the quality of some other component or you'll need to increase spending by 100$ or more.
My recommended laptops for word processing and excel
I compiled my list from the best sellers, newest releases, and the best time-tested laptops from late 2015 and 2016. I then compared them according to their 3rd-party benchmarks, various independent reviews, and tests. Finally, I took note of common complaints from people who have actually bought and used the laptops on my list.
Table of Best Laptops for working with Word and Excel
There's nothing more to know about getting a the best laptop for excel and word processing. Please let me know if something is not clear or if you need some custom recommendations.