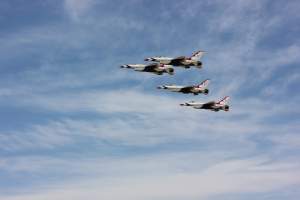 Flight simulators have been providing PC gaming enthusiasts with realistic flight experiences for decades now. In these games, airports, control schemes, aircraft, and world locations are faithfully represented. Today, many enthusiasts like myself and professional review sites like Lifewire agree that the best flight simulator on the market today is Laminar Research's X-Plane. They recently announced the beta for X-Plane 11, which is a very powerful, very realistic version of the game, but what kind of system can run it? Let's take a look at the best laptops for X-Plane.
What Makes the X-Plane Series so Good for Laptops?
One of the best features of X-Plane is its ability to run "Network Flight." This mode allows you to connect to other instances of the simulator through UDP/IP or TCP/IP connections. This is very useful and immersive because multiple pilots can play within the same in-simulator world and fly maneuvers or simply cruise through the virtual world. Here's a good example of a multiplayer test flight.
In addition to this, X-Plane can also be used for instruction. The IOS or the Instructor Operator Station is a great training tool for an X-Plane flight instructor. The IOS can be set up through your laptop for helping a friend learn to fly and cope with operational mishaps/bad weather, or you can use a secondary monitor with your machine to do the same. Having this local connectivity makes having a laptop with X-Plane very rewarding.
X-Plane's System Requirements
X-Plane 10
| | | |
| --- | --- | --- |
| | Base | Recommended |
| Processor | Dual-core processor with 2.5 GHz clock speed | A quad-core processor with at least a 3.0 GHz clock speed |
| RAM | 4 GB of RAM | 16 GB of RAM |
| Graphics | A video card with 1 GB of video RAM | A high-performance video card with DirectX 11 and 4 GB of video RAM |
X-Plane 11
| | | |
| --- | --- | --- |
| | Base | Recommended |
| Processor | Intel CPU with two or more cores with a clock speed of 3.0 GHz | Intel i5 or better CPU with four cores and a clock speed of 3.5 GHz |
| RAM | 8 GB of RAM | 16 GB of RAM |
| Graphics | A video card with 1 GB of video RAM | A high-performance video card with DirectX 12 and 4 GB of video RAM (preferably a Pascal-equivalent card) |
As you can see, even with X-Plane 10, for the best possible settings, you'll need a fairly performance-oriented computer. All of the devices that I will cover in our review section can handle either version of the simulator on reasonably high settings.
Recommended Specifications
Processor and graphics card
For a processor, it's important to get either an Intel Core i7 H-series processor or an 8th generation i5 processor. I would only recommend these processors for X-Plane.
For a graphics card, I would have same high requirements. There's no reason to target for a low graphics preset, so I would go for Nvidia GeForce GTX 950M or MX150. But for a smooth 60 FPS gameplay, I would choose GTX 1050 Ti or even 1060 if I had the means.
Display
One of the most important features for any simulator or game is its display resolution. Nothing is worse from a modern graphics perspective than jagged, ill-defined models that break all sense of immersion in your simulator. With this in mind, a strong display with high-end contrast, rich pixels in the HD to UltraHD range, and a high refresh rate for gaming and simulation are very valuable for your X-Plane experience.
Solid-State Drive
Solid-State Drive is a great addition no matter the reason. It's a must for any mid-range laptop and above. It speeds up startup time, improves responsiveness and is a drastic improvement over an HDD laptop. Solid-state drives are great for loading add-ons quickly because of read and write speeds of 3 GB/s, which blows away the standard mechanical drive's read and write speed of 120 MB/s at maximum.
That comes in handy for X-Plane which has a very active community. There are many amateur developers out there who simply love to develop game-enhancing add-ons for X-Plane. While one of the biggest accolades being heard from reviewers is that X-Plane 11 seems to not need many enhancements from the community, you can rest assured that there will be several as the game is released.
Connections
There are several peripherals for flight simulators which deepen the level of immersion for these types of software. As such, it's important to have the right amount of connections on your laptop so that you can connect them easily and without the need for things like USB splitters. I would prefer a laptop with at lesat 3 USB ports (2 of them USB 3) and at least one external display port – HDMI or DisplayPort. An external display can be used for the IOS features.
Control Scheme: Extras
True flight sim enthusiasts like myself prefer to play with several extra peripherals. They enrich the experience and make it feel more like flying a real plane. According to Angle of Attack's article on yokes, throttles, and rudder pedals, "to fly without all three is unrealistic." This is a statement that I mostly agree with, though I have played flight simulators with just a keyboard.
Extra Monitors – This isn't only for IOS mode; X-Plane is designed to be played on up to three monitors so that the flight experience is even more vivid and immersive. When I run this setup, I use my laptop's screen as the centermost viewport and two side monitors for the periphery.
Yokes – This is the chief control for your simulated airplane. When you purchase your laptop for playing X-Plane, purchasing one of these will help you control things like takeoff and landing.
Rudder Pedals – This is how your plane in the simulator will taxi and how you'll do engine out procedures. This peripheral will add a lot of flight realism.
Throttles – These usually combine both the throttle and your plane's speed brakes. You get a lot of great control with a dedicated throttle; in fact, I couldn't imagine flying without one these days.
Laptops for X Plane
1
i5-6300HQ
|
960M 4GB
|
8GB RAM
|
250 GB SSD
The Dell Inspiron i7559-763BLK is a good laptop for those who want to be able to play X-Plane on reasonably high settings and also don't want to spend a lot of cash. One of its best features, in my opinion, is the presence of a dedicated Nvidia GTX 960M GPU. This chipset also has 4 GB of video RAM, which actually lands this graphics card in the recommended range (though it's not a Pascal chipset).
While the 8 GB only reaches the base configuration recommended for X-Plane 11, Dell gives you a bit of wiggle room for its processor and storage. You can purchase the machine with either an i5 6300HQ with a 250 GB solid-state drive or an i7 6700HQ with an 8 GB solid-state drive and a one terabyte HDD. If you want a higher level of performance, the i7 has more threads and a higher base frequency, which will add a bit of performance.
If you want even higher framerates for a smaller price and you're willing to sacrifice display quality – MSI GL62M 7RD-1407 is a great offering.
View on Amazon
2
i7-7700HQ
|
GTX 1050 Ti
|
16GB DDR4 RAM
|
512 GB SSD
Our second laptop is a gaming laptop that comes from one of the best producers of gaming machines, MSI. This system has a few features that fall safely in the recommended area for X-Plane 11, such as a processor with a max turbo frequency of 3.50 GHz and 16 GB of RAM. The graphics card is also great for this price. There are very few laptops around $1,000 that come with an i7 processor and GTX 1050 Ti or 1060 which are the 2 best value graphics cards right now.
Additionally, this laptop also has a rather spacious 500 GB solid-state drive, which is great for storing the game and its add-ons so that you get a smooth, stutter-free performance.
View on Amazon
3
i7-8750H
|
1060 3GB
|
16GB RAM
|
500 GB SSD (PCIe) + 1000 GB HDD
If you want to do some gaming or simulation, this is an excellent machine. Firstly, this laptop hits all of the recommended system requirements. It has an up-to-date Pascal graphical chipset (the GTX 1060) that has 3 GB of video RAM. It also has 16 GB of RAM, which is great for X-Plane 11. Finally, its processor is a six-core CPU that has a max turbo frequency of 4.10 GHz. That's absolutely amazing for a laptop – 4.10 GHz six-core CPU can rival many desktop processors.
Some other neat bells and whistles that I like about this machine are its display's high 144Hz refresh rate. For those that don't know, this greatly affects the simulator's frame rate. I also love the fact that this machine has a backlit keyboard, which has LED keys that can be application controlled. Also, it has a good battery life, but you'll probably have it plugged in when you play X-Plane anyway.
The chief drawbacks of this system aren't really that massive in my opinion because of the fact that this is a simulation-ready laptop. It's heavier, at five pounds, but even when you travel with this laptop, it'll be to LAN parties, so this isn't a big deal.
View on Amazon
4
i7-8750H
|
1070 8GB Max-Q
|
16GB RAM
|
512 GB SSD (PCIe)
Well here it is; the laptop that'll give you a near-perfect X-Plane experience. It has a great display that filters away glare, IPS panel provides good contrast with wide viewing angles and a 144 Hz refresh rate provides smooth visuals. Its monitor has a crisp framerate, though there is a slight 5ms delay. It even has a great graphical chipset in its Nvidia GTX 1070; in fact, it's only one step down from the laptop gaming king of the hill, the Nvidia GTX 1080.
On top of these great features, this laptop has a powerful i7-8750H, which has six-core architecture and a max clock speed of 4.10GHz. In fact, you can even overclock this laptop's CPU for extended performance. Its weakest hardware aspect is its 16 GB of RAM, but it matches our expectations.
It is as light as a laptop with this performance-oriented hardware can be – just under 5 lbs. Also, it has a surprisingly long battery life – it can reach up to 8 hours.
View on Amazon
Table of Best Laptops for X Plane 11
Wrapping it Up
If you're ready to fly to the edges of the atmosphere and beyond, X-Plane has a plane for you. Since it is a simulator that works best on high performing computers, I hope that this guide helps you find a perfect system for this excellent flying experience. As always, if you have a question about our featured devices in this article on the best laptops for X-Plane, simply place it in the comment section. I'll get back to you as fast as possible.