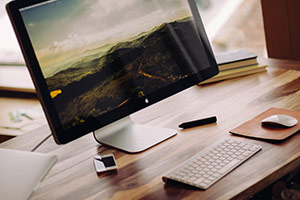 Quite often, we get into IT with excitement for nearly everything related to computers. I remember when I was into hardware and I just had to know EVERY SINGLE BIT about every piece of metal. But as time passed by, we all start to specialize. For some time, I was out of touch with the PC hardware. Now, I find many IT professionals in a similar situation. They were the ones that would throw computer recommendations left and right. But in a few years time, they felt a bit like fish out of water when it came to finding the best laptop for IT professionals.
This is where I come in. I'm here to fill you up with all the #knowledge you need to find the best of the best.
If you stick with for the next 5 to 10 minutes, you'll know which of your needs you should to take into account and what are the best laptops for IT professionals right now.
Let's jump right in.
What is needed for the best laptop for IT professionals?
IT professionals come in many "flavours". By the time I'll end writing this guide, there will be a new branch of IT under this ever-expanding umbrella term.
For simplicity's sake, I'll give some illustrative examples for programmers, system analysts, data scientists, and IT managers. I apologise for every other unique snowflake I've left out. Worth mentioning, I've written a guide for penetration testers right here.
Keystone requirements for IT pros
High-end processor
For any IT professional, I'd recommend getting Intel Core i7 processor. But gone are the days when i7 CPUs were a be-all and end-all sign of a high-end performance. Don't get me wrong, they still stand for something. But now, some i7 models have just above-average when it comes to raw computational speed.
IT Managers and System Analysts, can go for Intel Core i7 U processors. Examples:
i7-4650U – Surface Pro 3
i7-5500U
i7-5600U – found in some Lenovo ThinkPads
i7-6500U – a very popular model
i7-6560U – found in new Dell XPS laptops
i7-6600U – found in new Microsoft Surface Book
i7-6650U – found in new Microsoft Surface Pro 4
i7-6567U – found in new VAIO Z
Programmers and data scientists can aim for i7 HQ/HK series if they can sacrifice some of the battery time. Examples of CPUs:
i7-47**HQ (the cheapest)
i7-5700HQ
i7-6700HQ (the most common)
i7-6820HK
i7-6920HQ (the fastest)
Is Solid State Drive a requirement for IT?
Not exactly, but it's a great addition nevertheless. Anyone who can spend $1000 or more for a laptop should insist on an SSD or at the very least a laptop that can be upgraded to have one in the future.
For programmers and data scientists, SSDs help to find needed code snippets, refactor code and update data in large databases. I've moved all my code and databases to my SSD due to these reasons alone.
IT managers and system analysts do not HAVE to get an SSD but they definitely SHOULD if it's possible.
If you're not sure whether an SSD will fit in your budget, here's a small guiding table of what you can expect:
| Laptop price | Expected size of an SSD |
| --- | --- |
| $550 | 128 GB SSD / 1 TB HDD |
| $950+ | 500 GB SSD / 128 GB SSD + 1 TB HDD |
| $1300+ | 500 GB SSD + 1 TB HDD |
Worth noting, you might need to give up long battery life and display quality to reach these sizes at the lower end of these price ranges.
How much of storage space is needed for IT Professionals?
At least 250 GB, 500 GB is quite comfortable and 1 TB – 2 TB would be optimal and "future proof".
In my personal experience, 250 GB SSD + 500 GB HDD is enough for an IT professional. On the other hand, I would recommend getting 500 GB SSD, especially if you need a laptop to boot Linux and Windows in the same SSD. And as you'd expect, 1 TB SSD + an optional HDD would be ideal.
How much memory should an IT professional get?
Unless you're searching for a secondary workstation – aim for at least 8 GB. For $900+ laptops you should aim for 16 GB.
Right now I have 16 GB installed and I'm almost always using 12 – 15 GB of it (15.3 at this very moment). You could get away with only 8 GB if you don't open a list of tabs whenever you're searching how to fix a bug.
What would be nice to have?
When to get a dedicated graphics card?
If you work with CUDA-accelerated software
Some of you might need a laptop that can use Nvidia CUDA to handle a lot of data (data scientists) or password cracking (penetration testers). In that case, GPU can make a world of a difference. Right now, the best bang for dollar comes with GTX 960M/970M graphics cards. If you'd like a high-end video card, look for the latest GTX 1060, 1070 and 1080 cards. These cards offer very similar performance as their desktop counterparts.
If you work with graphics
If you're a full-stack developer or a graphics/web designer – dedicated video card is a nice addition but not needed for the most part. It can speed up work when working with very high-resolution bitmap graphics but I wouldn't prioritize it over other components. Nowadays even integrated Intel solutions are good enough for 2D work.
If you are a gamer
Unless you'd like a laptop for light gaming, you'll need a video card with dedicated memory. Nvidia Geforce GTX 960M is a good starting point, but the upper range 9th/10th (Pascal) gen cards would be ideal if you want to play above Full HD resolution (1920×1080).
Else
You don't need it.
Ports
External Displays
To hook up an external display to a laptop you need either an HDMI, DisplayPort (DP/mDP) or USB 3.1 Type C with Thunderbolt controller. Ideally, you would want 2 of these ports. Then you could hook up 2 or 3 external monitors.
USB
In a perfect world, you'd want to have USB 3.1 Type C via Thunderbolt III and 3 standard USB 3 ports.
If you're going for a smaller laptop – you might need to give up this requirement. But surprisingly, there are a few small 13″ laptops that pack multiple USBs and even multiple Display Ports. Though, if you want to get a small portable laptop with plenty of connectivity options, great performance, and a long battery life – you'll need to spend upwards $2000.
Best Laptops for IT Professionals
Table of Best Laptops for IT professionals
And that's about it. Now you know what to look for and what are some of the best examples of great laptops for IT professionals.
If you have any additional questions or requests please let me know in the comment section down below!