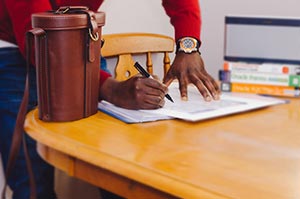 You may have decided to start your journalism career with the movies in mind. Those guys carry a pencil and a small notepad as they track down the story, running from place to place, interviewing and slamming their stack of papers down on their editor's desk.
These days, journalists are on call from anywhere and need to be able to produce quality, and sometimes lengthy, work wherever they are. A pad and pencil aren't going to do it. While it may not be as dramatically satisfying to send email attachments, there's no way around it. You're going to need a laptop.
And as a journalist, you might be doing more than writing. You may need to host chat sessions, broadcast live feeds, or communicate with people all over the world. Once again, that pencil and paper aren't going to help you.
If you're a journalist in the market for a computer there are a few things you need to look out for to make sure the laptop is an asset and not a clunky headache. Below are some things to take into consideration when trying to find the best journalists laptop.
Battery Life
Do I even need to mention this? The best laptop for journalists needs to go with you and that doesn't always include a cushy coffee shop right next to an outlet. You need to think long and hard about where and when you will do most of your work. Don't be that person running on two percent battery life with only an hour to a deadline.
You need enough battery life to keep you flexible and to meet the demands of your job. Battery life is always measured with the screen set on dim and assumes light internet browsing on Wi-Fi. So in practice, manufacturers can claim that a laptop lasts up to 8 hours (if it is measured as "idle battery life"), while in "real-life" you could expect no more than 5 hours. And even then, you rarely might get to use it in ideal conditions and which can mean that you're getting only half of the advertised battery life. What is more, as the years pass, the battery life tends to drop accordingly.
Wherever I mention the battery life, I refer to "realistic/optimistic" battery runtime – dim display, Wi-Fi turned on and light work.
If you don't want to be disappointed, take this decrease into consideration. Are you only writing, or are you having to go to conferences, research, and make heavy use of the internet? Are you working outside or inside? These things will affect your "ideal battery conditions," so a projected all-day battery life might be essential.
Portability & Display
Another feature that almost goes without saying is portability. You need something light, and although laptops have come a long way from the clunky 15 pounders of the first versions, if you plan to carry your laptop all day long, mere ounces make a difference.
Another consideration you may not be thinking about is the display. The display may not seem like a big deal, but think about what conditions you will probably work in. If you'll do a lot of work outside, then brightness and resolution aren't extras; they are essential. When you make your living by writing, you don't want to be squinting at a small, dark screen trying to proofread.
If your journalism includes photos, videos, or graphics, you don't want to have to wait until you get home to process those. You'll want functionality right where you are and that means thinking about screen size and resolution. The best laptop for journalists will have the right screen for your work.
If you want a few more details on these specs – I recommend laptops with at least 250 cd/m2, Full HD resolution (with some exceptions for small laptops). On top of that, IPS panel and 800:1 contrast ratio would make the display ideal for writing.
Memory and Storage
Are you gaming or are you writing? Maybe both, but if you want to focus on your work, memory and storage are things you might be able to sacrifice. With the ease of free cloud storage, the storage on your computer may not be an issue at all.
If you know that you'll have regular access to the internet, then you may be fine creating and storing documents directly from the web anyway. This will go along with the portability consideration. You want your laptop to serve your needs where you most need to have them.
Some things to consider, though. Are you going to be in places where your internet access is spotty or non-existent? Storage directly on your computer may keep you from having to search for your tiny flash drive just to save a piece of work, or from having to save in different formats, one offline and one on.
Memory allows your computer to perform its everyday tasks, and writing platforms aren't nearly as intense as something like video games. Unless you plan to use the laptop as a dual writing/gaming tool, a slightly lower memory isn't something to be worried about. The best journalists laptop will have enough memory to run your writing programs, but won't need to be fancy.
For precise numbers, I advise going for 4 GB at the very least (while some cheaper Chromebooks can get away with 2 GB). But if I can go above $600 – I'd go for 6 to 8 GB. That's especially needed if you like to have a lot of browser tabs open.
Performance
If you've got enough memory, then performance is entirely dictated by the processor and Solid State Drive. For journalists, I recommend weeding out all the laptops that do not have an SSD and that do not have i5 (or i7) processor. I recommend i5 processors as they offer enough speed for a journalist while being more power-efficient compared to i7s.
A final thought on requirements
It's important to consider where you are in your journalism career. Are you a student or just starting out? Are you a veteran looking to make the leap into the 21st-century skill set? It's important to consider your own work so that the laptop you choose is right for you instead of overwhelming or way over your budget.
You might be tempted to pick a laptop based purely on looks, but take a second and really look at how each of the specs balances the other, what you can sacrifice and what you can't. Then you'll find the laptop that fits you perfectly.
If you want to find the best laptop for journalists, you can start with our list of picks. Each one will get your career started off on the best foot, or possibly take it to the next level. We chose them based on the criteria we mentioned above, particularly battery life and portability.
Best laptops for journalists
1
Great Chromebook for journalists
Celeron N3050
|
HD Graphics
|
4GB RAM
|
16 GB SSD
|
11.6″ 1366×768
|
9h
For someone who probably makes a living freelancing, or writing where the action is happening, the two things going for the cheapest laptop on the list are the weight and the battery. Clocking an impressive 9 hours of battery life on low brightness and light web browsing on Wi-Fi, this 2.5-pound machine can go with you all day wherever you have to write.
The operating system is well suited to journalism and comes with a decent amount of memory at 4GB. The storage isn't great, but with cloud-based storage, it doesn't need to be a consideration unless your task is going to take you out of range of the internet.
Chrome OS doesn't run Windows or Mac programs, but with Google Docs and other free apps, it shouldn't be hard to find a writing program that works for you. The display isn't great either, but if your work is mostly text-based, then it won't be a problem.
It doesn't have a fan, so it runs silently, which is nice if you are easily distracted or you need to work in quiet environments.
View on Amazon
2
Budget laptop for journalists
i5-6200U
|
HD 520
|
6GB RAM
|
250 GB SSD
|
13.3″ IPS 1920×1080
|
5h 45min
If you have a little more in your budget, moving up to the Acer Aspire will get you better storage, memory, and a better overall processor.
This Acer comes with the 6th generation of the i5 processor, Intel Core i5-6200U, which is a good all around the processor, and 6GB of memory. The storage is better with a 250GB solid state drive (SSD,) which makes transferring files much easier.
It has a slim design and is lightweight, merely 3.5 pounds. The battery life is only about 5 hours and 45 minutes, but still plenty of writing time before you have to find an outlet. The display is much better, a comfortable 13.3 inches and ISP full HD. If your writing includes something other than texts, you're going to have a better experience.
The one downside is the screen isn't as bright, which might cause some usability issues outside.
View on Amazon
3
Portable MacBook for journalists
i5-5250U
|
HD 6000
|
8GB RAM
|
128 GB SSD (PCIe)
|
13.3″ 1440×900
|
10h
MacBooks can be expensive, but this MacBook Air is the cheapest Air available and a great way to get into the Apple market. It features an Intel Core i5-5250U processor, and 8GB of memory with 120GB of storage. The display is good as well with a 13.3 inch IPS 1440×900.
The star is the battery life, an impressive 10 hours with a dimmed screen and wifi browsing. The laptop weighs 3 pounds, which makes it easy to take wherever you need to write. Although the storage space could be better, cloud storage will ensure you have what you need.
Working in journalism is a high-tech endeavor now, and it's essential that you have a machine that can keep up with your work schedule and your travel schedule. Deadlines, travel, working on location, and keeping up with the latest issues require your laptop to be portable and have a long lasting battery, and be able to write news, not just gather information.
View on Amazon
4
Great Windows laptop
i5-6200U
|
HD 520
|
8GB RAM
|
128 GB SSD
|
13.3″ IPS 1920×1080
|
5h 45min
The Dell XPS 13 is an "ultrabook" which is a high end laptop that offers both style and performance. Its keyboard and trackpad are set up for ease of use, perfect for writers, and the screen display competes with even most Macbooks, at 13.3 inches and IPS full HD.
The design is almost as thin as a Macbook as well, weighing only 2.6 pounds. The processor is a decent 6th generation i5 processor, and 120 GB of storage. The battery life lasts 7 hours, making it highly portable.
View on Amazon
Table of Best Laptops for Journalists
Whatever laptop you choose, it's important to remember that you are part of the 21st-century community and as such, you have a responsibility to master the skills required of today's journalists. The best journalists laptop will help you to accomplish these skills and work in the new century.
Are you a journalist or journalism student? Let us know your thoughts about the best laptop for journalists in the comments.