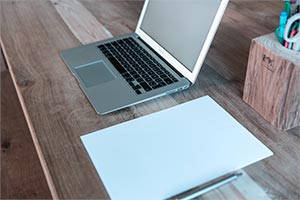 As a business student, there are a few things you need to consider when shopping for the best laptop for business school. Is the laptop sturdy enough to stand all the work and possibly traveling you're going to put it through? Can it manage multitasking, including running Excel while taking notes and researching on the Internet?
In addition, the business school you're attending will have its own recommendations and guidelines. Most schools will want you to use Microsoft Office and may even recommend the best laptop for their students. Columbia Business School, for example, recommends an i3 core processor or above, 8 GB RAM, 128 GB storage, and either an Ethernet port or USB Ethernet adapter to access their wired network.
At the same time as a student, you need to consider your budget. In the end, you want to make sure whatever you purchase will work for what you want it to do while still remaining affordable.
Requirements for MBA laptop
One thing you need to remember is that your laptop, while you are a student, is likely to take a lot of "abuse". You'll need to carry it with you throughout the day and likely also use it to take notes for all your classes. You want to find the best laptop for business school students that can handle this kind of stress and that won't die in the middle of class or, worse, in the middle of a presentation. Now, I'll go through more specific criteria to consider.
Main Requirements
Optimal processor for your business course
You should be able to get by with even a minimal processor. If your school supports Chromebooks, you can literally go for any processor on the market. Though, they are not all equal (far from it) and if you can allow yourself to splurge a little bit more than the bare minimum, I recommend to go for Intel Core processor.
As far the processors go, I would sort them in this order by their performance:
ARM processors (i.e. Rockchip)
Intel Atom, Celeron
Intel Pentium; AMD A6
Intel Core i3, Core M; AMD A8, A10
Intel Core i5, i7 ****U (recommended)
Intel Core i7 ****H*
For a Windows laptop, you should target for at least Core i3 (or equivalent) processor to properly run Microsoft Office. Of course, if you want a more powerful laptop, Intel Core i7 U (including i7-6500U and i7-7500U) would be the best choice. It provides best performance-to-battery life ratio. And for gamers out there, something like i7-6700HQ would be more suitable. i7 H line CPUs are the fastest but they suffer from significantly shorter battery life (shorter by ~2 hours).
How much memory is needed?
RAM (Random Access Memory) importance certainly cannot be overestimated. Getting too little RAM can result in a underperforming laptop.
The best part about RAM is that it is very easy to comprehend. The more memory a laptop has – the better. All that matters is a single figure – its raw size in GigaBytes (GB).
In fact, it doesn't even matter much if a laptop has DDR3 or DDR4 memory, or what is its latency, voltage, dual/quad channel setup or any other fancy spec to make it seem that some 8 GB modules are better than others. There are numerous tests showing that the difference between the best and the average RAM modules is no more than 10%. I am slightly inclined to recommend DDR4 over DDR3 if you're planning to use this laptop for 3 years or more. Then you'll be in a slightly better position to buy a memory upgrade if needed.
Metro MBA recommends 4 – 8 GB RAM, while Virginia Commonwealth University recommends at least 8 GB. This is especially true if you're running several apps at once. When a program is opened, it and its data (ideally) is stored in RAM, where the processor can access it more quickly than it normally can if the data remains in storage.
Do you ever need 16 GB for MBA?
There are a few circumstances when I recommend 16 GB.
You're a heavy multitasker
You've computer-based hobbies
You're a gamer
You want a fast laptop on a budget and you cannot afford a laptop with an SSD
Long battery life
As a business student, you're not likely to have a lot of time to charge up your battery during the day, so you want a battery with enough life while not weighing you down. All of the laptops I am going to recommend have at least 6 hours of battery life while browsing via Wi-Fi.
Price
Finally, a major requirement for many students is that they have a computer that does the job and is, at the same time, quite affordable. I usually only recommend laptops that offer good value to price ratio. That means they're the best in their price range for business school.
Minor Requirements
Storage
Although not absolutely required, an SSD (Solid State Drive) should be an essential part of any new laptop. It has less moving parts than an HDD, which results in a lot faster and more durable file storage. In addition, SSDs weigh less, are quieter, which is great for classroom use, and more resistant to data loss.
The one drawback is that it doesn't usually have as much storage as an HDD. The laptops listed, except for a single Chromebook, have SSD with 250 GB of storage which should be plenty for normal use. For some that might mean resorting to an external hard drive or "cloud storage".
If would like to get a 15.6″ or 17.3″ laptop – there are various options with an SSD + HDD setup. In fact, it's exactly what I am using right now. 250 GB SSD for the fast and responsive system and 1 TB HDD for archives.
Optional Requirements
Graphics Card
Whether you choose to have a dedicated graphics card or an integrated graphics card is really up to you. A dedicated card has its own RAM, known as VRAM, which means it doesn't need to share its workspace with the processor. For a business school, an integrated GPU is all you need. To put it simply, that means not thinking about a GPU at all. 100% of laptops with 4th-7th gen Intel Core processor have an integrated GPU sufficient for business school.
There is one big exception – gamers. If you want a laptop for business school and gaming – then you should look out for a discrete Nvidia GeForce GTX video card:
Older games (LoL, WoW, CS:GO, Sims 4): 940MX, 950M, 960M
Newer games (Overwatch, FIFA 17): 960M, 970M
Graphic-intensive games (Mafia 3, Deus Ex:MD, Doom, Hitman 2016): 1060, 1070, 1080
Nvidia covers most of the laptop graphics market. But to make this guide complete, I'm also adding recommendations for AMD Radeon cards:
Older: any Radeon R9 or R8
Newer: Radeon 295X, M390X, M395X, 480M, M485X
Graphic-intensive: Radeon RX 490M
Durability for MBA
While not normally a specification for the best laptop for business students, you do want a laptop that can take a lot of wear and tear. You also want a keyboard and trackpad that are responsive and easy to use without wearing out over the long haul. This is a premium requirement. So if you're going over $1500 – prefer laptops with aluminum frame.
Recommended Business School Laptops
1
Cheap Laptop for Business School
Celeron N3050
|
4GB RAM
|
16 GB SSD (PCIe)
|
11.6″ 1366×768
|
9h
As a Chromebook, Samsung XE500C13 is very light, it has a great battery, and, most importantly, it is not expensive at all.
Chromebooks are meant to be used almost exclusively in the cloud. You get access to 100 GB of Google Drive and connection speeds are decent. If you can use Google Drive alternatives to Microsoft Office, or just use Office online – a Chromebook might be an easy way to save hundreds of dollars. It also has a comfortable keyboard and trackpad and several additional ports to add peripherals. So if cost is a major factor for you, this is definitely a laptop you'll want to look at.
It does have a slow processor, so you aren't going to want to use it for much more than web browsing, working on the cloud and responding to emails.
You could also use it as a secondary, easy-to-carry computer. As your work will be in the cloud, you could access your work from your home on a desktop or another laptop.
2
Budget Laptop for Business School
i5-6200U
|
8GB RAM
|
250 GB SSD (PCIe)
|
15.6″ Matte 1920×1080
|
6h
This Asus laptop, at a very reasonable price, covers easily the minimum requirements to run Microsoft Office. The 250 GB SSD storage with PCIe is durable and fast. In essence, it covers all my main demands I have for a business school laptop.
There are a few reasons why it costs only ~$500. First of all, it doesn't have a replaceable battery and there is no back-lit keyboard. On top of that, there's some pre-installed "bloatware" which ideally should be removed. That can take an hour or so of your time.
3
Core M3-6Y30
|
8 GB RAM
|
250 GB SSD
|
13.3″ Touchscreen IPS 1920×1080
|
6 hours 20 minutes
I'll just go straight to the differences between the Asus Zenbook and the previous Asus laptop. First of all, Zenbook is a convertible laptop. That means it can be used as a notebook and as a (heavy) tablet. Just flip the keyboard behind the screen and here you go – watch movies and play simple games using its touchscreen.
It's lightweight and has a slim design, so it's easy to carry between lectures. It is a dead-silent great looking laptop.
Although the processor is not up to par with other laptops in this price range, it still is enough for any type of task you'll need to do while getting your MBA.
Usually, I recommend only laptops that are head and shoulders above the rest in the performance department. I made an exception for this Asus Zenbook because it is really well-rounded in every other aspect.
4
The best laptop for business school
Core i5-6300U
|
8 GB RAM
|
250 GB SSD
|
12.3″ Touchscreen IPS 1920×1080
|
7 hours
The Microsoft Surface Pro 4 is definitely at the high end of the laptops.
It is the best in processing power and, with the exception of the Chromebook, in battery life. At 3 1/2 pounds, it is easy to carry and is a 2-in-1 to use with or without the keyboard. The incredible display makes this an enjoyable laptop to look at as well as to use. The Surface Pen provides many more input options, including direct connection to OneNote. This Youtube video gives a good overview of most of the features useful to a student. On the other hand, the only connector ports are USB 3.0 and a mini display port.
It also is not as fast as other ~$1100 laptops but, considering the insane portability, it is acceptable.
The Surface Pro is definitely worth considering, especially when there are 8 variations to choose from which to fit your budget.
Table of Best Laptops for Business School (MBA)
So, you have a lot to think about as you consider what you need for an optimal business school experience. Now, the choice of a laptop shouldn't be the most difficult decision you'll have to make this semester.