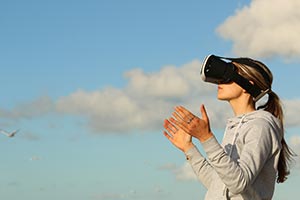 Let's all be honest. The next big computing platform, the thing that has gamers, programmers, and even random Joe Schmo on the street excited is virtual reality.
Virtual Reality has been a part of Science Fiction for a long time, but up until now using virtual reality in everyday life hasn't been practical. The technology hadn't caught up with what is required for a VR system to run on someone's personal computer.
But all that changed with Oculus Rift.
I know what you're thinking. There can't be a best Oculus Rift laptop because using a laptop for a virtual reality system is insane. You are asking a laptop to provide similar specs as a desktop. It can't be done.
Fortunately, technology has come a long way to cramming a huge amount of functionality into a small space. There are few things required for your laptop to be able to run the Oculus Rift system without crashing and burning. These are not going to be your average college student laptops. These will require heavy duty computing systems to keep up with the demands of virtual reality.
How Oculus Works
The video is sent to the Rift through HDMI via a 10-foot cable that is just long enough to give a consistent signal, but lightweight and comfortable.
The positional tracker is a cylinder that sits on top of your desk and tracks your movements through a series of LEDs embedded in the headset. The LEDs are located in the front and in the back to offer 360-degree views when in the VR environment.
The headset itself is lightweight and adjustable to accommodate a variety of sizes and lenses. Two pairs of internal lenses allow the screen to fill your vision without blur, or theoretically, motion sickness.
The screen is actually two displays offset to account for natural vision processing. They run at a total resolution of 2160×1200 and over 400 million shaded pixels.
It runs an enormous amount of data in the feedback loop (positional tracker, headset, and computer plus software,) making a smooth environment. Any adjustments are made directly in the Rift's software, including the ability to calibrate based on things like your height.
Although Oculus has released specs for its native controller, Touch, it currently isn't on sale and won't be for the foreseeable future. Oculus Rift will ship with an Xbox One controller in the meantime.
If you're looking for the best laptop for Oculus Rift, what do you need exactly? Let's take a look.
Another component of this system is something called the Adjacent Reality Tracker. It polls at about 1000 times per second (1000Hz) which tracks teeny tiny head movements, accurately tracking the Rift across all dimensions.
What's needed for Oculus Rift?
Graphics
Obviously, if you are looking to run a virtual reality system, you'll need a GPU that's capable of rendering those 3D environments quickly and without delay. The requirements published on the Oculus Rift site state that required GPU is NVIDIA GTX 970 / AMD 290 equivalent or greater. And for laptops these are the recommended GPUs:
Why do you need such a high specs? We know virtual reality will require a lot, but do you realize exactly what you are asking your laptop to do?
Basically, a standard 1080p and 60 HZ requires about 124 million shaded pixels per second. That's a lot.
Rift, however, renders at almost four times that amount, at 400 million shaded pixels per second. Rift has also stated that these requirements will remain the standard over the lifetime of the system, so that as the equipment capable of running that system becomes cheaper, developers can count on standard specs, simplifying the production.
Processor and Memory
Rift requirements for your CPU are just as intense as the graphics requirements. Bare minimum, you'll need at least an Intel Core i5-6440HQ. That doesn't mean that any i7 CPU will work – for example, i7-5500U and i7-6500U are well below the minimum requirements for Oculus rift and these are very common processors in $700 – $1500 range.
For the most part, you should be looking at i7-6700HQ, i7-6820HK, and similar models. If it's an i7, the first digit is above 4, and the second digit in its model is above 6 – you're in the clear – it will work with Oculus Rift.
Minimum memory requirement is 8GB. But since we're going for a high-end processor and GPU, you should get at least 16GB oF RAM. This additional RAM doesn't add much to the final price and it's a good investment for the future.
Do you need 32GB RAM?
Some of you might need to consider getting 32 gigs of memory. Will you need it? Probably not. 16GB is enough for gaming and work.
So when 32GB would bring a noticeable improvement to the table? It would help you out if you tend to play games at the same time while still keeping some heavyweight applications open.
So if you have a game (or even multiple games open) with Photoshop, OBS, Spotify, Chrome/Firefox with ~30 tabs and possibly multiple displays – you can start noticing a very small difference with 32 GB.
Ports & additional hardware
You will need at least 2 3.0 USB ports. If you ever plan to use the controller, Oculus Touch, then you'll need more or an approved extension. You'll also need an HDMI 1.3 video port.
The current optimum recommendations are actually 3x USB 3.0 ports plus 1 USB 2.0 port. The founder of Oculus Rift explained that the updated recommendations are assuming that users will have the Oculus Touch and the Xbox One gamepad at the same time.
Great additions
Fast storage
There's only one important spec I haven't yet mentioned because it's not essential for Oculus Rift. But it can drastically improve the general laptop performance.
Processors have got so fast these days that the good ole mechanical HDDs can't keep up. You won't regret getting a Solid State Drive to match your already pimpin' gaming rig.
There are only 2 questions that we need to answer.
How much storage is needed?
For gameplay, you could just get 250 GB SSD + 1 TB HDD. But if you get spend $2000 or more, a large 500GB (or even 1TB) SSD would be a better option.
Is there a difference between PCIe SSD and SATA SSD?
On paper – yes, in practice – not so much. PCIe SSDs are ~1.5 – 2.5x faster in their raw file transfer speeds. But there are very few tasks that need 1 GB/s speeds so it gets pretty much irrelevant in real-life situations. I wouldn't go out of my way to get a PCIe SSD unless the laptops are very similar in every other regard.
If you want to capture the Oculus gameplay and you can't use a lot of CPU for video compression, only then would a large PCIe SSD would start making sense.
What are the best laptop for Oculus rift?
As of now, there are no supports for OSX since no Macs meet the recommended specs, so PC is your only option. There is a talk of future support for Linux, but for now, 64 bit Windows is your minimum. This includes Windows 7, 8.1, and 10 (recommended).
Also, I have to warn you – right now only a few brands have jumped on the VR bandwagon quickly enough to get in this recommended Oculus Rift laptop list. Most notably – it's MSI and Asus.
Table of Best Laptops for Oculus Rift
Even if you aren't able to jump on board with Oculus Rift as it rolls out, the systems required for the first generation will remain the same for the life of the system, meaning that as some time passes and more consumers buy into the VR world, laptops will get better and faster, and more importantly cheaper.
Finding the best laptop for Oculus Rift may require some modifications to an existing laptop, or choosing to build your own based on the required specs for optimum performance. The laptops on this list are the very best Oculus Rift ready machines to get you started in the world of Virtual Reality.
Are you opting into the new Oculus Rift system? How are you preparing your system to handle the load? Let us know in the comments your best Oculus Rift Laptop recommendations.