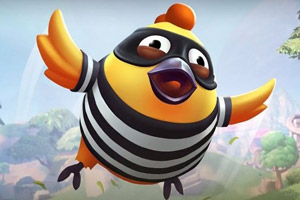 Realm Royale has recently sprung into the battle royale scene with wide acceptance. This battle royale shooter was spun out by Hi-Rez Studios out of their Paladins shooter. It has been gaining popularity amongst streamers lately. Realm Royale is freely available on Steam for Windows PCs. The only limitation is in hardware – not every laptop can handle RR on high framerates, that's why we need some research to find the best laptops for Realm Royale.
Realm Royale Laptop Requirements
First off, let's begin with the requirements for Realm Royale. I've based these requirements on the Paladins requirements with a few adaptations for laptop hardware.
Minimum Realm Royale Requirements
Processor: Intel Core i3-6100U || AMD A8-7200P
Graphics: Intel Graphics UHD 620 || Nvidia GeForce GTX 940M || AMD Radeon R7 M465
RAM: 4 GB
Storage: 10 GB
Recommended Realm Royale Requirements
Processor: Intel Core i3-8130U
Graphics: Nvidia GeForce GTX 960M || AMD Radeon R9 M390
RAM: 6 GB
Storage: 10 GB
What is needed for a Realm Royale laptop?
Realm Royale is one of the least demanding new games. It can run on virtually any hardware but it can lag on old processors and it will not reach high framerates with integrated graphics. That's why I'll break down exactly what components we need to ensure we're having a smooth Paladins: Realm Royale experience.
Primary requirements
Major

Processor
Intel processors
First of all, we should start with the processor. If you get the right processor, you'll have no problem at least running Realm Royale. I advise going for a 7th or 8th generation Intel Core processor. That includes all processors that fit in this template (where x means any number):
That excludes Intel Celeron, Pentium, Atom and Core m processors. If we get a laptop with a CPU that fits any of these templates – we're in the clear. That's all we need to run Realm Royale as these processors have good integrated graphics modules which are capable of at least starting RR on lowest settings. They might go up to ~30 FPS and that would be enough if you're only searching for the cheapest laptop capable of playing Realm. But for most, I'd recommend getting a faster processor than that and pair it with a dedicated graphics card.
What processors are best for Realm Royale?
To get the best laptop for RR, I'd go for an i5 or an i7 processor, preferably one that has an "H" in its model code. Some good examples:
i5-8250U (good)
i7-7500U (good)
i5-7300HQ (good)
i7-8550U (very good)
i5-8300H (very good)
i7-8750H (one of the very best)
Processors with an "H" indicate Higher performance and "U" is for Ultra low power consumption. So H is for speed and U is for better battery life.
For Realm Royale, anything above i5-7300HQ will be enough to go above 100 FPS if paired with a sufficient graphics card.
AMD processors
What about AMD? Well, there aren't many laptops with AMD processors and most of them are low-tier that would be barely sufficient for Realm Royale if coupled with the right graphics card. That's why I don't advise buying a laptop with an AMD processor.
There's one big exception to this rule of thumb – AMD Ryzen processors. If a laptop has AMD Ryzen processor, there is no doubt that it's fast enough for Realm Royale. AMD has made long strides towards better CPUs with AMD Ryzen being the prime example of great performance at an affordable price. For butter-smooth gameplay (100+ FPS), I recommend AMD Ryzen 5 or Ryzen 7 processors. Sadly, these processors are hard to come by so most laptop shoppers will still end up buying a laptop with Intel chip even when AMD has some worthwhile alternatives.
Major

Graphics card

Realm Royale uses a slightly dated Unreal Engine 3 under the hood. It might have some limitations in visuals, but considering the looks of Unreal Tournament 3, Realm Royale still has plenty of room for growth in this department. Using an older engine has a big advantage over other popular battle royale games that use a much more demanding software stack. Fortnite and PUBG both use UE4 which demands an up-to-date laptop just to reach playable framerates. Meanwhile, Realm Royale can reach similar performance with a much cheaper graphics card.
Integrated graphics
Integrated graphics is sufficient to start Realm Royale but not enough if you want smooth gameplay above 30 FPS.
If you can't afford a laptop with Nvidia or AMD Radeon graphics – just make sure you're getting a laptop with HD 620, HD 630, UHD 620 or UHD 630 graphics chip. These are baked in to nearly every 7th/8th generation Intel Core processor – that's why I emphasized getting a recently released processor.
Dedicated graphics
If you want to play RR on higher framerates or you want to play other modern games – you'll need a discrete graphics card. Nvidia is the prime choice in this situation.
For most, I recommend GTX 1050 and GTX 1060 cards. They are fast enough to play any game on the market on medium-to-high settings.
There are a few additional options, such as GTX 960M, 970M, 1070 but I find 1050 (Ti) and 1060 as providing better performance per dollar.
TL;DR
If you want a laptop under $1,300 – look for GTX 960M, 1050 and 1050 Ti. If you can spend more than $1,300 on a laptop – start looking for GTX 1060.
Minor

Memory

This is a no-brainer. Just get a laptop with 8 GB of RAM and you'll be alright. But if you want a laptop that will work for years to come – get a laptop with 16 GB or at least make sure it can be upgraded up to 16 GB in the future.
Optional requirements
Optional

Solid State Drive

Not mandatory, but definitely a great addition to any laptop. I'd even go as far as saying that if you don't absolutely need 1 TB of storage – go for an SSD. SSD is the best quality of life upgrade since they're a lot faster, dead silent and degrade a lot slower than regular hard disks.

In my opinion, any laptop over $800 needs to have an SSD.
Optional

IPS display

Display quality is one of the things that can be easily overlooked when buying a laptop. It's not straightforward to measure, it is not needed for everyone and it is either not mentioned or obfuscated by the manufacturer.

There's one exception to this hard to grasp spec and that is IPS panel. These panels are superior to their TN analogs in nearly every way. IPS produces better viewing angles and better color contrast. They're not an all-in-one cure to wash out displays, but they're as close to one as we can get.

IPS panels are usually very clearly mentioned in any laptop's description, usually beside the screen size and resolution so it's not only an important spec but it's also easy to identify. 95% of the time if there's no "IPS" mentioned in laptop's page – it has an inferior TN panel.

IPS might cut too deep into your budget if you're searching for a laptop under $900. But for anything but entry-level notebooks, an IPS panel is a quality of life improvement that I wouldn't go without.

Just make sure it's not an "IPS-like" display. In practice, these panels are no better than regular TN panels and they should be evaluated as such.
Best laptops for Realm Royale
Cheapest laptops to play Realm Royale
1
Cheapest laptop for Realm Royale
Intel Core i3-8130U
|
Intel Graphics UHD 620
|
6 GB RAM
|
1 TB HDD
|
15.6″ 1080p
|
5.3 lbs (2.4 kg)
View on Amazon
2
Entry-level laptop for RR
Intel Core i5-8250U
|
Nvidia GeForce MX150
|
8 GB RAM
|
256 GB SSD
|
15.6″ 1080p
|
4.4 lbs (2.0 kg)
View on Amazon
3
Mid-range gaming laptop
Intel Core i7-7700HQ
|
Nvidia GeForce GTX 1050
|
8 GB RAM
|
128 GB SSD & 1 TB HDD
|
15.6″ 1080p
|
5.3 lbs (2.4 kg)
View on Amazon
4
Workstation for gaming
Intel Core i7-7700HQ
|
Nvidia GeForce 1050 Ti
|
16 GB RAM
|
512 GB SSD
|
17.3″ IPS 1080p
|
6.8 lbs (3.1 kg)
View on Amazon
5
Gaming-oriented laptop for any battle royale game
Intel Core i7-7700HQ
|
Nvidia GeForce GTX 1060
|
16 GB RAM
|
512 GB SSD
|
15.6″ IPS 1080p
|
5.9 lbs (2.7 kg)
View on Amazon
6
A well-rounded laptop for gaming and work
Intel Core i7-8750H
|
Nvidia GeForce GTX 1050 Ti 4GB
|
16 GB RAM
|
500 GB PCIe SSD & 1 TB HDD
|
15.6″ IPS 1080p
|
5.7 lbs (2.6 kg)
View on Amazon
Table of Best Laptops for Realm Royale