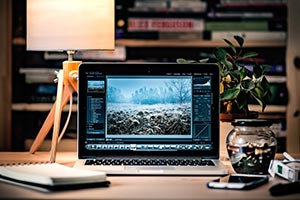 You hear the term "laptops for business" or "business laptops" all around you, especially if you run your own business and network with other small business owners. But what are these laptops and how can you find one that suits your professional needs?
Let's get this out of the way. There's no "perfect laptop for business". But there are a few models that get pretty damn close to that. Each model of laptop has its own strengths and weaknesses. Each one has different specs and is better at certain things than other models. Things like durability, snappy multitasking without downtime, long battery life should be taken into account. But depending on your specific business, you will need to weigh some of these factors more heavily than others.
Let's face it, wading through hundreds of laptops searching for these things would be quite boring and very time-consuming. And one thing I know about business owners – they hate wasting time. This is where I come in and help you out. I'll tell everything you need to know about the various components of the best laptop for business. And of course, I'll cover the best laptops for small business right now. By the end of the post, you will know what laptop is perfect for your small business and why.
Key requirements for a good small business laptop
Tablets vs. Laptops
More and more tablets are being designed and sold as business devices. There are tablets with detachable keyboards (2 in 1 laptops, in other words) and even tablets that run Microsoft Windows instead of Android. Tablets are great for business because they cost a lot less than dedicated laptops. However, tablets are weaker when you think about performance and they cannot – as of yet – replace laptops.
You must be aware that investing in a powerful laptop that will work for your business for years is much more important than playing with a low budget "toy". Budget machines are not enough to support a business that's growing. Though, I'm not here to say that you need a top of the line machine to get things going – far from it. I believe, that for most small businesses, going for laptops that are slightly better than the entry-level options is enough.
Right now, I'll cover my reasoning part by part.
What is a sufficient processor for a small business?
To keep it short and simple, I'd target for i5 or i7 U-series processor. These offer sufficient performance and good enough battery life.
Going for a Core i3 processor, or God forbid, Pentium/Celeron is far from ideal. Buying a Windows laptop with i3/Pentium/Celeron and no SSD storage is the fastest route to a disappointment.
On the other hand, investing your money in expensive i7 HQ processors is not necessary unless the laptop is used for highly technical work (programming, photo/audio/video editing, 3D modeling).
Being slowed down by outdated technology is certainly something you need to avoid at all costs as a small business owner. However, keep in mind that more powerful Central Processing Units (abbreviated CPU) will drain your laptop battery quicker than older processors. MacBooks and other ~$2000 laptops are the only exceptions to this rule.
Enough RAM for multitasking
In the most simple terms, the more RAM a laptop has, the more things it will be able to do at once. Even having dozens of tabs open in your Internet Browser takes up quite a lot of RAM.
I recommend going no lower than 4 GB of RAM. And even then, consider buying a laptop with 4 GB RAM only if you are on a very low budget (under $500). Realistically, 8 GB should be enough. Anything above that is only needed for technical work.
Right amount of space for files
Small business laptops are stressed with all types of work. Multimedia showcases, hundreds of Word documents and PDFs, large PowerPoint presentations, large email databases – all of these things need to be stored on your hard drive.
Best storage type for small businesses
When dealing with small business, I often had to:
install/upgrade software
install/upgrade hardware
recover data from hard drives
One of these tasks is not like the others. So please, get an SSD – they are a lot more reliable, they don't have a 20% chance of failing in first 4 years and they are so much faster than the old spinning disks.
How much storage should I get?
I recommend going for at least 250 GB. If a laptop is used for accounting, that's more than enough. A larger drive needs only if you're dealing with media – photos, video, and audio. In that case, you might be better off having multiple drives – SSD for OS and critical data and a large HDD for media. Having a backup in the cloud is a great way to minimize the risk of data loss if you're ever storing any data on an HDD.
Battery Life
A large battery will surely save you a lot of time because you can work while you're not in an office.
If you mostly work at your office, you can ditch a large battery for a larger screen and more performance (or a lower price for that matter). You can keep the laptop charged most of the day at the office, so vigorous battery life is not necessary.
What would be nice to have for a small business?
An easy to carry laptop
Portability is this magical term to refer to weight, battery life, and screen size. If your laptop will stay at the office/home most of the time, weight and battery life are not important. You can safely pick a laptop with a large screen and lots of processing power because you can keep it connected to a charger most of the time.
If you travel a lot, you will definitely find a smaller, lighter laptop much more practical. This means a smaller screen, less performance, but greater battery life. However, you don't have to worry about charging the laptop in the middle of a presentation.
Graphics card w/ dedicated memory
Most of the time, business people don't need powerful video cards for their regular tasks. The built-in GPU should be enough for most people. However, you will need a dedicated graphics card if you plan on doing video or photo editing. Complex 3D visualization and modeling software also require powerful GPUs. It all depends on what you will be using your laptop for.
The right screen size
Screen size is not very important; you either want a portable laptop or a powerful laptop. Laptops in the 10.1″ to 14″ are highly portable and don't weight too much. Most people prefer a 13.3″-15.6″ screen sizes because they seem to be the best screen size for business laptops – not too large to carry around all day and not too small to struggle to see the details and small text in direct sunlight. Keep in mind that most 10.1" laptops are close to the performance of a tablet – definitely not enough for the needs of an average small business.
What's entirely optional?
Security Features
If you keep sensitive documents and data on your laptop, you are surely interested in protecting said data the best you can. A fingerprint reader is an all-around better and more convenient solution to authentication than a regular password.
Another option would be a high-quality integrated camera that can work in conjunction with third-party software to perform face recognition – the laptop will not unlock unless you are looking at it. Though, these systems almost always have a password fallback which means that they're more of a matter of convenience than a matter of data protection.
Best Small Business Laptops
I hope now you know what to look for when searching for the best laptops for your small business. As expected, people who use a laptop for heavy graphic design and 3D modeling need different specifications than people using their business laptops for opening Word documents and PowerPoint presentations. It's hard to tailor suggestions for every single use case.
But the picked laptops are usually very well-rounded with their strengths and weaknesses pointed out so you can know if it's right for you. If you can't spend much time on a research yourself, you can safely pick any one of the laptops listed above. But at the end of the day, it's still your choice!
If you have any personal preferences or requests, you can leave a comment down below and I'll make sure to reply – after business hours :)