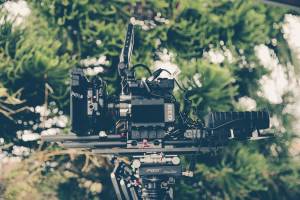 No time to waste, let's just jump straight to what you need in a film editing laptop and what you don't. Or you could scroll to the bottom of this guide and see what are the best laptops for film editing that I'd recommend.
Here we go!
Requirements for a Film Editing laptop
Processing Power
Processor is the cornerstone of a film editing laptop. If there's one thing you get out of this guide – make sure you're getting a high-end processor. Unlike RAM or storage – you will not be able to change it. So make sure you're getting one that will be up-to-date for the next 3 years or more. The good news is that processors are not getting that much faster year-to-year. I know, it doesn't sound good, but in a way – it is. That means, that if you get a top of the line CPU this year – it still will be a good processor for years to come.
Xeon and ECC memory
If you have an unlimited budget – you can buy a laptop with Xeon processor and Error Correcting Memory support. ECC memory self-corrects to prevent errors in memory. It can be useful for looong renders during crunch time. But at the very cheapest, a laptop with a mobile Xeon CPU (Xeon E3-1505M) costs ~$1,700. But usually, a well-rounded laptop with Intel Xeon processor costs ~$2,500.
Recommended laptop processors for film editing
Basic tier: i5-6300HQ, i7-7500U, i7-6500U and etc. Sufficient for phone footage.
Recommended: i7-7700HQ, i7-6700HQ. Recommended for GoPro/DSLR editing.
Best: i7-6820HK, Xeon E3-1535M v5/v6
TL;DR
Look for i7 H line of processors. If you can spend over $2000 – look for Xeon E3-1535M v5/v6.
Storage
OK, you're all aboard the SSD train and you'd like to get a large drive.
SSDs are more reliable, a lot faster but significantly more expensive. I recommend getting at least 128-256 GB SSD for Windows and your editing software (Premiere, Vegas, After Effects, etc). On top of that, you should get 1TB HDD.
Ideal case would be having a large 500 – 1000 GB SSD, so you can store (a significant part of) your footage in a fast drive. Though, these large SSDs start only from ~$1,500.
Graphics Card
Everyone knows video editing is a graphics heavy work. I recommend considering cards from NVIDIA and AMD Graphics. Under $1,500, you should expect cards such as 960M, 970M and GTX 1050. Above $1,000, look for GTX 1060/1070/1080.
At the same time, you don't always need a top shelf GPU. Nvidia Pascal cards (that is, all GTX 10xx cards) are very close to desktop performance. At the same time, laptop CPUs are quite far behind their desktop counterparts. So in short, a high-end GPU is almost never likely to be a bottleneck and therefore, it's not necessary.
Memory
How much memory size matters?
As everyone is moving towards the 4K video footage, more and more memory is used for post-processing 4K video. Therefore, I recommend that people invest in a computer with around 8 GB or even 16 GB of memory. Many video editors look for 16 GB – 32 GB RAM when searching for a laptop.
DDR4, frequencies and overclocking
All of that doesn't matter. No, seriously. It matters only because having DDR4 memory will be easier to upgrade in a few years time. Apart from that, even with synthesized tests you could barely see a difference between DDR3 and DDR4. There's a difference, but you might save ~1 minute of rendering time per year.
More modules in the future
Now that's (kind of) important. It's not important, if you're getting a 32 gigabytes of the bat. But in other cases – you might end up in a position where adding some extra RAM will help you out. I'm glad I've updated from 8GB to 16GB about a year ago. Now, I'm limited by my laptop's motherboard. But if I'd buy a new laptop, I'd go at least for a 16GB laptop that could be upgraded to 32GB. When I had 8GB, I had a lot of performance issues – especially when I open 30 tabs in Chrome and that eats up ~6GB alone. Adding more RAM saved me quite a bit of time. RAM is cheap. Time is not.
Display, display, display
If you're under a tight budget constraint, you might not be able to have it all: great CPU, GPU, large SSD and a great display (and don't get me started on trying to squeeze in a decent battery life into that).
At the very least, if you're getting an expensive laptop, you're likely not to get a terrible display. But if you want to make sure you're getting a good one – you'll need to make some research (or just rely on what research I've done in the laptops down below).
Sadly, very few manufacturers include screen benchmarks into their pages. It's just not a "sexy spec". It seems, resolution, IPS panel and matte finish are the only phrases you'll see in a laptop description. Though, a few brands have lately bragged about their Adobe sRGB/RGB coverage, especially when it's (close to) 100%.
OK, long story short – to find (mostly) reliable display metrics, you'll need to look for 3rd party reviews. Some good websites for that are Notebookcheck and LaptopMag, just to name a few. The metrics to look for:
Panel type: IPS or IPS-like (wide-angle)
Resolution: Full HD to 4K
Brightness: 300 cd/m
Contrast: ~ 1000:1
sRGB %: 80% or better
Laptop picks for movie editing
1
BUdget pick for movie editing
i7-6700HQ
|
960M 4GB
|
8GB RAM
|
1000 GB HDD
|
1920×1080
Pros: This is a budget laptop that people who are looking to start in the film editing industry might be interested. It has a solid i7 processor with a good graphics card and a decent amount of memory at 8GB.
Cons: It has an HDD hard drive and is a little heavy; however, people can upgrade the hard drive to SSD when ready.
2
More RAM + a small SSD
i7-6700HQ
|
960M 4GB
|
16GB RAM
|
120 GB SSD (PCIe) + 1000 GB HDD
|
1920×1080
Pros: This is laptop was designed for gamers; however, it has a number of features that make it attractive for film editing. It has an i7 processor, a solid graphics card, and 16 GB of memory. It comes with an HDD hard drive, making it fast, and the extra RAM can handle serious multitasking like photoshop, after effects, and premiere.
Cons: This is a heavy laptop that people might find cumbersome to carry around.
3
One of the least expensive 10th-gen Nvidia laptops
i7-6700HQ
|
1060 6GB
|
16GB RAM
|
120 GB SSD + 1000 GB HDD
|
1920×1080
Pros: The computer has an outstanding i7 processor, a decent grpahics card, and 16 GB of memory. This is a laptop meant for people looking to start editing 4K films.
Cons: It has a small screen size that might make it hard to see but it is great for people looking to travel. People can always hook it up to another monitor for a larger view.
4
A large SSD, finally!
i7-6700HQ
|
1060 6GB
|
24GB RAM
|
500 GB SSD (PCIe) + 1000 GB HDD
|
1920×1080
Pros The computer has a solid i7 processor and outstanding memory capacity at 24 GB. The hard drive is an SSD which flies and is good enough to handle a variety of rendering with plenty of RAM.
Cons: The computer is heavy and the battery only lasts for a few hours on the minimum brightness. The computer also doesn't have an IPS display.
5
4K, great performance, good screen, large SSD
i7-6700HQ
|
970M 6GB
|
32GB RAM
|
500 GB SSD (PCIe) + 2000 GB HDD
|
3840×2160
Pros: The computer has a solid i7 processor with an outstanding graphics card and 32 GB of memory. This is a film editing laptop for 4K films. It has an anti-glare display and a full-sized backlit keyboard.
Cons: The hard drive is an HDD, is heavy, and lacks Type C ports. It does have two mini display ports.
Table of Best Laptops for film editing
In the end, there are many laptops on the market with a variety of features. I recommend that everyone takes the time to assess their needs and their budget to find the laptop that is right for them.