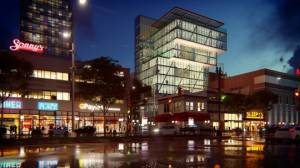 When it comes to hardware requirements, Lumion is one of the few suites of software that will demand the very best. A few years ago there hardly was any hardware capable of running Lumion at a desktop level. Of course, even the best laptops can't match top shelf desktop hardware but it can get surprisingly close. With recent improvements with Nvidia's 10th generation graphics, I can finally recommend some laptops for Lumion.
Requirements
Here are requirements for Lumion 8.5 (as of 2018 September).
Official minimum Lumion requirements
CPU: Quad-core 3.0+ GHz
GPU: 2,000 PassMark points, 2 GB VRAM
RAM: 8 GB
Resolution: 1600×1080 or higher
Official recommended Lumion requirements
CPU: Quad-core 4.0+ GHz
GPU: 8,000 PassMark points, 6 GB VRAM
RAM: 16 GB or more
Resolution: 1920×1080 or higher
Specification breakdown
Processor
Processor is most likely to be the bottleneck in a laptop for Lumion. Laptop processors fall behind desktop counterparts and only the best mobile CPUs are suitable for Lumion.
To run Lumion you'll need at least i7-7700HQ, i7-8750H, i7-7820HK or i7-8850H. There are a few laptops that come with desktop processors such as i7-7700K but then you can forget about the battery life. Also, laptops with desktop processors are likely to experience performance throttling due to limited cooling in a laptop chassis.
Graphics card
Graphics card performance can be measured in various tests designed to benchmark the overall performance of any particular GPU. One of these standard tests is PassMark. It boils down video card's ability to render visuals to a single number which is called PassMark G3D Mark.
If you want a laptop satisfying minimum requirements for simple scenes in Lumion, you'll need a GPU with at least 2,000 PassMark points in videocard benchmarks. That is just where Nvidia GeForce GTX 960M lands. It can be found even in budget laptops costing ~$700.
For acceptable performance you'll need Nvidia's 10th generation GTX graphics: 1060, 1070 and 1080. Out of all Nvidia cards, only these are recommended for complex environments (with the best being at the top):
Quadro P5000
GTX 1080
GTX 1080 (Max-Q)
GTX 1070
Quadro P4000 (Max-Q)
Quadro P4000
Out of these cards, only GTX 1080 (with Max-Q and w/o) and P5000 are suitable for extremely complex Lumion 8 scenes.
Max-Q graphics are recommended if you want at least 4 hours of battery life. These are slightly underclocked chips that consume less power and produce less heat. So GTX 1080 Max-Q will be more power-efficient but slighly slower than a regular GTX 1080.
Also, if you can, buy a laptop without G-Sync. It is a neat feature for gamers but it is entirely useless for professionals. Since G-Sync is incompatible with Nvidia Optimus, it will result in your powerful GPU sucking juices out of your battery even if you're just browsing the internet. Long story short, G-Sync is a one-way ticket to short battery life.
Storage
Storage requirements aren't particularly high. You'd need at least 30 GB of free file storage space to install and run Lumion. That translates to at least 128 GB SSD drive. Though, I recommend getting 256 GB to fit any additional software and leave some overhead for downloads and personal files.
Anyone who wants a larger drive will need to get either a 512 GB SSD or aa bonus HDD drive. These are a lot cheaper than Solid State Drives. Larger laptops (15.6″ – 17.3″) often come with multiple storage slots, especially when modern PCIe SSDs don't occupy drive bays. Even if a large laptop doesn't come with an additional HDD, there's a good chance that you can upgrade it.
Memory
99% of laptops with a recommended Intel i7 processor and Nvidia graphics card will have at least 16 GB DDR4 memory. That's the recommended amount. Some high-end models will come w/ 24 GB or even 32 GB RAM.
Best laptops for Lumion
1
Mid-range laptop for Lumion
i7-7700HQ
|
1050 Ti
|
16GB RAM
|
512 GB SSD
|
17.3″ IPS 1920×1080
|
300 nits | 700:1 | 80% sRGB | 55% RGB
Lumion requires high specifications and getting a cheap laptop isn't possible, so the start point is going to be this $1k laptop from Eluktronics. It comes with specifications that are close to recommended ones to use Lumion.
Both CPU are GPU meet recommended requirements, but according to official Lumion support, GTX 1060+ is proposed which is just above the GTX 1050 Ti present in this laptop. It also has a large 17.3″ IPS display which is above average in its metrics (with contrast lagging somewhat).
The 2 main drawbacks to this laptop are its weight (6.8 lbs/3.1 kg) and short battery life (~2 hours). If you're willing to sacrifice these 2 points – it's a great laptop at an affordable price.
View on Amazon
2
Lightweight laptop for Lumion
i7-8750H
|
1060 3GB
|
16GB RAM
|
512GB NVMe SDD + 1 TB HDD
|
15.6″ IPS 144Hz 1920×1080
|
230 nits | 1200:1 | 60% sRGB | 40% RGB
This is the first laptop that meets all of the recommended requirements for Lumion. Compared to the Eluktronics model above, this laptop has a better processor, graphics card and a lot more storage.
Also, it comes with a sleek design and a high refresh rate panel which will produce smoother visuals and possibly less eye strain. And this fast display is driven by a fast Nvidia GeForce GTX 1060 6GB card which is capable of rendering near-maximum quality in Lumion.
Even though we're seeing an improvement in battery life over the last laptop, I would not recommend this laptop if you're working in a very sunny or brightly lit environment – from a few screen benchmarks I have, I can presume it has a below-average LED lighting which is good enough for most indoor use, but not sufficient for daylight. But apart from that, it's an absolutely great deal – some top of the shelf components for a fraction of the price.
View on Amazon
3
Verified Silver Laptop for Lumion
i7-8750H
|
1050 Ti 4GB
|
32GB RAM
|
2 TB SSD + 1 TB HDD
|
15.6″ 120Hz 1920×1080
|
300 nits | 850:1 | 85% sRGB | 55% RGB
If you'd rather buy a laptop with a solid display and a massive Solid State Drive – Asus ROG is worth taking a look. Even though it's a gaming-oriented laptop, it's not a one-trick pony. It's a well suited machine for professionals that need a powerful set of hardware components under the hood.
Without a doubt, it's great laptop for any type of productive work – nearly unlimited amount of RAM and storage with a high-end processor will guarantee that this rig will stay competetive for the next few years.
Would I call it a perfect laptop for Lumion? Not quite yet. I'd rather get a laptop with an IPS panel, slightly faster graphics card and better color coverage. But is it the best one can expect from a laptop under $2,000? Yes, yes it is.
View on Amazon
4
Best 4K Laptop for Lumion
i7-6700HQ
|
1070 8GB
|
32GB RAM
|
500 GB SSD (NVMe) + 2000 GB HDD
|
17.3″ IPS 3840×2160
|
340 nits | 1100:1 | 85% sRGB | 55% RGB
A large 4K IPS display with an Nvidia GeFroce GTX 1070 graphics card. That's a gem for any kind of visual work apart from professional color correcting.
If you want to have a big 17″ inch laptop that is capable of doing anything at a reasonable high-end price, this is for you. There are a lot of many great features such as 4K IPS, 8 GB VRAM, fully-sized backlit keyboard, relatively decent battery life for performant laptop and 500 GB SSD with additional 2 TB.
Basically, you won't lack any popular high-end features using this laptop so if the budget allows you to make a future investment like this. Perfect option!
View on Amazon
5
Best Laptop for Lumion
Xeon E3-1505M v6
|
NVIDIA Quadro P3000 6GB
|
32GB RAM
|
4TB SSD
|
17.3″ UHD 3840×2160
|
340 nits | 1150:1 | 100% sRGB | 80% RGB
If you have a practically unlimited budget for a Lumion laptop – you might want to get a machine with the professional-oriented components from a respected line of laptops.
Lenovo has been a safe option for a business laptop for the past decade and that's not without a reason. This particular laptop comes with a buffet of high-end hardware desserts that are precisely tuned for demanding professional work.
First of all, it has a Xeon processor. Xeon processors dominate server and supercomputer markets. They are stable, fast and expensive. It is paired with Nvidia Quadro P3000, which is… stable, fast and expensive – you get the point. 2 pro-grade components in one package.
What is more, it comes with a whopping 4 GB of SSD storage. That's bonkers in laptop world.
And to top it off, Lenovo adds a large 17.3″ 4K display with plenty of ports (Thunderbolt 3, USB 3, DisplayPort, HDMI), 8-cell 96 Wh battery that can last the whole day and a display that reaches 100% sRGB coverage. This is what world class product looks like.
View on Amazon
Table of Best Laptops for Lumion 8.5