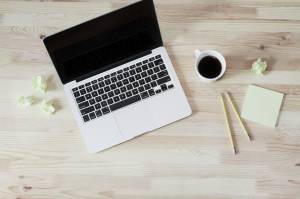 For the majority of personal computing history, the desktop has been the go-to choice for anyone that wanted to get some work done or browse the internet. Over the past few years, this has started to change significantly; in fact, we compute on the train, in coffee shops, and even as we wait patiently at the dentist's office. As a result, many people want to have more portable computer options that are a little more powerful than what's available on a smartphone of a tablet. In fact, recently I decided to retire my own aging desktop and move on to a powerhouse laptop, which is why I decided to create this article so that you can make the change as well. Having said that, let's take a look at the best desktop replacement laptops.
Things That You Should Consider Before Making the Change
Before you throw out your desktop in favor of a new laptop, it's important that you make some considerations first. One of the most important considerations is usage. If you are seeking out a laptop that will just be used to browse, you don't really need to fully replace your desktop. You can simply buy a browsing laptop like a Chromebook and do your browsing wherever you are.
Secondly, if you really are seeking to only compute on your laptop, I'd suggest not throwing away your monitor. Many of today's laptops have HDMI and DisplayPort technology so that you can hook your laptop into another display. This can open up larger screen options so that you can even use your laptop like you would have used your desktop; in fact, you can even plug in your old keyboard and mouse!
What the Best Machine Should Have
With this type of thinking, you should have a machine that has some fairly high-performance features. Here is a list of benchmarks that I think will serve you well in your desktop replacement laptop:
RAM – Memory is what makes a good laptop run fast, so you'll want to purchase a machine that has significant RAM so that your access times are greatly shortened. For a full-on desktop replacement, I'd recommend grabbing at least 16 GB of RAM. This way, you won't get too much slow down when you push the laptop's hardware.
Processor – There are a plethora of mobile processors on the market that can run with their big boy desktop counterparts, but for true desktop replacement, I'd go with an Intel i7 or above. This CPU will provide fast computational speeds and some versions of the chipset incorporate multiple cores, which will beef up your simultaneous computations.
Storage – Since this is your main computer, I suggest always shooting for at least one terabyte of space. This will give you some wiggle room when it comes to storage, though a higher amount of storage space is always useful. Also, I try to always buy models with a solid-state drive. SSDs always outperform traditional mechanical drives in every statistic save for price per gigabyte. Fortunately, the price is coming down. In fact, LaptopMag has a great article about why you should go for an SSD over an HDD.
Graphics Card – If you want to game, shoot for a laptop with a dedicated graphics processor from either Intel or AMD. I recommend one of the Pascal chipsets from Nvidia; they are even virtual reality-ready.
Battery Life – Unfortunately, the beefier your laptop's performance specs are, the more likely your battery life is going to tank a bit. Still, it is possible to find a happy medium. For a desktop replacement, I suggest trying to find a machine that can run for a few hours unpowered.
Display – Never skimp on your display. Remember, you'll be using this for all of your computing, so you definitely don't want a laptop with a low-resolution display, one that is too small, or one that catches every ray of sunlight and is thusly always hard to compute on in bright situations. Also, I personally love touchscreen laptops; they tend to make computing much more convenient.
The Benefits
There are a wide variety of benefits when you are replacing your desktop for a laptop. One of the most important is the fact that you really can't take a desktop with you very easily. In my semi-professional gaming days, I used to have to schlep my desktop to LAN parties and that wasn't fun at all. With a good gaming machine, you can quickly disconnect your laptop from any peripherals and quickly take it to where you want to be.
Secondly, touchscreens are becoming increasingly popular on laptops, and while there are touchscreen desktops on the market, laptop touchscreens can be much more convenient to use in an office or home situation.
Some Limitations
With all this in mind, there are definitely some pronounced drawbacks to this type of sidegrade. Firstly, no one could ever tell you that laptops are as upgradeable or can have components that are as easily replaced their desktop counterparts. While there are some upgrade options for some laptops, there'll always be components like the graphics card that simply won't upgrade or replace as easily. While there are components of desktops that you will always need to replace and upgrade, this will still be a cheaper and easier experience than the same process on a laptop.
Also, wear and tear is always going to be significantly more prevalent on a laptop than on a desktop. Simply put, if you are taking a laptop in a book or messenger bag, you expose it to the elements of travel. This can include damage from weather or simply the jostling damage of putting it down on the subway floor two to three times a day. A desktop is almost never exposed to these hazards, which is something that you should consider.
My picks for a desktop replacement laptop
1
Replace your desktop without breaking the bank
i7-6700HQ
|
960M 2GB
|
16GB RAM
|
1000 GB HDD
Lenovo has always been known for making serious, high-performance laptops. The Y700 is a great desktop replacement machine because it only costs $1200 dollars, but still deftly packs in some excellent hardware. First, it uses a sixth generation i7-6700HQ processor that has four cores and a max turbo clock speed of 3.50 GHz. This is a fairly performant processor that is bolstered by a robust amount of RAM (16 GB). The monitor on this machine even has a hinge design that looks great.
If you're a gamer, you'll even be able to play the majority of the current crop of games since this uses a last-generation Nvidia GTX 960M with 2GB of VRAM. In fact, this laptop is part of Lenovo's gaming line. This even has a five-hour battery life, which isn't bad. I just wish it had a USB 3.1C connector.
View on Amazon
2
i7-7700HQ
|
1060
|
16GB RAM
|
120 GB SSD (PCIe) + 1000 GB HDD
The next laptop that I'm going to cover is all about options. As another gaming rig, the MSI GE62VR Apache has an Nvidia GTX 1060 graphics processor under its hood that will let you play with the Oculus Rift or the HTC Vive for some bleeding-edge virtual reality. It even has a great processor; the Intel i7-7700HQ, which packs in a strong, current generation, the quad-core level of performance. It even has a "best of both worlds" setup in its storage options – it has a solid-state and mechanical drive for program running and file storage.
So what did I mean by options? Well, the MSI GE62VR Apache comes in different "flavors" so that you can select your own level of performance. These include:
16GB RAM | 1TB HDD for $1,399
16GB RAM | 256GB SSD + 1TB for $1,449
16GB RAM | 512GB SSD + 1TB for $1,549
32GB RAM | 128GB SSD + 1TB for $1,569
32GB RAM | 256GB SSD + 1TB for $1,599
As you can see, you have a few choices and the price doesn't go up too precipitously. Personally, I love the Razer Chroma-style backlit keyboard for my gaming sessions. They're even programmable for your gaming.
View on Amazon
3
Great gaming-ready laptop
i7-7700HQ
|
1070
|
16GB RAM
|
120 GB SSD + 1000 GB HDD
Dell's Alienware line is designed with gaming in mind. The Alienware 15 R3 runs the same Intel i7-7700HQ from the previous laptop I reviewed but takes a step up in the graphics card category to the Nvidia Pascal 1070. One of the best features of all Alienware PCs is the aesthetically otherworldly design and this laptop excels in that regard.
While you'd expect a bit more RAM than 16 GB for over $2000, I can forgive them because of the solid-state and mechanical combo drives and the powerful chipsets. I also wish that they were able to pack in a little more battery power; this laptop only will last for about four hours under a mild load.
View on Amazon
4
The best desktop-replacement laptop you can get
i7-7820HK
|
1080 8GB
|
64GB RAM
|
2000 GB SSD (PCIe) + 1000 GB HDD
|
3840×2160
Whew! As a certain Japanese company used to say, "Now you're playing with power!" This killer laptop will replace just about any desktop that I can think of. It costs almost $5,000, and its hardware is absolutely amazing. Firstly, the i7-7820HK is one of the most advanced CPUs out there; in fact, it's considered the second best on the market. Secondly, to speed along that processing power, this laptop has 64 GB of RAM.
While Nvidia did just released its fastest gaming card the Pascal architecture packing 1080ti, this new chipset hasn't been shrunk down for laptops just yet. That being said, this laptop features the most powerful graphics card for mobile gaming, the Nvidia GTX 1080, which is a very powerful GPU.
Also, if you need space, the MSI GT73VR TITAN PRO packs in three terabytes of storage space split up between a 2 TB SSD and a 1 TB HDD, which is a great combo, in my opinion. My only gripes with the MSI Titan is the fact that it's heavy (at more than eight pounds) and the fact that its battery life is pretty bad; it only has about 2:25 hours of video playback and 2:40 hours of web browsing.
View on Amazon
Table of Best desktop-replacement laptops
Wrapping it Up
Replacing your desktop for a laptop can be a freeing experience that allows you to compute on-the-go. I hope that you enjoyed my guide on the best desktop replacement laptops. These are all excellent machines, so pick the one that really speaks to you as a user. If you have any questions, I'm around, so leave them in the comments section below the article.