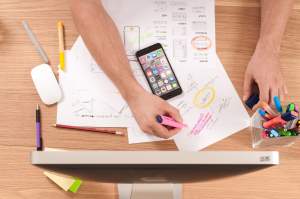 If you are a full-stack developer, you have different needs than someone who focuses on front-end development only. Will you be doing a lot of graphic work? Do you want to switch back and forth from Linux to Windows? Once you have the answers to those types of questions, you'll have a better idea of what requirements will matter most for your individual situation. That being said, the requirements that follow cover the full spectrum, giving you a good view of what's required for the best web design laptop.
Major Requirements
Storage
The SSD or Solid State Drive has no moving parts which makes it a much more durable and faster storage solution than the HDD or Hard Disk Drive which uses a magnetic head to access data on the disk. While the HDD costs less, making it more attractive for a large storage solution, the SSD is preferred.
For web design work, this is probably the most important requirement. Because of the speed of the SSD, it boots quickly and accesses applications quickly. If you're planning to be a full-stack developer, you'll likely want to use Linux which means having a dual-boot PC or a virtual machine. This allows you to switch between operating systems with Windows being the choice for front-end work and Linux being the choice for back-end work.
There isn't a need for a large HDD on the side as most development can fit into 250 GB, the size of a reasonably priced SSD. For raster graphics work, found mostly in enterprise websites, you might want 500 GB. If you have good storage at your hosting site, you can probably keep a lot of your files there if necessary. If not, there are any number of good cloud storage solutions available.
TL;DR
Bottom line? Go for the 250 GB SSD or, if you want more storage, 500 GB SSD.
This
forum post gives the pros and cons of having a dual boot configuration versus a Virtual Box.
And if you want some help setting up your dual boot, check this out.
Finally, if you're a bit confused between a full stack and front end, a somewhat humorous explanation, though dated, can be found here.
Display
Another major requirement for the best laptops for web design is the display. You want what you see to be as accurate as you can get it in terms of detail, contrast and color. Even if your viewer may not have access to that type of visual, it's still important they see it as close to the original as possible. What that means for your display? IPS allows wide angle viewing – the color doesn't change whatever angle you are viewing. The resolution should be at least 1920 x 1080 and if you can afford it, a 4K display can help out in testing out websites on high DPI/PPI screens. Once you have the display in place, when you switch between browsers to check your presentation, you have a better overall idea of how it's going to look.
You might also want to consider a touch screen, especially for interactive design.
Processor
The processor runs the show. It relies heavily on RAM and storage to access instructions and data quickly, but the CPU (Central Processing Unit) needs to be pretty speedy in its own right. For this, you want an excellent ability to multi-thread (computerese for multi-task) with each thread handling a task. In practical terms, the Intel i5 or better would be the best choice. In ranking, based on budget, I would choose an i5 first, followed by any of the i7s, followed by i7-7500U, with i7-7700HQ for the very best performance. I found a great explanation of the differences of Intel's numbering at this site.
RAM
Many web designers prefer having several applications open at once. From checking code in different browsers to a text editor or IDE to develop the code, to a graphics program for any visuals you want to load, you want to be able to access these quickly without your machine freezing up. When I was working on web development, I had four different browsers loaded, including a smartphone simulator; Gimp, my go-to graphics on the run program—mostly for image mapping; and Aptana Studio for code.
All of that requires memory, aka RAM. RAM holds all the ready to access data and software instructions the CPU needs to do its job, so if you do this kind of development, for the best laptops for web design, you want at least 16 GB to handle all of the above. If you are mostly doing coding, 16 GB may seem like overkill, but (repeat after me) you can never have too much RAM. For those using Chrome especially, it seems that every iteration requires more RAM.
Minor Requirements
Graphics Card
Unless you're a hard core gamer on the side, or possibly if you're designing web sites to carry games, having a dedicated graphics card is a matter of personal preference. Otherwise, any of the integrated graphics cards incorporated into the CPUs mentioned above should be more than sufficient for your web design work.
To get a better idea of the pros and cons for each, check this out.
Other Requirements
Battery Life and Weight
Some of us need to go somewhere quiet to get some work done. Whether it's a coffee shop, library or a shared co-work space – you'll be grateful for every extra minute of battery life. And after a long day of lugging your laptop around, the weight could also be a deal breaker.
Of course, if you're more of an "I just need a PC that I could take with me somewhere once a month" – then battery life and weight won't be a major consideration.
For another take on choosing the best web design laptop, one web designer's ideal setup can be seen on this YouTube video. You'll notice that the machines he uses are older than what we've listed here, but it's interesting to note that he also mentions several peripherals that I haven't brought up, but which you might also want to consider as you go further into web design work.
Best laptops for web design
1
i7-4650U
|
8GB RAM
|
250 GB SSD
|
2160×1440
|
8h
For an older Surface Pro, this is a great deal for the price and could be totally suitable for someone getting started with not a lot of funds. It includes a pen and kickstand, the pen being excellent for touchscreen work. The SSD is slightly slower than other mid-tier SSD's, but, still, it's an SSD rather than an HDD. One thing I haven't mentioned previously is camera work and if you are engaged in working with the camera, this has a 5MP Webcam. It has great portability being both lightweight and with long battery life.
View on Amazon
2
i5-7200U
|
8GB RAM
|
120 GB SSD
|
3200×1800
|
10h 30min
This Dell has good build quality and great Wi-Fi speeds, another consideration for web design work. Of the other major requirements mentioned, it's lower end, but again still decent for the price, and its portability is excellent. It lacks storage, though, with only 120 GB SSD, so you might want to consider the cloud solution with this one.
View on Amazon
3
i5-7300HQ
|
GTX 1050
|
8GB RAM
|
1000 GB SSD + 1000 GB HDD
|
1920×1080
You might want to go for this one if you like to play games on your free time as it does have one of the better dedicated graphics cards around. While less portable than the other laptops, it has a speedy i5 quad-core processor which, with 1000 GB SSD, should easily make up for the 8 GB of RAM. Definitely a good buy with the massive amounts of storage it has available, both SSD and HDD. You'll also be able to add all the peripherals you could want with this laptop.
View on Amazon
4
i7-6700HQ
|
GTX 960M 2GB
|
16GB RAM
|
500 GB SSD (PCIe)
|
3840×2160
|
5h 40min
For a well-rounded model, you can't go wrong with this Asus ZenBook. It has a great display, though not as bright as some other displays in the price range, and the memory of 16 GB is ideal. All of the other specifications are within the requirements guidelines, and its portability and sleek design should make this worthy of consideration.
View on Amazon
5
i7-6700HQ
|
GTX 960M 2GB
|
16GB RAM
|
500 GB SSD (PCIe)
|
3840×2160
|
5h 30min
Rather than listing its specifications, I'll just say the Dell XPS meets all the requirements guidelines as well as having one of the best displays on the market. This version has the i7-6700HQ quad-core processor, but soon Dell will release the 7700HQ version on Amazon or you can just get it right now from Dell's website.
View on Amazon
7
i7-6700HQ
|
16GB RAM
|
500 GB SSD (PCIe)
|
2880×1800
|
8h 30min
Saving the best (and most expensive) for last, the Apple MacBook Pro has always been a favored machine for all kinds of professional designers. It has the great Mac ecosystem of applications for developers, especially front-end developers, interaction & web designers. Again, one of the greatest displays on the market makes viewing a breeze. Other features that make this laptop stand out include the best trackpad one can find, a Touch Bar, its quiet output, and its cooling system which performs well even under stress. It has only Thunderbolt III ports which may limit your peripherals, but otherwise, this would be considered the top of the line for the best laptops for web design.
View on Amazon
Table of Best Laptops for web design
In conclusion, I've included two videos for learning some of the skills you may need as a web designer in the months to come, once you have the laptop that you're looking for.
2016/2017 must-know web development tech
Top 5 Programming Languages to Learn for 2017