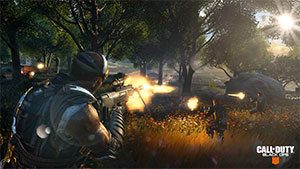 Call of Duty: Black Ops 4 seems to have taken all of the wind out of Battlefield V sails (and sales). With a good promotion, positive reviews and attention from bigest streamers for its Blackout battle royale mode, Call of Duty: BO4 seems to be the leading FPS release this year.
If you were thinking about getting a new PC – now might be a good time. I remember all my major PC purchases coming to match the latest titles – GTA IV, Starcraft II, GTA V, PUBG… And if you want a laptop and you know what you need to look for, there's a good chance you can get one that will be more than enough for CoD. If you want a one-stop shop that gets you up to speed with the latest and greatest in laptop specs – I'm here for that.
In this guide, I'll cover everything you need to know to make the right purchase and if you're short on time – I'll drop my 5 top picks for Black Ops 4 that will play the game and fit your budget. Let's get moving.
Official requirements
First off, let's begin with the requirements for Call of Duty: BO4.
Minimum:

Intel Core i5-2500K
GeForce GTX 1050
8GB RAM
90 GB HDD/SSD space

Recommended:

Intel Core i7-4770K
GeForce GTX 1060
12GB RAM
Call of Duty: Black Ops 4 laptop requirements:

Minimum:

Intel Core i5-7300HQ
GeForce GTX 1050

Recommended:

Intel Core i7-7820HK
GeForce GTX 1060
These requirements are NOT official. But they are equivalent to the official requirements except they are matched to similarly-performing laptop components. I used 3rd party benchmarks including 3DMark and PassMark benchmarks to pick out these components.
What is crucial for a Call of Duty laptop?
Primary requirements
Major

Graphics card

There's no question about it – a good graphics card is the most important part when it comes to picking a solid gaming laptop.
Graphics card recommendations
Black Ops 4 needs an up-to-date graphics card. Since there aren't any 11th gen Nvidia cards on the market, I'm going to focus on the laptops with 10th gen Nvidia graphics.
At least it is easy to know if a laptop has a good enough graphics card. There are just a few graphics chips that I would recommend and here they are:
GTX 1080 – best
GTX 1070
GTX 1060 – meets recommended requirements
GTX 1050 / GTX 1050 Ti – meets minimum requirements
Nvidia Max-Q
There's a small caveat in this short list. It does not mention the Max-Q versions. Max-Q is just a branded way of saying underclocked. Underclocked GPU can be a good thing if you want a good battery life and good thermals. But it's far from ideal if you're looking for best performance. So should we just ignore Max-Q graphics cards? No, that's way too extreme. But what we should do is adjust our expectations. If a laptop comes with a GTX 1060 Max-Q, it still will be faster than GTX 1050, but it will no longer match the desktop GTX 1060 (even if we ignore potential overlocking). So GTX 1070 Max-Q might be a better pick of you want to play Black Ops 4 on high settings as the underclocked Max-Q will not handle it at high framerates.
Thermals
I mentioned that Max-Q is better at keeping a laptop cool than a standard graphics card. And hey, why we wouldn't want that? Well, I'll give you an example. If at the same price we can get a laptop with GTX 1060 or GTX 1070 Max-Q, then of course GTX 1070 is better, even slightly underclocked. But that's rarely the case. Usually Max-Q and standard versions come at a similar price. In that case, we should pick the non-Max-Q version but only if one condition is met – there are no problems with overheating. As we know, an overheating laptop is a thermally throttled laptop and it just means a slow laptop. That defeats the whole purpose of getting a faster GPU! To avoid that, I recommend checking the reviews left by customers and by professional 3rd party reviewers. If a gaming laptop tends to overheat under stress – most long reviews will mention it.
Major

Processor

A good graphics chip can't be fully utilized if it doesn't have a matching processor. And even though a graphics card is the main bottleneck for gaming, there are plenty of laptops that have a good GPU but only a mediocre CPU behind it.

What are these "good processors" that I'm talking about?
Intel procecessors (higher is better)
i7-8750H / i7-8850H – best
i7-7820HK / i7-8705G
i5-8300H / i7-7820HK – meets recommended requirements
i7-7700HQ / i7-8550U
i5-7300HQ / i5-7440HQ – meets minimum requirements
AMD processors
AMD Ryzen 7 2700U – almost meets recommended requirements
AMD Ryzen 5 2500U – meets minimum requirements
There are a few more popular processors that fall somewhere in between these and if you find a laptop that you're interested in buying, you can use this handy benchmark chart to compare its processor with ones I've listed.
Minor

Memory

Even though memory is an important aspect of any computer, it has the fewest distinct options and therefore memory is the easiest requirement to nail down.

I'd just go for a 8 GB laptop under $900 and a 16 GB laptop over $900.
Secondary requirements
Optional

High refresh rate display

This is an entirely optional requirement but a lot of PC master race fans will appreciate this PC-specific gem.

A high refresh rate usually means 120Hz display refresh frequency. That means that the display can display up to that number of frames if the GPU can only spit them out quickly enough. All of that results in a butter-smooth gameplay, reduced frame-tearing (especially if G-Sync is supported).

I can get behind this hype train – for my desktop setup, I'm rocking a 240Hz display for gaming and 2nd regular display for work. Gaming on a regular seems almost unbearable. High refresh rates have ruined standard 60Hz displays.

But for most I wouldn't recommend getting a TN panel display if that's the only way to fit a fast display in your budget. Most would benefit from a better color accuracy than a standard IPS panel delivers. At the same time, there are exceptions and if you're a serious gamer, now might be the time to take the leap. I haven't seen people regretting it. There are only 2 types of people: those that love high refresh frequency display and those that won't notice the difference anyway.
Optional

SSD

These days I recommend everyone to get a laptop with an SSD.

Best laptops for Call of Duty: Black Ops 4
Cheapest laptops to play CoD: BO4
11
Cheapest laptop for Call of Duty
i7-7700HQ
|
GTX 1050
|
16 GB RAM
|
512 GB SSD
|
15.6″ 1920×1080
The cheapest laptop for Call of Duty has a solid list of specs matching all the minimum requirements. It comes with an i7 processor and Nvidia GTX 1050 graphics. I'm pleasantly surprised to see a laptop under $1,000 that has a fully fleshed out set of hardware – CPU, GPU and a 512 GB PCIe SSD.
Sadly, there are some drawbacks to this laptop. First of all, this laptop has a rather poorly lit TN panel display. Also, it's one of the heavier laptops out there – 5.7 lbs (2.6 kg).
View on Amazon
2
Best laptop for Call of Duty for $1,000
i7-7700HQ
|
GTX 1050 Ti
|
16 GB RAM
|
512 GB SSD
|
17.3″ IPS 1920×1080
If you can spend just a bit more, I'd recommend getting this laptop from Eluktronics. This small company gained traction on Amazon for building laptops with great performance and unmatched value. This laptop is a great example of their selection.
It comes with the same processor as Dell Inspiron i5577, the same amount of RAM and SSD but it comes with a slightly better graphics chip – GTX 1050 Ti.
But the main reason why I'd recommend this laptop over the Dell above is the IPS display. It's larger, cleared and significantly brighter than a cheaper TN display.
Not a great set of speakers and it's even a bit heavier than the Dell so it's best very mobile. Also, do not expect a long battery life.
View on Amazon
3
Great performance for the price
i7-8750H
|
GTX 1060 3GB
|
16 GB RAM
|
512 GB PCIe SSD + 1 TB HDD
|
15.6″ IPS 144Hz 1920×1080
A nearly ideal mid-range gaming laptop with a better processor, graphics card, more storage, and a high refresh rate panel. That's quite astonishing at this price point.
Also, it's lighter than both previous laptops and it has a sufficient battery life for most people. It can last up to 6.5 hours – just remember to turn down the brightness and expect only half of that if you're gaming.
Overall, it's one of the best, if not the best, value deal out there.
View on Amazon
4
Powerhouse for CoD
i7-7820HK
|
GTX 1070 8 GB
|
16 GB
|
1TB SATA SSD + 1TB HDD
|
17.3″ 1920×1080 120Hz
This MSI laptop is appropriately called TITAN. It's powerful, large and heavy.
It has an even larger SSD and a GTX 1070 which is sufficient for playing CoD on highest settings.
If you're OK with its heavy frame – you'll find it a perfect laptop for gaming.
View on Amazon
5
Very well balanced laptop for gaming
i7-8750H
|
1070 8GB Max-Q
|
16 GB RAM
|
512 GB NVMe SSD
|
15.6″ 1920×1080 IPS 144Hz
I picked Gigabyte Aero as the very best laptop for Call of Duty since it delivers nearly the same performance as the MSI GT73VR but it is a lot lighter and it comes with a great battery life of around 8 hours.
View on Amazon
Table of Best Laptops for Call of Duty: Black Ops 4