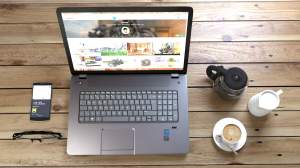 The phrase "You get what you pay for" used to be incredibly apt with all electronics. That isn't quite true anymore. There is some treasure in budget laptops, you simply have to be willing to look for it. Thankfully, we've taken all the guess work out of finding a good, inexpensive laptop for you. Let's look at the specs we'll be dealing with first, then we'll get to the list for you.
What to expect from a good laptop under $500
4 – 8 GB RAM
Today's laptops need a minimum of 4 GB of RAM, also called memory, to exist in this wide world of programming. Most of the models listed here meet that bare minimum. You won't be playing Skyrim with it, but you can certainly do your schoolwork with 4 GB of RAM.
However, this will probably only last for the next few years. As technology quickly grows, 4 GB of RAM is finding itself pretty outdated already. Yes, you'll still be more than capable of getting on the internet, posting to Facebook and getting messages from loved ones. You can still do that with the little 2 GB netbooks that were popular a decade ago. But with only 4GB of RAM you may find yourself noticing some lag.
If it won't put you over budget, we strongly recommend looking at RAM upgrades on all of these laptops. They all have them available direct from the manufacturer and even 6 GB of RAM will outlast 4 GB of RAM. Usually upgrades to double your RAM to 8 GB are fairly cheap, and with laptops at these prices it makes for a good investment.
Processor
There's a lot of variety in budget processors, with AMD nearly gone from that picture. AMD has recently decided that catering to their gamer clientele was more profitable than trying to manage a good deal for all laptop buyers.
This means that you're going to see a lot of "off" brand and Intel products in this lineup. By off brand we simply mean that they aren't part of the two major companies that produce processors, those being AMD and Intel. There's nothing wrong with buying an off brand processor. You just need to look into the reviews behind it to make certain it's a quality machine. The one we have listed is highly rated and well loved by it's owners. If you don't mind off brand, it's an excellent processor.
With that said, you're going to see a lot of i3 and i5 Intel processors at this level. This means that there's a good deal of power, but that it may run a little slower than the i7 that's become pretty standard on most computers. While there are a few i7s in this category, you won't find very many that really make a difference in computing power when looked at with the amount of RAM you'll be using. The i3 and i5 are perfectly serviceable and will be for a long time to come. If you have a choice and it's no cost, you may as well go with the long dependable i5.
Gaming Capability
In truth you aren't going to see a lot of gaming capability in this field. You can play things like Farmville and simple pixel games that don't require a lot of resources like high memory requirements or very strong processors. There's nothing wrong with these graphics chip sets, they just aren't made for hardcore gamers.
Most of the laptops in this list have onboard graphic chips. So what does that mean? An onboard graphic chip is one that's built directly into the motherboard. These days, most computer motherboards have an onboard graphic chip of some sort or another. Higher grade graphic chips usually plug into a secondary slot on the motherboard and either disable or override the onboard graphics chip.
There is one laptop in the list running a 940M Nvidia gaming chip. If you're looking for old style gaming on a budget, this will probably run anything up to about the Sims 2- and maybe games that are even a bit more graphics intensive. Most of the rest of these will be fine with internet-based games, like the kind that run in a window on your browser but don't push them too much further than that.
Size
There is a really good thing about lower priced laptops and that is weight! These little laptops weight less than your average grocery store bag, only clocking in around 5 pounds each. And without huge screens and thick frames, they're easy to stow away and carry in backpacks and large purses. If you prefer to get a laptop bag specially for your new digital buddy, bags can be found easily for the sizes represented in this list.
Storage
Storage varies widely in this particular category of laptops, though most of the candidates we have run between 500 GB hard drives and 1 TB hard drives. SSD, solid state drives, are a little harder to find at this price range and to be honest- you're probably going to miss out on some other feature if you go with an SSD.
Now, if an SSD is a priority to you by all means get it. You may, however,price yourself slightly out of this range by doing it on most upgrades. SSDs are indeed faster than the old disc drives that are still fairly frequently encountered. Though, before you invest in an SSD in a laptop like this, ask yourself if you really need that extra speed. Most of the time SSDs show themselves off with gamers and others who really desire and need faster loading times. If you are only buying this laptop for multimedia usage or internet browsing, you probably won't notice an SSD's speed bump. You'll do better to get more space with a typical disc-based hard drive.
SSD is quickly becoming an affordable option, even on budget models of laptops but the larger drives just aren't quite there yet. Though they are on the way down, you will probably sacrifice a good deal of data space by going for SSD especially in this category.
Keyboards and Comfort
So how about actually using your new laptop? A few of our options today come with an absolutely excellent upgrade: backlit, full sized keyboards. That means when you type, the lights illuminate the keys on the keyboard. It makes it easier to see in dim lighting as well as giving you the full range of motion you're so used to with your desktop keyboard.
There was a brief fad when "mini" keyboards were incredibly popular, especially with budget model laptops. Thankfully that seems to be passing and full sized keyboards are back in action. This makes it so much easier to find things like keyboard rests. Even keyboard covers are easier to find for full sized keyboards, keeping your work as you remember it even when your cat decides to roll around on your laptop.
The one drawback to backlit keyboards is that they do tend to drain batteries faster if they're constantly in use. It won't be incredibly substantial, but anywhere from 15 to 30 minutes is pretty commonplace when dealing with battery time loss from backlit keyboards.
As far as comfort goes, all of these laptops are easily to plop on a lapdesk or a cooling mat. We'll talk about cooling mats a bit more in the next section, but they're certainly something you may want to look into. USB wireless mice and wired USB mice are easily connected to any of these laptops.
Accessories
I mentioned cooling mats in the past section. Let's look at those a bit closer. A cooling mat is a small platform that your laptop rests on. It plugs into the USB and fans turn on, helping to cool the computer from the outside. If you intend to use these laptops as gaming laptops or for intense computing needs, they may become hot. Cooling mats are cheap and come in handy in general having them around.
Beyond cooling mats, you may consider a USB multi-outlet, also called a USB "pigtail". This allows one USB port to be used for a multitude of interactions. Sometimes the cheaper models of these have a button which must be pressed to activate each "pigtailed" port, but this is dying off steadily. Instead, you can usually connect all of your periphreals through this and simply pick and choose through your computer's menu. Since a great many budget laptops only have a few ports, those with several periphreals may find these handy.
Included Software
These laptops all come loaded with Windows 10 OS (operating system), though when ordering directly from the manufacturers you may request a downgrade to Windows 8 if you prefer it. Each of these comes with a free 30 day trial of anti-virus software and several other 30 day trials. Most of these trials revolve around business software such as Quicken and Microsoft Office.
However, the rest of it is pretty bare bones. You'll have your computer's drivers loaded as well as having a backup of them just in case it's needed, but you won't find a lot of extra added "gingerbread". Given that the app market for these laptops is so saturated with options, you won't feel like you've been left in the dust. It'll be easy to find whatever you like via the handy dandy Windows 10 search bar that connects you to Microsoft's app store in seconds, or to a search engine like Google or Bing.
You also could use it as a multimedia laptop by installing Kodi.
Best laptops under $500
Table of Best Laptops under $500