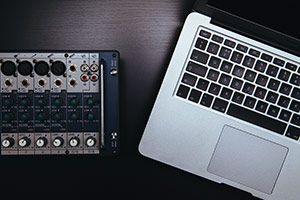 I've previously written some in-depth guides for two of the DAWs I've used: FL Studio and Pro Tools. Recently, I decided to write a more general guide for finding the best laptop for making music. This guide will suit all popular DAWs (including the 2 I mentioned, Ableton, Logic Pro, Reason, Reaper, Studio One and so on).
In this guide, I'll show what I search when looking for the best laptop for making music and what are the best laptops for making music right now.
Let's drop the guide.
What are the requirements for the best laptop for making music?
I'll start off with showing you what you need to look for EXACTLY to identify the best laptop for making music. But don't worry, at the end of the article, I'll cover which laptops match these requirements the closest for every price tag.
Most important requirements
Processor
The processor is by far the most important spec for making music.
That makes single core performance is the most important metric. Of course, having more cores is always good, but music production is not equally balanced between CPU cores. This results in one core being the "performance bottleneck". Usually, it is the core handling the master chain.
Just checking the maximum core frequency is not enough. To compare different processors, I suggest using one of the online resources:
Right now, if you're searching for the best laptop for making music, you'll need to look at the following Intel processors:
i7-6700HQ, i7-6820HK
i7-5700HQ
i7-4710HQ, i7-4712HQ, i7-4720HQ, i7-4770HQ, i7-4810MQ, i7-4870HQ
Of course, there are more processor models out there that would be suitable for making music but these are the most common on the market right now. A good rule of thumb is to check the model name:
Is it i7?
Name's first digit 4 or above?
Is the second digit 7 or above?
A few notable exceptions are i7-5500U, i7-6500U, i7-6600U (if you need a good battery life) and i5-6300HQ (if you are on a tight budget).
Sadly, AMD does not CPUs that can compete with top Intel models so we'll not consider them.
RAM size for making music?
A good laptop for making music needs to have at least 8 GB of RAM. But I would strongly encourage you to look for 16 GB if you can spend $850 or more.
Should you get SSD or HDD for making music?
Straight out the bat, you'll face the dilemma of choosing between a small SSD and a large HDD.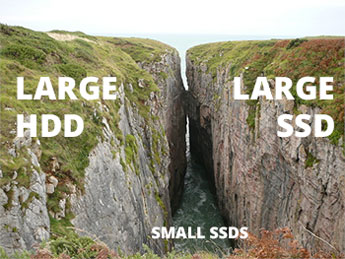 Here are the price ranges of every setup:
| Laptop price | Expected SSD size |
| --- | --- |
| $550 – $950 | 128 GB SSD |
| $950 – $1300 | 500 GB SSD |
| $1300+ | 500 GB SSD (+ 1 TB HDD) |
But don't worry, if you desperately want an SSD – you can get it at a much lower price. At the same time, you'll need to give up some other specs as battery life, screen quality or memory size. Of course, we'll not even consider sacrificing processor speed for an SSD.
Optional requirements for making music
Lightweight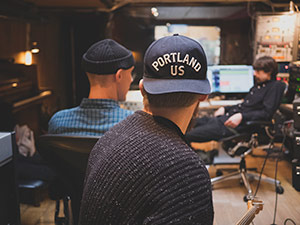 If you need a laptop that you could use in live sets – you should prefer a lightweight or at least a laptop of an average weight.
Here's the average weight of laptops in their size categories:
| Screen size | Average weight |
| --- | --- |
| 17.3 inches | 7.7 lbs (3.5 kg) |
| 15.6 inches | 5.4 lbs (2.4 kg) |
| 14.0 inches | 4.2 lbs (1.9 kg) |
| 13.3 inches | 3.3 lbs (1.5 kg) |
| 10-to-12.5 inches | 3.1 lbs (1.4 kg) |
High quality display
Without a doubt, a good screen is a great addition to any laptop. In our case, we don't really care about color gamut/coverage and contrast. These are nice additions but I wouldn't sacrifice other "harder" specs for a slightly better contrast ratio or 10% of sRGB.
The only 3 specs about a display you need to know are:
Resolution – 4K (or QHD, UHD) resolution is a great addition to a music making laptop. Though, depending on your DAW you might need to reduce the resolution as some applications do not properly support HiDPI displays. This is not a critical requirement but if you're looking for a 15″ or 17″ laptop – a high-resolution display will let you see a lot more of the track at a time.
Panel – look for an IPS panel. There are a few other similar panels usually identified as "Wide Angle" panels. You could look for AHVA, PLS or eDP (though technically that's not a panel type). All of these usually mean it's a display that doesn't look distorted when looking from the side.
Brightness – this metric is not easy to find. I wouldn't blame you for ignoring it when searching for the best laptop for music making. But since I'm writing the best guide out there – I'll have to consider it just to make sure you're not getting a crappy poorly lit display. I'll look for screens that can go up to average brightness of 300 cd/sq. m.
Touchscreen
Nowadays, Digital Audio Workstations are getting better at handling the touchscreen interface. That's great if you want to play with some drum loops. At the same time, I doubt touchscreens will replace the physical devices anytime soon but it's a nice addition nevertheless.
Irrelevant specs for making music
Graphics card
Unfortunately, the power behind graphics cards is still not properly leveraged for music making. There are only a handful plugins that can use technologies that can take advantage of Nvidia/AMD graphics cards. I remember trying out an impulse response reverb plugin (old version of Reverberate) that should be able to use the Nvidia graphics card but with no success.
Best laptops for making music
I've analysed my spreadsheets with over 200 laptops and narrowed down to 5 best laptops for making music. I'll present them starting from the cheapest and end with the absolute best models.
Pick for $1000
The next laptop I'm going to cover costs $1,280. But if you can't go above $1000 – I just have to mention MSI GL62 6QF.
Table of Best Laptops for Making Music
Now, that you know how to find the best laptop for making music and which models are hot for that right now – it's time to make your choice. It's a great feeling to open a DAW project from an old computer in a new laptop and seeing how much you can push it.
Finally, If you know who'd find this guide helpful – please share it with them. And if you have any personal recommendations for a laptop don't shy away from dropping a comment down below!