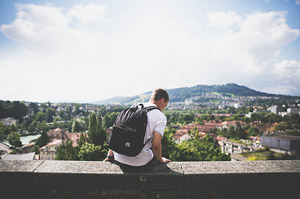 I can only wish you're not yet packing your bags while searching for the best laptop for travel. These laptops are not easy to pick as they demand hard compromises between performance and portability. And as any laptop owner knows, with great power comes no battery life. But if you're in search for both, strap in, I've researched this subtle topic so you don't have to.
In this post, I'll cover the major and minor requirements for the best laptop for travel and how to measure them. And at the end, I'll list out my top 5 picks that you can simply grab and take on a trip without any regrets. And even if you won't find my suggestions matching your taste, you'll at least know how to find them on your own.
What we are looking for in a best laptop for travel?
Major requirements for a laptop for travel
Major requirement

Light

Of course, you better off having a light laptop than a heavy one. That couldn't be truer when working on the go and packing your luggage.

Despite the fact that there is some variation in weight within the laptops of the same size, a 15″ laptop will (almost) always be heavier than a 13-inch one. In the past years, heavy and bulky laptops have gone off market apart from some workstations and desktop-replacement gaming models.

First of all, I recommend not looking above 15-inch (15.6″ more precisely) notebooks. They are a great pick if you need a laptop with a lot of horsepower. That would be the case if you're travelling and working with very demanding software – audio, video editing, 3D modeling or programming.

14-inch laptops are hard to find but for some they might be just in the sweet spot. They can offer more performance than 13″ models while still being noticeably smaller than 15.6″ models.

13-inch laptops are a safe bet for regular travellers if you're not going to work with software like AutoCAD, Pro Tools, Premier, After Effects. It's enough if you're just using it for daily tasks or vlogging. It's also an easy choice if you're travelling without check-in baggage. These laptops can easily fit into backpacks.

Finally, 11-to-12 inch laptops can fit into handbags and are as portable as a laptop can get. Such a small laptop is a lot easier to use on a train or a bus. Lately, after all, the rave around netbooks died out, these smallest laptops are dominated by 2-in-1 hybrids and Chromebooks.

While I'm on the topic of 2-in-1 hybrids, getting one might be particularly appealing if you've used to carry a laptop and a tablet with you and you'd prefer to combine these devices into one. At the same time, there're not many convertibles (if any) that can honestly claim to be a good tablet and a good laptop. But if a budget limit is not a problem for you – there's a few very exciting options in this area.
Major requirement

Battery Life

To bridge the gap between laptop's portability and the ability to use it on the road, you'll definitely need a good battery.

A good place to start would be 6 hours of battery runtime while browsing on Wi-Fi. Almost always manufacturers advertise their longest possible battery life, which means dimming the screen down to a minimum and turning off every piece of software which never happens in any real-life scenario. To find Wi-Fi runtimes, I'll be checking external 3rd party reviews. As a general rule of thumb, most of the time the battery runtime while browsing via Wi-Fi is ~1/3 less than the advertised battery life. Meanwhile, some of latest ultrabooks sometimes can stay powered on up to 2 or 3 times as long as they can stay on Wi-Fi.

Finding a laptop with 8 hours or more would be best. But these are hard to come by and they usually come high in the budget ladder.
Major requirement

Spacious SSD

There're a hundred reasons to get an SSD storage over an older HDD. To begin with, a good SSD is an ingredient to every other requirement for a travel laptop. They are faster, lighter, less power-hungry and they are a lot less prone to damage. And of course, a laptop without one needs at least a minute to start up, which should be avoided when moving from place to place.

I recommend getting at least 250 GB for the lightest models and there're plenty of reasons to go upwards to 500 GB. This will come especially handy if you'll need that space to store a lot of images and videos.

Worth mentioning, it's not too important if a laptop for traveling has an SSD over M.2 port (usually indicating a speedy PCI-Express connection). Travel laptops will not be able to use the speeds PCIe supports so the only reasons to get one with M.2 is that they're a bit lighter and easier to replace.
Minor requirements for a laptop when travelling
Minor requirement

Bright and vivid screen

When shopping for the best laptop for travel, you need to take into consideration how and where you'll be using it. In contrast to the most office-type laptops, which are used at 2-3 static locations most of the time, a travel laptop will need a lot more flexibility. And that doesn't only mean a lightweight frame and a battery packing a lot of juice. It also means having a bright and vivid screen that doesn't force you to squint for hours to see anything on a sunny day.

A screen can be broken down in 3 key metrics:
Brightness (measured in cd/m squared)
Contrast
Color representation (measured in % coverage of sRGB/RGB)
There are many ways to "weigh" a screen like response time, screen flicker, black-to-white time, tools for color tuning etc. But 99% of the time, getting the 3 most important metrics is all you need to
Now I know that not everyone has the time to check a review of every laptop they're interested in and then compare it to other notebooks in the same category/price range. That's why. But I would recommend checking the brightness of the screen (max or average, which is ~30 cd/m below max). The basic rule of thumb – the more the merrier: 200 cd/m is bad, 250 is OK, 300 is good, while 340 cd/m and above is great.
I did a more in-depth comparison when searching for the best laptop for travel in this article. I compared these 3 metrics just to make sure I'm not recommending one that severely lacks brightness, contrast or accurate color representation.
Minor requirement

Fast processor

I'm usually a big stickler when it comes to picking a processor. I tend to steer people towards more powerful and more battery-draining options. That's because I've heard the "my laptop is sooo slow" line way too many times. But nowadays, this bias might be outdated. Most mid-range laptops can deliver enough CPU-muscle to handle more than even day-to-day tasks.

But to begin with, I'd still steer away from i3 processors unless you're looking for a ~11″ netbook. In that case, they can be the right choice considering the alternatives. I say that because otherwise, an i5 processor might drain too much power from an 11″ netbook which will not have enough room for a big battery. That would result in a hilarious battery time for an extremely portable laptop.

For a 13″ laptop, I'd look at i5 and lower-end i7 processors. Meanwhile, a mid-to-high tier Intel Core i7 CPU would be the best for a 15.6″ laptop. But not all i7s are alike. Far from it. As time went on, Intel has expanded their definition of i7 and now it seems that close to half of their new laptop processors are labeled as Core i7. Due to their Ultra lower power i7 series, there are less and less reasons to steer away from these models.

At the end of the day, picking a processor means getting your priorities in check. A fast top-of-the-line CPU means shorter runtime on battery and usually a bit heavier and noisier laptop overall (due to fans). Meanwhile getting a lightweight and dead-silent fanless notebook means that the processor is severely limited and might not suit many professionals. I nudge you towards one direction or another depending on whether your travel is all about vacation and tropic get-aways or it also includes business trips. Of course, you could try to get both – performance and battery life, but that will end up in a very steep climb for your bank account.

Recommended processors for travel:
| | |
| --- | --- |
| i5-4300U, i5-5200U, i5-6200U, i5-6500U | You should expect these processors if you're looking for a laptop for travel under 1000$. They deliver reasonable performance while staying true to the goal of keeping the battery happy. |
| i7-5500U, i7-5700HQ, i7-6700HQ | These models are most often sold with more powerful laptops that either have not much of a battery life or cost around 1500$ or more. |
Minor requirement

Variety of ports

Having a lot of ports for every occasion has never hurt anyone (ahem… Apple). That couldn't be truer when traveling across states or continents where adding a few extra adapters or a USB hub to your bag is the last thing you want. Obviously, I'm not saying that everyone needs to have 10 ports ready or they're just waiting for a catastrophe to happen. But I am saying, that for some, especially for business travelers, having a few extra ports will definitely come in handy.

Because most people can get completely get away with ~3 USB ports and an HDMI connection, this is just a minor requirement. In other words, it's a "nice-to-have" and not a must.

A perfect set of ports would include 3 USB 3.0 ports, 1 USB 3.1 Type C port (via ThunderBolt 3), HDMI and DisplayPort, not mentioning 3.5mm audio jack. Laptops with an SD card reader get an extra brownie point. Travelers snapping a lot of photos can squeeze out some use out of them.
My recommended travel laptops
I'll start off with the cheapest options and then I'll climb my way all up to the absolute best laptops for travelers out there.
Best budget laptop for travel
Best mid-range laptops for travel
Best overall laptops for travel
By now, you know all that is needed to grab the best laptop for travel. I hoped this guide was as helpful as it was wordy. Please don't hesitate to leave a response below if you've got any questions.