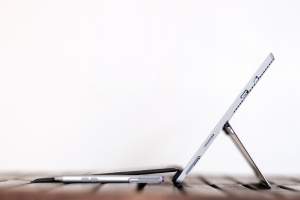 Today, we are almost always computing. With the advent of Smartphones and tablets, many of us are connected to the internet for 100 percent of our day. With this degree of usage, many users wish for a laptop that can be used in a way that's more similar to a tablet; and as a result, a series of laptops with removable touchscreens were created. These laptops have keyboards like traditional notebooks, but their screens can be removed and used as a tablet. Today, there are a wide variety of such machines, but which is the best laptop with a removable touch screen? I created this guide so that you can have a couple of great leads.
What You Should Be Looking For
Battery Life
The Best laptop with a removable touch screen will have extensive battery life so that you won't always have to be charging it. This is particularly important for these types of laptops because an outlet isn't always available and their convertible design makes them much more usable on the train, in a doctor's office, or when waiting for a lecture to start. Personally, I prefer my laptop/tablets to be able to last at least six hours at least so that I can use it during my workday without having to charge it up too many times. Just remember some applications, especially ones that tax the graphics card, will drain your battery faster than less graphically intensive applications.
Good Screen Resolution
Since most people use their tablets, Smartphones, and laptops for at least some form of multimedia entertainment, a high screen resolution is always a bonus. Most devices already operate in the HD range, which means that they have a basic native resolution of 1920×1080, but for a truly vivid experience, look for a laptop with a removable touchscreen that has an even higher resolution.
If you don't plan on doing much high-end gaming on your new convertible touchscreen laptop, then I personally favor in-plane switching (IPS) monitors because they tend to have more vivid colors for movies and creating artwork through software like ArtRage and Artflow. These monitors have a tendency to "ghost" or cause motion blur on fast moving games, but for viewing media, they are a good choice.
A Comfortable Weight
This is very important for a laptop with a removable screen. You want your converted tablet to be easy to carry and not feel too cumbersome, so this means that ideally, your laptop shouldn't weigh much more than two or three pounds, which will help you to avoid fatigue when you are using it in its undocked mode. Additionally, this will also make it easier to carry when you have it packed away in your messenger bag or backpack.
Understanding Some of the Jargon
Processing Power
This is where the device's CPU comes into play. Nowadays, some of the best processors are manufactured by Intel, though AMD has some great processors as well. If you want power from an Intel chip, then shoot for an i5 or an i7. These two chipsets will be able to manage the majority of applications on Windows-based tablets. AMD chipsets are less common in laptops, but they have individual chips that can compete with Intel chips like the AMD A8-7670K. TechRadar has a great write up on some of the best processors available for laptops from both manufacturers.
Amount of RAM
One of the key advantages of windows-based laptops over tablets is the amount of RAM that you can have in one of these convertibles. Whereas popular tablets like the Samsung Galaxy Tab S2 8.0 have about 3 GB of RAM, even a barebones windows laptop with a removable screen will have 8 GB of RAM to work with. This means that you'll be able to have more tabs open in your browser without stuttering, more windows open without having to use the " close all" button to free up resources, fewer app restarts when you tab away, and more power for graphical applications. As a result of the memory difference, these types of computers end up being fairly powerful when compared to their Android and Apple cousins.
Storage
Storage space is important for a laptop. It helps you have room for your media files, games, and applications. These types of laptops tend to have less space than traditional laptops and actually hover around what you can expect from a standard tablet; though there are exceptions. As a general rule, I like to pick a machine that has at least 64 GB of storage space; this gives the machine room to house the operating system and also leaves me some room to store my media files and games.
Graphics: Intel vs. NVIDIA (or AMD)
The majority of these machines aren't really designed to be gaming behemoths. Consider this the sacrifice that you make for quick portability and usability. That being said, the Intel HD graphics engines that come in a lot of these laptops can run many of the games that we know and love. With this said, if you really want something that can play your World of Warcrafts or your League of Legends, try and find a machine that has a dedicated graphical chipset from Intel or AMD (Radeon). These have power, but you'll most likely sacrifice a bit of battery life.
Some of these products, like Microsoft's Surface Book series of laptops, have a system where there is a powerful NVIDIA processor in the keyboard, but when you detach it, the tablet portion has a less powerful GPU, which helps the device save on energy and resources.
Laptop Suggestions
1
Atom x5-Z8500
|
HD Graphics
|
4GB RAM
|
64 GB SSD
|
1280×800
|
N/A
For those looking to work on a budget, this Asus Transformer Book is a great option that doesn't cost much more than a traditional tablet. As a matter of fact, this amazing laptop with a removable screen has an excellent nine-hour battery life that leaves many of the products of its type in the dust.
Additionally, this machine also employs a ten-inch IPS display that has a healthy amount of contrast and a pixel resolution of 1280×800. While it's hard to expect a lot of space out of one of these types of devices, especially at this price point, Asus did still include a respectable 64 GB solid state drive with this unit.
The primary drawback of this device is its mediocre Atom processor that has a tendency to slow down if you have a lot running simultaneously, though, for the type of device, this can be a non-issue. In their review, PC Mag said that this product is an "impressive detachable-hybrid tablet, boasting a wide variety of features, fast performance, a sharp display, and good battery life at a very affordable price."
View on Amazon
2
M3-6Y30
|
HD 515
|
4GB RAM
|
120 GB SSD
|
1920×1280
|
6h 20min
The HP Spectre X2 12-a008nr is an excellent laptop with a removable screen that feels sturdy and light during use. This is probably due to the aluminum construction that at once makes the machine durable and lightweight; as a matter of fact, it only weighs about 2.7 pounds. Even when you use this product as a tablet, it has some desktop appeal because of its built-in kickstand. This is perfect for setting the deployed tablet on a coffee table as you watch TV.
I really like the fact that this machine has 120 GB on its solid state drive. This gives a huge amount of space for storing high megapixel images, videos, and games with larger file sizes. I also love the full-size keyboard. While it doesn't have a NUM pad like I prefer, it does have ample room for my larger fingers to type.
My biggest complaint about this device is its speakers; they really aren't up to snuff for me since I am an audiophile, but its reasonable battery life (about six hours) and its Core M3 processor make up for it somewhat.
View on Amazon
3
Core M 5Y70
|
HD 5300
|
8GB RAM
|
250 GB SSD
|
1366×768
|
7h 20min
Now we're getting into a more premium laptop experience. This Lenovo machine has a lot of power. With 8 GB of memory, a 250 GB solid-state drive, and a light form factor (it weighs less than two pounds), many laptop enthusiasts love this convertible.
Additionally, this laptop even comes with a backlit keyboard so that lower light situations aren't so much of a drawback. I really love the speed of this system, which comes from the SSD and the RAM, but it could have had a faster processor for the price. Despite that foible, the battery is very respectable; it should last you in excess of seven hours.
View on Amazon
5
i7-6650U
|
Iris 540
|
16GB RAM
|
500 GB SSD
|
2736×1824
|
5h
Once billed as the tablet that could replace your laptop, the Surface Pro series of computers has become increasingly powerful over the years. As a matter of fact, the folks at Digital Trends feels that this is the gold standard of convertibles, stating: "The Surface Pro 4 is the best 2-in-1 PC we've ever tested";
In my opinion, this may be true because this device has a healthy amount of RAM at 16 GB, an amazing amount of storage space with its half gig solid state drive, and its blazing-fast i7-6650U processor. While it does cost a lot more than many of its competitors, you can rest assured that you'll be paying for quality if this is your selected device. As a matter of fact, it even has a very lightweight construction that brings the machine to a two-pound overall weight.
View on Amazon
A few final notes
The world of the laptop with a removable touchscreen is steadily growing to the point that they may soon become the norm for people who want to work and entertain themselves on-the-go. Fortunately, there are a wide variety of these machines on the market so that those who want a cheaper option and those who want a high performer have a plethora of options. If you have any questions about selecting a new laptop with a removable touchscreen, leave a comment and I'll respond to help you out.