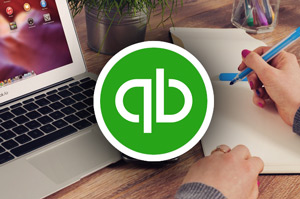 This year I had to start doing my own taxes for my freelance work. To get everything cleared up, I had to talk with an accountant that I've helped out multiple times with various computer problems. Since I'm a "computer person", she asked to help her out with building a new PC for accounting or picking a new laptop. After all, it shouldn't be that hard to find the best laptop for accounting software, like Quickbooks.
The first idea that popped into my head was "oh that's easy, accounting software shouldn't require anything special". But then I remembered the problems she faced with her previous PC. And then I started recalling the problems I have when dealing with spreadsheets…
That's what this post will be about – the problems that should be taken into account (heh) when searching for the best laptop for Quickbooks. On the second half of this post, I'll give some great laptop models depending on your budget and needs.
Enough of my stories, let's get this post rolling.
Word of caution. This post is very strictly focused on accounting and not on very demanding 3D/audio software. This post will focus on a laptop for Quickbooks and other accounting software, whether it's on the web (online) or desktop (offline). Since Quickbooks Pro, Premier and Enterprise do not demand high-performance components, the laptops I'll recommend will be great for the desktop versions and QuickBooks Online. Worth noting, I am assuming that the laptop will not be a part of client and server setup.
These requirements will also guide as to good enough laptops to smoothly run other accounting/business software, such as Microsoft Office, TurboTax, Lacerte etc.
What am I looking for in a best laptop for Quickbooks?
Official system requirements for Quickbooks Premier 2016:
2.4 GHz processor
4 GB RAM (8 GB recommended)
2.5 GB of disk space
Internet access
CD/DVD-ROM for CD installations (optional)
Meanwhile, requirements for Quickbooks Online are practically non-existant.
It doesn't take a genius to notice that if a computer is good enough to run QuickBooks Premier, then it will be good enough to run Online version. I'll just make sure that the laptop will be able to run any QuickBooks product that it will need to (Desktop or Online).
But these requirements are just the start. How these official requirements translate into exact parts I'm should be looking for? And what else is needed for a QuickBooks laptop?
Major requirements for an accounting laptop
Major requirement Mid-range processor
QuickBooks performance depends almost entirely on the processor. At the same time, there's no need to go for an expensive power-hungry CPU – Quickbooks will work very well even on a lot cheaper hardware.
I do, however, recommend not going for the cheapest CPUs. As time goes on and additional software piles up, low-end processors start taking too to long to respond to commands. And if we're shopping smart, we can find that the price difference between a low-end and a decent mid-range processor can be negligible.
Major requirement8 GB of RAM
8 GB of RAM is the best option for QuickBooks and any other not particularly demanding software. You might need to run internet browser (like Chrome) with Google Docs/Sheets, Microsoft Office (Word, Excel) etc.
You can go above 8 GB but it is not necessary for accounting.
Minor requirement Full Keyboard
Tenkeyless keyboards are very common these days, especially on smaller notebooks. But they're definitely not as convenient for entering numbers as a full keyboard is. Right now, I'm using a small external keyboard for my laptop. And quite often I miss a full one.
One additional feature of keyboards with a number pad is (relatively) easy input of special characters. For example, euro and UK pound symbols have their own "ALT codes". If right now you're on Windows PC, hold "Alt" key and press 1, 5 and 6 in succession on the numpad. You should get a symbol £. I have learnt some of these codes in the past few years and if you're skilled at working the keyword – you should too.
Major requirement Solid State Drive
SSD substantially improves startup, shutdown times and how fast you can launch any type of software. But it is only a minor requirement in this particular case – SSDs will not speed up your workflow much when you're already on Quickbooks.
Important to note, that if you're planning to use this laptop for 3 years or more, I would not even consider the old HDDs that use spinning disks to store data. That's because SSDs are a lot more stable over the long-run – most regular hard drives tend to start failing after ~3 years.
4 months ago, I had to fix an accountant's PC due to hard drive failure. She was using an older non-web type of software, which made hard drive issues a lot more difficult to solve. This can end up being a HUGE issue if you do not sync your documents online and there's no backup. Eventually, after recovering most of the lost data, I've installed an SSD instead of the old HDD and that was the end of that issue. I'm pretty sure she won't be having a similar problem for a long, long time.
Lastly, HDDs, in contrast to SSDs, are vulnerable to data loss when dropped on the ground while they're still spinning. Usually, I don't stress this danger, but considering the importance and sensitivity of the accounting data that could be lost – it's important to take it into consideration.
Minor requirement Lightweight
If you're searching for an accounting laptop, I'm sure it means you'll be taking it in-and-out of work, possibly every day. Because otherwise, you could just go for a small PC.
There are basically no drawbacks of a light laptop in this particular case. I tend to mention about possible airflow and heating problems when a compact notebook has to deal with very demanding software, but this will not be a problem for Quickbooks or ANY accounting software.
Though I will not stress it as much as other requirements, I'll give a slight edge to lighter laptops.
Optional requirement Battery Life
This one is an optional requirement and it depends entirely on your specific situation.
To know how long a laptop can survive without being plugged in – I encourage to look at 3rd party Wi-Fi browsing tests. They can give the best estimate on how long a laptop will last while using Quickbooks. Most non-gaming laptops have ~5h battery life. But the best ones can go up to 8-11 hours.
My recommended laptops for Quickbooks
Now, we've got all the requirements down, let's take a look at which laptops passed these checks with flying colors.
1
As cheap as it gets
i5-4210U
|
8 GB
|
1 TB HDD
|
15.6″ Touch Full HD
|
5.3 lbs/2.4 kg
|
Full keyboard
|
5h 30min
Nobody needs a powerful PC to run QuickBooks. Usually, laptops around $800 will be sufficient for it. But it would be a sin not ignoring any laptop below that. So I present you, the best entry-tier model – Dell Inspiron 15.
Even though it's a cheap laptop, it offers about the same specs and quality that you'd find in most $650-700 notebooks. I definitely wouldn't say that it's particularly great for accounting, but hey – it's the cheapest decent laptop for QuickBooks.
Be aware that even when it has a decent screen (IPS panel, great contrast, underwhelming color space), it will look way too dim in daylight. That's the only giveaway that this laptop is rather cheap.
Processor: slightly aged lower mid-range processor is nothing to be impressed by, but it's better than most laptops under $600.
Memory: 8 GB – that's about right. Glad to see that much memory in a budget model.
Full Keyboard: Yes. No backlight when working late in the evenings.
Solid State Drive: No.
Lightweight: Sort of. 5.3 lbs (2.4 kg) is not particularly light. But it is light enough for a 15 inch laptop. In comparison – it weighs the same as 15″ MacBook Pro.
Battery Life: 5 hours and a half hours. Not bad.
View on Amazon
2
Well-rounded laptop for work
i7-6500U
|
16 GB
|
500 GB SSD
|
15.6″ Matte Full HD
|
4.9 lbs/2.2 kg
|
Full keyboard
|
5h 30min
Acer Aspire comes with a lot better specs than the Inspiron above it.
Processor: great mid-range processor for multitasking that will not slow you down in any way.
Memory: 16 GB might be an overkill for accounting. But there's nothing wrong with that.
Full Keyboard: Yes. Backlit too.
Solid State Drive: Check. 500 GB is plenty of storage for documents, scans, tax templates etc.
Lightweight: Yes. Being just under 5 lbs, it's one of the lighter 15″ laptops.
Battery Life: just like Dell Inspiron, it's enough juice for a half of a workday.
If you'd like to spend a ~$150 extra for a more powerful processor, take a look at a very similar HP Pavilion 15.6″ model.
View on Amazon
3
Best laptop for QuickBooks
i7-6700HQ
|
16 GB
|
512 GB PCIe SSD
|
15.6″ Touch IPS 4K
|
5.0 lbs/2.3 kg
|
Full Keyboard
|
5h 40min
Asus ZenBook Pro goes way beyond QuickBooks and that makes it a great choice if you need a solid laptop for years to come.
The IPS screen comes in 4K resolution (which is more than Apple "Retina"). But be aware that for desktop versions of QuickBooks (Premier, Pro, Enterprise) you might need to reduce this ridiculously high resolution to prevent weird scaling issues when fonts/buttons start to mismatch in sizes. Also, you should gain extra battery life if you choose to downscale your resolution to more standard dimensions.
Processor: Great. Intel Core i7-6700HQ is the draws a line for office-work processors. Anything above it would suck out too much power from the battery with little to no gains.
Memory: Great. 16 GB of RAM leaves a lot of room for running all kinds of software at the same time.
Full Keyboard: Yes. One of the few Asus ZenBooks with a full keyboard. And it's also backlit.
Solid State Drive: 500 GB SSD over PCI-Express for even quicker startup time. Great.
Lightweight: Sort of. Weighs just like a modern 15″ laptop should.
Battery Life: Quite good. 5h 40min of web browsing over Wi-Fi.
This laptop managed to beat out many more expensive laptops up to $2,500. That's why it is my pick for the best laptop for QuickBooks.
View on Amazon
Table of Best Laptops for QuickBooks
You probably noticed that all 3 laptops are 15.6 inches in size. That's the most preferred size for office work. But if you want a smaller/larger machine, here's 2 quick suggestions:
(Sorry 14″ people, I didn't find any REALLY great laptops in that size range #make14GreatAgain #overusedReference).
If you have any questions, please leave a response below and share this article if you know someone who'd find it useful. Good luck!