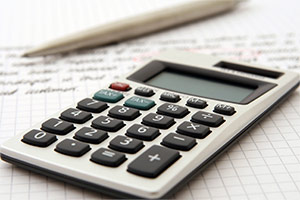 Before I was an avid writer, I used to be a businessperson who owned an accounting firm. I got tired of all of the hustle and bustle, so I became a writer, but I still do a bit of accounting on the side to assist my former business partners when they have their hands full. One thing that I learned is that the laptop that you need to write articles and blog posts on a daily basis is not the same device that you want as an accountant.
The work an accountant does is demanding, not only on you but on the machine that you are doing your work on. As an accounting student, you will need to have a lot of the same features on your laptop that you will need when you get a position in the field. I created this guide to help you find the best accounting laptops to fit your needs right now. Before we jump into the reviews, let's take a look at some of the features that will be important during your search.
What to look for in an accounting laptop
Performance
First of all, we have to get the cornerstone right. That's the processor, or "the brains" of a laptop.
Let's check out what's on the market right now:
[<$350] Intel Atom/Celeron/Pentium processors. These are not recommended for Windows laptops but they can be a viable option if you want a Chromebook
[$350-$550] Intel Core i3 – good starting point for accounting, best suited if you want a cheap laptop that can run online accounting software (a.k.a. on the cloud)
[$550-$700] Intel Core i5 – a bit faster than i3 processors and sufficient for accounting.
[>$700] Intel Core i7 U-series – fastest laptop processors that do not compromise on the battery life. I recommend these processors for accounting since they're fast enough to handle everything an accountant can throw at them and there are some good laptops with these processors under $1000.
[>$800] Intel Core i7 H-series. These are by far the fastest processors but they usually last ~2x less time on battery than laptops with i7 U. That's not necessarily due to the processor itself – laptops with these processors often have a discrete GPU, multiple file drives and large displays which do their fair share of draining the battery. Hands down best picks if you want a gaming laptop or just a powerful desktop replacement
TL;DR
If you want a cheap laptop for accounting – i3 will do.
For applications like Quickbooks Premier, you'll need at least an Intel i5 processor
If you can go above $700 – i7 U processor (i7-7500U, i7-6500U…) would be best.
And if you don't care about the battery life and you just want the fastest laptop for accounting – i7 HQ (i7-7700HQ, i7-6700HQ…) would be the best choice.
RAM
In theory, you can never have too much RAM on a laptop. At the same time, why would you buy a laptop that has way more than you need – every additional gigabyte of memory costs extra.
If you're using online accounting software, then 4GB might be enough, though not ideal. If you'll be using desktop applications such as Quickbooks for your accounting, then I'd start with 8GB right away. And if you want a future-proof notebook – 12 or 16 GB would be ideal. 16 GB of RAM become the norm at around $1,100 mark though you don't have to search much to find some exceptions – there is even a $400 laptop with 16 GB.
TL;DR
Get a laptop with 8 GB of RAM.
Keyboard
Some laptops do not have num pads, but if you work with numbers, you need to be able to input them quickly. I personally can input the same amount of information into a spreadsheet twice as fast with a num pad than I can with the default number keys on a traditional keyboard. To make sure that you are productive, a num pad is a necessity. In fact, you will even appreciate this feature when you are taking an exam.
Screen Size
Spreadsheets typically have so many small fields that you should prefer a larger display even if it's a bit too large for your liking. Of course, I'm not suggesting going for 17.3″ laptop if you need to carry it every day to lectures but a 14″-15.6″ screen would be of the right size for most accounting students.
TL;DR
Get at least a 13.3″ laptop, ideally a 14″-15.6″ if portability is not your #1 priority. Going for a larger laptop than that is not necessary for most.
Battery Life
Make sure that you select a laptop that can be used while it is unplugged. As an accounting student, you will often find yourself in a coffee shop trying to work through a spreadsheet. Outlets are not always plentiful in these locations, so having a laptop that can live for a while without juice will be a great benefit to you. The majority of the laptops on the market will at least have a four-hour battery life, but I'd suggest a longer lasting unit as an accounting student. Today, it's quite possible to find a laptop that has more than 8 hours of battery juice, which is perfect for lasting your whole day of classes without the need to plug-in.
Optional: Storage Space
If you are an accounting student, you will most likely need to store a lot of information on your laptop so that you can have it when you need to use it in a practical application later. You should never have a laptop with less than 128 GB of space; in fact, some of the models I've selected come with 1 TB of storage space available. This gives you plenty of space to store all of your documents and notes from class, all of the movies that you like to watch, and all of the games that you enjoy playing in your spare time.
Also, HEAVILY prefer laptops with an SSD. These drives are so much faster than old HDDs that a laptop with an SSD and a Core i3 processor can feel faster than a laptop with no SSD and a Core i7 processor.
Optional: Optical Drive and External Storage
Most laptops these days do not come with an optical drive, especially if we don't go into 17.3″ laptops. My own laptop didn't come with one; and as a result, I had to download the latest version of Quickbooks Premiere from the Intuit server. This will become a more common experience, but having a dedicated optical drive still has its advantages.
If your new laptop doesn't come with an optical drive, there are other options. You can purchase an external optical device for your files, or you can simply use removable storage like a thumb drive or an external hard drive. Or you could buy an external DVD drive. Or if you have a fast internet connection – storing your files "in the cloud" might be a viable option for you. In any situation, I feel that it's always useful to store valuable files outside of your machine, that way there's a backup of your data no matter what happens to your notebook.
Accounting Laptop Reviews
1
M3-6Y30
|
4GB RAM
|
120 GB SSD
|
1920×1280
|
6h 20min
As an accounting student, you may not have a lot of cash on-hand to buy the most expensive laptop. This being said, I find it very important that a laptop should have the hardware to support accounting software. The HP Spectre X2 12-a008nr has all of this and more for the relatively cheap price of $450. While it doesn't have a high-end i7 quad core processor, it does have an Intel M3-6Y30, which has two processing cores that actually provide a bit of power for this laptop – you won't be able to run some accounting applications on this machine, but it can support a plethora of online software like Quickbooks Online.
I find that this laptop's most student-friendly design feature is its 2.7-pound weight; this makes this laptop lighter than some accounting textbooks. The detachable screen is also useful for note taking, but for me, it loses a few points because it doesn't incorporate an HDMI adapter. It's also a little light on storage at 120 GB, but this hard drive is solid state, so you can expect load up times to be quick.
Effectively, the bottom line for this laptop is that it's great for a budget-conscious accounting student; it doesn't have a ton of expensive features, but it definitely can get the job done until you can afford something more powerful.
2
i5-6200U
|
8GB RAM
|
250 GB SSD + 1000 GB HDD
|
1920×1080
|
7h 30min
The Lenovo Flex is a series of laptops that "flexes" so that you can use the attached keyboard as a stand or simply lay the entire thing out flat. This convertibility is useful for writing or studying from the comfort of your dorm room couch. This particular version of the flex is very useful and has some great accounting student-friendly features, like:
A ton of combined space – this laptop has a dual hard drive set up that provides almost a terabyte and a half of storage.
Tent Mode – this particular machine can be folded and placed upside down to form something of a tent. This is a very stylus-friendly position that will make the Flex easy to write on for notes or even sending the odd email.
A fairly powerful processor – this machine's i5-6200U processor from Intel has dual cores and a crisp processor frequency of 2.3 GHz.
A good amount of memory for accounting applications – While 8 GB isn't massive, it provides more than enough access time performance for most student needs.
Superb battery life – While some lecture halls have outlets, the best laptop for accounting students will have ample battery life. The Flex excels in this regard, it can last more than seven hours on a charge.
With all of these features, it's amazing that this particular laptop only goes for about $500, which will put it in the price range of most accounting students. Geek Dad has a great review of the Flex if you have more questions. If you can't go above $500 – it will do the job.
3
i7-6500U
|
12GB RAM
|
1000 GB HDD
|
1920×1080
|
7h
Our next laptop is perfect for accounting students who need a laptop that has good, dependable functionality. This particular machine has a dual core i7-6500U processor that has a default processor base frequency of 2.50 GHz. It also has a healthy amount of RAM; at 12 GB that works well for students who need to run several applications simultaneously, or who like me, love to have a wide variety of browsing windows open at the same time.
It's a little heavier than some other laptops at 5.2 pounds, but this is because of its fairly robust components. While this laptop doesn't incorporate a solid state drive, it does have a traditional SATA rotational unit that provides a terabyte of storage space.
4
i7-7500U
|
32GB RAM
|
120 GB SSD + 1000 GB HDD
|
3840×2160
|
5h
The HP Envy 15t is a great laptop option for accounting students who need a little more storage space. Like the Flex, the Envy utilizes a combined solid-state and SATA drive setup that delivers more than a terabyte of storage space. Out of all of this laptop's features, I find the display to be the most impressive. The screen on this laptop is not only a touchscreen notebook, but it also has a potential resolution of 3840 x 2160, which you may know as 4K.
I find that laptops with great touchscreens are really great for note taking, and as an accounting student, this can really benefit you during lectures. Additionally, this machine has an impressive 32 GB of RAM, which is amazing for a $1350 device. Its only major stumbling point is its battery capacity; expect to get only about five hours of run time when it's not plugged in. This capacity makes this laptop a better choice if your lecture halls have plug-in outlets for laptops.
You know what I love about this laptop? It has a dedicated num pad, which is just perfect for inputting figures, symbols like £ and ¥. For a great list of alt commands, check out this Useful Shortcuts article; they will help you in your accounting, especially if you work with foreign currencies.
5
i7-6500U
|
8GB RAM
|
500 GB SSD
|
3200×1800
|
7h 30min
Our final device is the most powerful on our list, which is an impressive feat because it is also the most portable. While some students might baulk at a 13-inch laptop, this small sizing is what makes this device so portable when you need to take it from class to class. As a matter of fact, it even weighs less than three pounds!
Size aside, there are some great components under the hood; features like an i7-6500U, a touchscreen monitor, and a 500 GB solid-state drive make this a very fast to use the device. I really also love how thin this device is; it barely feels larger than an actual notebook, which is a very positive feature for accounting students who'd like to lighten their load a bit. Additionally, while the SSD may seem smallish, I think the fact that it is a solid state drive versus a hard drive one adds a bit of value to the product.
Table of Best Laptops for accounting students
Wrapping it all up
Being an accounting student is demanding, which is why having the right tools to make things a bit easier is imperative. The products that we've covered in our guide are perfect for helping you get a leg up in the accounting world, but not every device is for everyone. If you are having a hard time figuring which is best for you particular needs, toss us a comment below. I'll be sure to get back to you and help you make a decision about which are the best accounting laptops for your needs.