You may have spent days researching for the ideal gaming laptop. You might have found some promising machines, but you may have also found them to be just beyond your budget.
The goal of this post is to let you know which corners you can cut and what should be your top priorities when looking for a gaming laptop under $1000. And at the end, I'll identify the best laptops just under 1K, that offer what you could expect from a $1100 – $1500 laptop. If I'll manage to shave off a few hundred dollars off your next laptop, I'll consider my job done.
But first things first. I will go through the essential features of a gaming laptop. I'll look at which features you can afford to compromise on and, more importantly, which features you shouldn't do without.
TL;DR
I'll start off with a guide and specific tips on how to identify a good gaming laptop within our budget. At the end, I'll list out the best laptops under $1K right now.
How to choose the best laptop for gaming under 1000 dollars
I know many of you will skip right down to the laptop recommendations.
But since there is no single best laptop for gaming, if you'll understand the reasoning behind the suggestions, you'll be in a better position to pick out that special one.
Here's some advice on making an informed buying decision on a new gaming laptop. Since you're a gamer, your needs are going to be different than a typical laptop user. Your budget is also going to be the key as far as how good of a laptop you can afford. Here are some basic things to think about when you're budgeting for a gaming laptop.
Picking a processor for your gaming laptop
The main component of a laptop is going to be the processor for 2 main reasons:
Processor offers an overall boost to the laptop performance
Laptop processors are significantly slower compared to their desktop versions. Meanwhile, mobile graphics are very close to desktop performance (apart from multi-card configurations). That means that a laptop needs a high-end CPU just to match a mid-range desktop CPU.
You'll likely be deciding between an Intel Core i3, i5 and i7 processors. There are some AMD options, but they at least right now, AMD has nothing that could challenge Intel's options (hoping AMD Ryzen will change that).
The Intel Core i3 will be your basic entry level CPU option. It is cheap and not fast enough for any type of gaming machine.
One step up from the i3 is Intel's Core i5 CPU offering. An important consideration for gamers is that the i5 has improved onboard graphics. This will matter less if your laptop has an onboard graphics card, but the turbo boost feature of the i5 is another nifty feature that gamers might appreciate. The turbo boost feature allows for a temporary performance push when needed. This could be quite appreciated if you notice that your games stutter during intense scenes.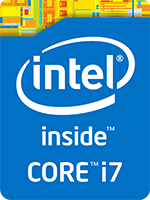 Intel's top of the line processor is the Core i7. All Core i7 processors have hyperthreading and up to eight physical CPU cores. These processors can support anywhere from two to eight sticks of memory. Since these are beefier processors, the Core i7 will have a thermal design power draw (TDP) up to 130 watts at the high end. That means the laptop will run out of battery very quickly. That's the cost for a gaming-ready performance. So the i7 is the best processor that Intel offers for laptops, with the only negatives for gamers being that the i7 drains the battery faster than other CPUs and it is expensive. But, there are quite a few laptops under $1000, that come with Intel Core i7 processors.
My recommendation would be to get at least a Core i5 Intel processor. Although a Core i7 will be more powerful, you can do well enough with an i5 if you're playing casual games such as Sims 4, Rocket League, Minecraft, Counter Strike: Global Offensive, X-Plane, World of Warcraft, DotA 2 and League of Legends.
TL;DR
Prefer i7 H-line of processors – with i7-6700HQ being the best option under $1000. If you want a longer battery life and you're OK with losing ~40% of CPU performance, go for i5-6300HQ, i7-6500U or i7-7500U.
Choose a gaming laptop with a powerful discrete graphics card
Another crucial feature of a good gaming laptop is the graphics processing unit (GPU), or simply – video card. It's in charge of handling the graphics in any game. The better your GPU, the higher your frame rates will be.
Since there are many hi-res textures in modern games, try opting for a discrete GPU with at least two gigabytes of video RAM. Nvidia video cards are the most popular for the past decade and they come with some unique graphics options such as TXAA anti-aliasing and HBAO+ anti-occlusion technology.
Having a discrete graphics card means you're not forcing your CPU and its related sub-systems to do the heavy graphics lifting for you. In addition to gaming, having a discrete video card allows you to do faster video editing, image editing and 3D modelling.
You also have to consider what games you want to play on the laptop. Depending on how demanding the game is, it might require a more powerful CPU and graphics card. Games such as Starcraft II can be very CPU intensive, while a game like The Witcher 3 will tax the GPU.
TL;DR
Your best bet right now is a laptop with Nvidia GTX 960M. Nvidia GTX 950M and AMD R7 M370 are OK too.
Picking your hard drive and memory for playing video games
You're going to have to decide between a conventional spinning drive and a solid state drive (SSD). An SSD is one of the new-ish flash based drives that's quiet because it doesn't have a spinning platter inside of it. SSDs will also last longer and perform much better – they're one of the best investments you can make. A solid state drive allows you to have a smaller, lighter, and thinner laptop, which is (usually) a plus.
A hard drive is actually something you can afford to compromise on. While an SSD can make computer usage zippier, it isn't essential for gaming. You will notice a difference in load times if you have an SSD. But a gamer's most important metric, the frame rate, would hardly be affected by having a flash-based SSD. If you are looking to save some money, you can opt for a conventional spinning hard drive on your gaming laptop.
The amount of memory (RAM) is another big consideration for gamers. Anything less than 8 gigabytes of RAM is not going to cut it for a gaming laptop. The amount of memory you have determines how much memory applications can use. If you're going for a regular HDD (and not SSD) – try to squeeze in at least 12 GB of RAM. You see, once memory is used up, Windows starts to use the storage drive to handle this memory overflow. And if you have a slow hard drive – that's a real problem.
TL;DR
Under $1000, you can afford either a small SSD or 12-16 GB RAM. Pick one. If you're going for additional RAM and you're looking for 15″-17″ laptop, make sure it has an empty storage bay so you could add an SSD later on.
Do not ignore the display
One additional consideration is the quality screen.
Your gaming laptop screen size and quality are both important aspects for your gaming enjoyment. The resolution on the screen does not need to be that high. There's no sense in going for a 4K screen when most games won't be capable of playing smoothly at that resolution anyways. A 900p-1080p resolution will look great on a 15-to-17 inch display.
I recommend checking 3rd party reviews to make sure the display has at least mediocre screen metrics, such as brightness, contrast and color gamut. Look for (280+ cd brightness, 800:1 contrast and 80% Adobe sRGB coverage).
TL;DR
Go for Full HD (1920×1080) and if you've got the time – make sure brightness and contrast don't suck.
Other considerations when choosing a gaming laptop
The more USB ports your laptop has will add greater utility to your laptop. Even though you primarily want to game with it, you'll still want to attach at least a few devices from time to time. Make sure your gaming laptop has at least 3 USB ports for your needs, preferably 1 of them being USB 3.1 Type C.
The most obvious area to save money on these days is the optical drive. Most games are now downloadable through Steam or other clients. A physical disc reader just isn't necessary these days.
If you're a stickler when it comes to noise, check out the reviews for fan noise levels. Most laptops will rev up their fans during intense sessions, but some tend to make more noise than others. This is one of the rare cases when a slim laptop might be an issue. They are inferior to large laptops in cooling department. In that case, you may wish to use a laptop cooler that plugs into a free USB port. This will help the computer dissipate the heat that builds up beneath the keyboard. Another option would be to open and clean the laptop fans every 6 months or so to avoid any dust build-up.
Our gaming laptop recommendations
Popular gaming lines
Alienware laptops are well regarded by gamers. The Alienware 13 is in competition for the best laptop for gaming under 1000 dollars. Alienware laptops have optional graphics amplifiers for increased gaming capability. These small docks allow you to plug in a desktop graphics card for your laptop to use. This allows you to use a 280x, 290x, 970 or whatever powerful desktop graphics card you have at your disposal. The graphics amplifier will be an added cost should you wish to augment your system with it.
Razer is a manufacturer of gaming keyboards, mouse pads and gaming laptops. Because of their wide product range geared towards gamers, Razer is a company that knows what gamers want. The Razor Blade Stealth is also in line to be considered the best laptop for gaming under 1000 dollars. This is an especially portable laptop that gamers on the go will appreciate. The specs on this laptop include a Core i5 processor, 8 gigabytes of RAM, a 128 gigabyte SSD and a really good display (a 12.5-inch, 2560 x 1440 touch display). Razer also offers an external GPU option just like Alienware. Their graphics amplifier is called the Razer Core, which pairs with a desktop graphics card for even more graphics processing power.
Specific laptop recommendations
1
i7-7500U
|
GTX 950M 4GB
|
12GB RAM
|
120 GB SSD + 1000 GB HDD
|
1920×1080
One of the latest i7 processors – significantly faster than 6th generation 6500U. Small SSD for Windows but you'll need to use the slower HDD for nearly all your games. No optical drive but that might not be a problem if you're using digital downloads (and who isn't?).
2
i7-6500U
|
GTX 950M 2GB
|
8GB RAM
|
250 GB SSD
|
1920×1080
Reasonably cheap ASUS gaming laptop. One of the lighter laptops for gaming under 1000$. Fully-sized keyboard. Poor audio speakers and touchpad may seem unresponsive in some situations. Though, I don't expect any gamer to carry their laptop without a mouse. I just disable my touchpad apart from a few rare cases when I'm travelling.
3
i7-6700HQ
|
GTX 960M
|
8GB RAM
|
1000 GB HDD
|
1920×1080
|
4h
A gaming laptop with unique monitor display hinge. Weak battery life and it might require a cooling pad because the laptop tends to overheat when gaming.
4
Great gaming laptop under $1000
i7-6700HQ
|
GTX 960M
|
12GB RAM
|
120 GB SSD (PCIe) + 1000 GB HDD
|
1920×1080
|
2h 40min
A mix of previously mentioned laptops. Powerful i7 HQ CPU, solid mid-range dedicated GPU, large storage drive, slim gaming design and 12GB RAM. Everything included. Comes with USB 3.1 Type-C port. The 2 corners that had to be cut: no backlit keyboard and very poor battery life.
You might be thinking why you should buy a gaming laptop when a tower is a formidable gaming machine at a lower price. You can always put your tower in the backseat of a car and drive off to your friend's house for a gaming session. This scenario works better if your friend has a TV or LCD you can hook up to. But this scenario is a bit more of a hassle than just getting a gaming laptop. A gaming laptop will give you the portability that you need in a portable footprint. Here's a video to help you decide on which form factor works best for your gaming needs.