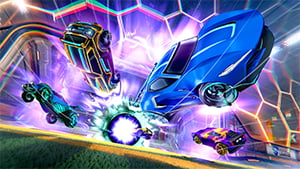 I have to say, I don't know how Rocket League became one of the best PC games of all time but it did. I mean, it's essentially soccer with cars and rocket-powered boosters. If that doesn't get you going, then I don't know what will.
The biggest plus of Rocket League is the game is simple to pick up yet hard to master. And it's not like other games where you need to grind to progress. Whether you're trying to learn your dribble or you're playing in a tournament – you're always growing, always moving forward. You're not going to feel like you're at the top until you actually reach it – and even then, there's going to be someone better. This is where the addiction comes from.
So, let's find out what are the prerequisites for a laptop that'll make your game shine.