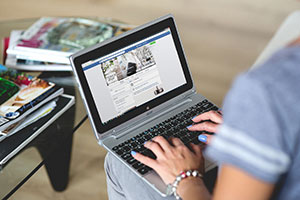 Finding the best laptop for internet is no different from finding any other good laptop. And we'll do just that. First, we'll form a clear set of requirements and then we'll pick the best laptops in the market considering their specifications, reviews, and price.
What is Important for Best Internet Laptops?
Price
Internet browsing doesn't require powerful specifications, so an expected price for a good internet laptop can vary between 160$ to ~550$. The very best laptops for internet can cost up to $1000 but in our case, they won't offer that much more than an $600 laptop would.
Browsing experience should be the same for each laptop, so buying an expensive laptop just for browsing isn't the best choice. But there are a few exceptions:
Gaming
Heavy multitasking
Professional computing-intensive work
In those cases, you might need a more expensive laptop. But otherwise – you're in the clear even if you get an entry-level model.
Windows vs macOS vs Chrome OS
Chromebooks for Internet
ChromeOS should be your choice if you want a really cheap laptop for internet. Chromebooks are specifically designed as internet-driven machines (but they can be used offline too).
Most importantly, Chromebooks don't allow to run any Windows or MacOS applications (for the most part). But nowadays, there're plenty of alternatives to Windows software on the web. A casual laptop user won't notice much of a difference. Chromebooks are great for browsing the internet, streaming movies, watching videos and even working on basic documents and spreadsheets.
If you're a student, some universities might expect of you to have a Windows/MacOS laptop. But if you're on a tight budget, most popular Microsoft products can be used online (or they have good alternatives).
Chromebooks have a healthy battery life and if you want the best laptop for internet under $300 – they're your best bet.
Windows laptops
For most people asking for the best laptop for the internet above $300, I'd recommend a Windows laptop. Not because they're particularly better. But there are so many more options to choose from.
MacOS (OS X)
I will not recommend MacBooks for simply browsing the internet. Yes, getting the latest 13″ MacBook or a MacBook Air is a viable option, especially if you're an Apple fan and you've used MacBooks before. But for most people, getting a MacBook is just way too much. A new MacBook Air costs at least $800. But if want and can spend that much money for a basic laptop, there's nothing wrong with getting one.
How much performance is needed for best laptop for internet?
RAM
Computer memory is by far the most important performance factor in internet surfing because most of the browsers depend on a healthy amount of RAM. You could even say that the modern browsers are somewhat spoiled memory-wise.
For a Chromebook, you should get at least 2GB RAM. But even then, I would recommend 4GB if you use more than a couple of tabs at the same time. For other platforms, I recommended having at least 4 GB RAM. You should consider 8GB if you want a semi-professional laptop above $500.
This is especially relevant if you're looking for a small laptop. 11″-13″ laptops usually are problematic or practically impossible to upgrade when it comes to memory. That means overshooting the amount of RAM is a lot better than undershooting. For 15.6″ laptops, you can have the luxury of getting a 4 GB laptop and upgrade it whenever you'll need more memory.
Good screen
Standard small laptop resolution is 1366×768. But I would recommend getting a higher resolution display if your budget allows it ($500+). That's especially true if you would like to stream some movies. Then, aiming for 1920×1080 Full HD resolution is recommended.
Most internet browsing laptops are Chromebooks with screens ranging from 10.1″ to 15.6″. And in short, if you're getting an 11″ to 13.3″ then you can get a screen with a low resolution. But on a 14″, 15.6″ laptop low resolutions look simply terrible.
It's worth mentioning that most cheap laptops for browsing internet have poor lighting and you'll not be able to use them outdoors on a sunny day.
SSD
Storage type for internet laptop
If you're carrying your laptop often, getting an SSD will save you time whenever you have to open the lid. Laptops with SSD storage boot up fast and shut down fast. Moreover, they launch the internet browser a lot faster than regular notebooks with a basic hard drive. Just recently I upgraded my parent's laptop with an SSD as their hard drive slowed down severely due to fragmentation. It made a huge difference in day-to-day use.
Storage size for internet browsing
To add to that, browsing laptop shouldn't require lots of storage, so it's possible to ditch HDD to buy SSD and increase the overall laptop experience. That's why I HEAVILY recommend getting an SSD storage over an HDD when searching for the best laptop for internet.
Optional requirements for best laptop for internet
Processor
The processor is not the most important factor for an internet laptop. In contrast to demanding games and professional computing-intensive software, browsing the internet uses only a fraction of a processor. For browsing the internet, ~5% of a processor is used. On some heavier "visual" websites, it can peak to ~30%-90% depending on the browser.
But it cannot be forgotten as a slow processor will severely slow down how quickly a website is displayed if it contains a lot of elements. Also, some amateurish websites that use too many effects (including smooth scroll, lazy image loading, animations, 3D translations) can appear slow to browse. Yes, it shouldn't happen, but some websites are not well-optimized for slow machines.
So if you want to have a smooth seamless browsing experience – opt for a laptop with an Intel Core i3 processor (i5 and i7 would be even better). But even if you get a cheaper laptop with Intel Pentium/Celeron/Atom or AMD processor – you'll not notice a big difference most of the time.
Portability
Depending on your lifestyle, you might heavily rely on a long battery life to keep the laptop running for hours. Battery runtime while browsing the internet on a wireless connection for an average computer is 6 hours. If we ignore the largest 17.3″ laptops, it's 6 hours 40 minutes. That's a good figure to shoot for. For example, the laptops in our recommendation list below have an average battery life on Wi-Fi of 7 hours and 40 minutes.
But this could be flipped the other way around. If you have no intention using your browsing laptop outside, settling for an average battery life is one surefire way to fit into a very low budget.
Also, having an integrated 3G/4G modem is a great addition bu these are so rare to come by that you might as well ignore this spec.
Touchscreen
Personally, I'm not a fan of using a touchpad when browsing the web. There are 2 different options: getting a mouse or using the touchscreen. Nowadays, more and more laptops are jumping on the touchscreen bandwagon and I can't blame them. For basic daily use, including surfing the net – it's a great addition and should not be ignored when searching for the best laptop for internet. It's almost exclusively found on Windows laptops, so you might need to rely on a touchpad/mouse if you're going to buy a Chromebook or a MacBook for that matter.
Convertible
You should consider a 2-in-1 laptop. These hybrid laptops can be transformed into their tablet form and used whenever you want to take it on a couch with you. And an ability to flip it like a tent is great for web video calls, watching videos or simply putting it on a table in the kitchen while you're cooking something up.
Best 6 Laptops For Internet Browsing
Table of Best Laptops for Internet Surfing
You can go beyond these suggestions if you want an even better laptop for internet. But remember that more expensive laptops will be just marginally better than the last models in this list for basic daily usage.
Finally, if you have any particular questions or requirements, please leave a comment below and I'll get back to you with a personal recommendation for the best laptop for internet surfing.