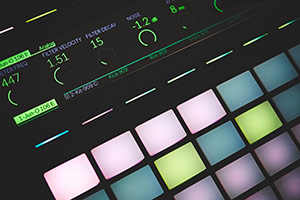 Music and computers. A match made in heaven of two of my favorite hobbies. I've recently started experimenting with Ableton due to the sheer number of freezing and bugs I experienced with FL Studio and that seemed to be as good of a reason as any to work out what would be the appropriate PC/Mac hardware for working with AL 10. First, let's tackle the question of the best laptop for Ableton Live.
What are we looking for?
Even if most people would simply go looking for a definitive list of best laptops for working with Ableton Live (which is included!), I believe it's best to start with some hard requirements which can be used a measuring stick to compare the laptops. I don't just want you to come out with a list of laptops but with a better understanding how to judge them from a music producers perspective. In that case, you'll have the tools to pick a laptop even if you live somewhere where you can't buy the laptops I'm about to list or you've found an intriguing sale and you wonder if the laptop behind it is any good.
Without further ado, let's start with the official requirements.
Official requirements
Ableton has published their official requirements for Live 10 but they're only useful enough to tell if a computer can run Live 10. That's not the same as running it with a full stack of plugins and a hefty sample library.
The official Ableton Live 10 requirements:
PC with Windows 7 SP1, 8 or 10 / Intel Mac (Mac OS X 10.7)
Multicore processor
4 GB RAM
1024×768 display
DVD drive or broadband internet connection for installation
3GB free disk space (up to 55 GB if you're getting Live 9 Suite)
There's also a Ableton Live Lite version that has the same requirements as their main version.
As you can see, these requirements don't tell much apart from the fact that Windows PCs and Macs are both supported. If you'd take these requirements at their face value – you'd get nowhere. Even a $400 laptop can match them but you wouldn't be even close to a smooth experience whenever you add a couple of synths, effects, send the signal from one channel to another and wrap it up with 3-5 plugins on the master chain to tighten the whole mix.
Even some plugin suites come with higher system requirements than Ableton Live.
So what are actual requirements?
Processor
Processor is the most important specification when looking for a laptop for Ableton Live.
Since AMD's latest processors are yet to hit the market, we can focus our attention on Intel's models as they're for the most part the only option when looking for a performant laptop. If you have some knowledge on Intel desktop processors, you can apply most of your knowledge when evaluating a laptop's processor.
Firstly, all Intel Core i3 processors are off the table. We are only looking for 6th-7th generation Core i5 and i7 CPUs. Also, for the most part, H-series processors are better than U-series processors. For example, i5-7300HQ is significantly faster than i5-7200U. U-series processors are designed for ultra-low power consumption which usually cuts into performance.
Which exact processors I consider good for Ableton Live?
Best budget CPUs: i5-6300HQ, i5-7300HQ
Best CPUs for a long battery life: i7-6500U, i7-7500U
i7-6700HQ, i7-7700HQ, i7-7820HK, any Xeon processor
Of course, there are many more processors but you can use your own judgement when comparing them to the ones I've listed above. For example, i7-8650U is another power-efficient CPU (because of the "U" at the end), it is usually found in $1000+ laptops (because it's an i7) and it is a bit faster than 7500U as it is indicated with a larger number (7567 > 7500). But if you have no knowledge on processors, your best bet would be just comparing the processors by some benchmark, such as PassMark.
Live uses one thread to process a signal path.

Ableton

As a final note, your particular composing style might slightly influence your CPU choice. If you like to start mixing without any plugins on your mastering chain, you could easily get by with a solid mid-range multicore CPU such as i7-7500U. But if you like to compose and tinker with your mix in parallel, for example by quickly building a stack of compressors to which you mix into – you'd be better off with a higher clock speed that only come in high-end i7-7700HQ, i7-8750H and similar processors. In short, more cores – more instruments, higher core frequency – longer effect chains. For laptop CPUs, it doesn't make much of a difference since laptops have a very limited selection of processors. But for desktops, it might make a difference as Intel provides better single-core performance and AMD Ryzen is more cost-efficient for multi-threaded work.

To illustrate what I mean, I have added a handy graphic below. To make matters simple, let's assume you have 5 channels. Channel 1 and 2 are sent to Send 1 for some joint reverb and channels 3, 4 and 5 are sent to Send 2 for some distortion and compression. Let's assume you're using quite a few effects on each channel and on top of everything you have a stack of plugins on your master.

Now, let's pretend you're trying to play what you've got. First of all, Ableton tries to render all your channels (including sends). Each core of your quad-core processor takes on a channel 1 through 4. Core 3 quickly finishes channel 3 and starts working on channel 5. Meanwhile, channel 1 and 2 are done and are sent to Send 1. Once channel 5 is finished, 3rd, 4th and 5th channels are sent to Send 2. Once the last send is done, everything is sent to master and it plays what we've done.

If we were rendering only 128 samples then we might start hearing cracking as we couldn't finish rendering them by the time we should play them. Meanwhile, if we were rendering 256 samples, we would be alright as we finished by the time we need to play them back.

In this scenario, the length of each bar is mostly determined by the sheer performance of a single core. That means that if we've faster cores – we can fit in more effects to our longest plugin chain (which includes master channel).

At the same time, if we had more cores, we could have rendered channel 5 at the same time as channels 1-4 and thus drastically reduced the longest rendering chain.

Obviously, I've simplified matters and assume there are no plugin-level multi-core optimizations but in many cases, that's how plugins work, especially at low sampling rates when there's less to be gained by parallelizing tasks across CPU cores.

TL;DR

Recommended: i7-8550U
Best: i7-8650U, i7-7700H, i7-8750H


Memory (RAM)

Once you are happy with the processor, you only need to make sure that no other component is limiting it (I sense some potential for a limiter joke).

RAM is very easy to get right. We don't really care too much about memory frequency or latency. In laptop world, all of these secondary metrics are mostly the same.

We only care about the size (damn right)! 8GB should be your baseline. Don't give a second look to laptops that don't have 8GB, unless you're on a very very tight budget and they have the potential to be upgraded.

Right now, 16 GB is the new "just right" amount of memory. Going above that surely won't hurt you but it's not necessary by most standards. Usually, memory size is tightly correlated with laptop price and other hardware specs, so you're most likely to get pretty much the exact amount your processor needs.

Storage

This one is quite important to get right. Long story short – get an SSD. For storing a large sample library you might not be able to get away with a raw SSD setup. In that case you still can opt for an external drive or a 2nd drive, even if that means matching a fast SSD with a slower but larger HDD.

For PC users, SSD should be used for Windows, Ableton and, depending on drive size, VST plugins. For most, a 500 GB is needed to fit in their samples. And for your archives, I advise getting a large external drive or getting a cloud storage service if you have a very good upload link (~50Mbps and up).

MacBook users don't have to worry much about getting an SSD – all MacBooks have one. Their main problem is just raw storage. Apple asks for a significant premium for each step up in storage size so you'll need deep pockets to get a MacBook Pro with a large storage drive.

ASIO Drivers support

For desktop users, this would be especially important due to a wider selection of audio cards and sheer customization options. But for laptop users, you'll just have to accept your built-in Realtek audio chip (or similar). It will work with ASIO4ALL but an external audio card or audio interface is recommend though not an essential if you're not recording audio.

Ports

Audio engineering is still bound by wires and situation is not changing anytime soon. So make sure you have at least a couple USB ports. USB 3.1 is preferred due to its splitting potential. Also, I'd prefer separate 3.5mm audio input/output jacks as they're easier to setup than a joint jack. Finally, a dedicated HDMI 1.4+ or DisplayPort is an essential if you want to hook up an external monitor display.

Protip: if you have any Firewire/Thunderbolt hardware, you might want to check if a laptop has "Thunderbolt USB controller". That basically means that USB 3.1 (Type C) port can be used as a DisplayPort and Thunderbolt port.

Optional requirements

Long battery life

First off, you can't have a truly long battery life while working on audio. But having at least a couple of hours of juice is still better than having only an hour.

This is not a necessary requirement for most because battery life is not as big of a problem as it used to be a couple years ago when only Macbooks and Lenovo laptops had anything close to a whole workday off one charge. But if you're going for a particularly fast & power-hungry processor (which I recommend), you'll need to lower your expectations for the battery or bump up your budget.

Right now, if you can spend ~$3,000 for a laptop and you want "the whole package" – MacBook Pro might be your best option. Windows laptops are unbeatable if you're willing to cut a corner or two – then you can get a laptop that matches Macbook Pro in speed at nearly half the price. But don't expect to get everything Apple offers and still save $1,000 just because you went for a Dell.

Silent cooling

If you're recording in the same room, you might want to avoid polluting your recordings with laptops noise print. Any laptop capable handling Ableton Live will have a fan to cool it down but the processor, cooling layout and a sheer number of fans all play a role in the produced sound. A pair of fans spinning slowly will be less noisy and a lot easier to cut out than a single fan spinning at max speed and entering the mid-range frequencies. Also, avoiding an HDD will shave off a couple dBs.

Sadly no laptop manufacturer mentions their product noise level in the spec sheets. The easiest way to figure that out is to use 3rd party reviews such as NotebookCheck. If laptop doesn't hit 45 dB @ 15 cm (6 inches) at max load – you'll be alright.

Or at the very least you could look for a laptop that produces noise at your favorite noise pattern. Heh.

What doesn't matter

Graphics

Graphics card is only needed if you're an avid gamer. In many cases, you're bound to get a decent GPU if you're buying a laptop over ~$1,200. If you want to use your laptop for gaming, you should get at least Nvidia GeForce GTX 960M or 1050 for casual gaming and for latest gaming titles I recommend GTX 1060.

Laptop recommendations

1

i5-8250U

|

MX150

|

8GB

|

256 GB SSD

|

5.3 lbs (2.4 kg)

|

7h

One of the cheapest laptops for working with Ableton Live
Comes with all the basics (up-to-date i5 CPU, 8 GB RAM and 250 GB SSD storage)
USB 3.1 Type C
No removable battery
Keep in mind its limited i5 CPU performance. It is far from comparable to their desktop counterparts
It runs hot

View on Amazon

2

i7-8550U

|

UHD 620

|

16GB

|

512 GB SSD

|

2.9 lbs (1.3 kg)

|

8h

Lightweight and portable
Superior battery life
Great gaming and mobility balance

View on Amazon

3

i7-8750H

|

GTX 1060 3GB

|

16GB

|

512 GB SSD (PCIe) + 1 TB HDD

|

4.8 lbs (2.2 kg)

|

6h

A lot of storage
One of the fastest laptop processors
Is suitable for gaming and working with video
High refresh rate IPS display

View on Amazon

4

Smaller MacBook Pro

i5-8259U

|

Iris Plus 655

|

8GB

|

512 GB SSD (PCIe)

|

3.0 lbs (1.4 kg)

|

10h

i5 processor that performs as an i7 CPU
Classic option for most
Easier to setup audio drivers – Core Audio
Long battery life
4 Thunderbolt 3 ports
Small display

View on Apple.com

5

i7-8750H

|

1070 8GB Max-Q

|

16GB

|

512 GB SSD

|

4.6 lbs (2.1 kg)

|

8h

Top of the line performance
Great for any type of work
Surprisingly well cooled for a thin laptop
Limited storage
Unorthodox webcam position

View on Amazon

6

Latest MacBook Pro

i7-8850H

|

Radeon Pro 560X

|

16GB

|

512 GB SSD (PCIe)

|

4.0 lbs (1.8 kg)

|

10h

Expensive if you don't need a top of the line CPU and a long battery life
The best combination of performance and portability
You'll need a port splitter to connect your gear

View on Apple.com

Past the laptop

Setting up

If you're going for Windows laptop – Ableton has written one hell of a guide for Windows performance optimizations. Trying to summarize it wouldn't do it justice. And bookmark it so you know what to read if you ever hear any cracks in your buffer.

Final thoughts

If you've followed the general guidelines outlined in this post, you won't have an issue in picking a great laptop for Ableton without much additional research. Whether you're buying a laptop as a primary workstation or as a way to work on music on the go – don't forget that there's a lot more to music than just a good machine for your DAW. If you've been a Windows user before and you don't have any concrete reason to move to Mac (or vice versa), then don't stress over picking the right platform and OS for Ableton – get what you're already comfortable with so you can get back to doing what you like most. Unless of course, you're a fan of exploring new computer hardware as much as you'd like to tinker with an analog synth. In that regard, musicians and computer geeks are more alike than most would think.

If Ableton won't be the only DAW you'll be using – don't forget to check out laptop guides for FL Studio and music making in general.

Table of Best Laptops for Ableton Live