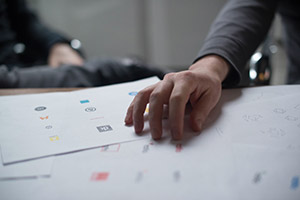 First, we'll start by figuring out what type of laptop you're searching. That includes nailing down the your prefered laptop size, priorities when it comes to performance-to-portability ratio and general budget limits.
Then, I'll cover the most important specs and metrics that are essential for any good graphic design laptop. One by one, I'll explain their role in our particular case and then what exact specs you should be looking for.
Finally, I show what are the 10 absolute best laptops for graphic design. These notebooks were picked out of a pool of over 170 computers. And in the unlikely event that you don't fancy a single of my recommended models – I'm giving away the comparison sheet of all 172 compared laptops for free. It is tailored specifically for graphic design so you'll save hours.
But first things first – what are the requirements for the best laptop for graphic design?
What is crucial to a graphic design laptop?
First of all, to know what kind of laptop will be the best for you, you decide on your budget and preferred screen size.
Size
For simplicity's sake, I'll talk about 3 most common laptop sizes: 13″, 15″ and 17″. I apologize for not including 14″, which I know is just in the sweet spot for some graphic designers. But their characteristics can be easily guessed as a mix between 13.3″ and 15.7″ laptops.
Let's begin with 13-inch notebooks. They are best suited if you need a very portable laptop. It's the best size for travel due to its excellent portability. But the lack of screen "real estate" is not ideal for any type of visual work.
15″ is the most common option for most people, including graphic designers. 15 inches is the standard size for an office laptop.
17″ the best screen size if you're searching for a desktop-replacement workstation and you will need to carry it only once in a while.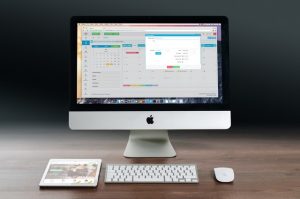 Don't forget that often there are options for external displays. If you need a small laptop for home and a larger one for office – getting a 13″-15″ notebook with a few ports for display can be enough. So you're not necessarily limited by a screen size. The number and versions of HDMI, Display Port, USB 3.1 Type C (w/ Thunderbolt III) connections determine the number of screens you can use. 13″ laptops usually can have 1-2 external displays while a standard 17″ behemoth can have ~4 of them.
Requirements for best laptop for graphic design
Screen
No matter the size you'll need a good quality display. To measure and compare different laptops I used 5 key metrics that I'll cover now one by one.
First, the IPS panel is a must for the best laptop for graphic design. IPS panels are designed for wide viewing angles and higher contrast than regular TN panels. And even knowing that a screen has "IPS panel" does not automatically make it suitable for graphic design. There are several types of exact panel types under this umbrella term. That's why we need additional metrics to truly judge the overall quality. To add to that, there a few other Wide-Angle panels that can do a sufficiently good job but to make matters simple, I'll refer to all of them as IPS or IPS-like.
High resolution is another crucial requirement for a screen. Just a few years ago, having a Full-HD display for a laptop was just fine. But now, these "Retina-like" screens have fallen in price and now are widely available. The cheapest laptops with HiDPI cost ~$700, though if you need a larger 4K screen and a performant set of hardware on a side, you'll need to spend about $1200.
Brightness is important when working in very well-lit environments or outside on a sunny day. An average illumination of 300 nits (~325 nits at the center) should be enough for graphic design.
Contrast can get somewhat overlooked as its range in laptops is not as wide as it is on external monitors. But whenever possible, I would urge you to check extensive reviews to know if a laptop comes with 900:1 contrast ratio or better.
Lastly, a wide color gamut of ~90% sRGB is close to ideal for web graphic design and ~75% or higher Adobe RGB coverage is recommended when working with print.
| | Good | Great |
| --- | --- | --- |
| Panel | IPS | IPS |
| Resolution | 1920×1080 | 3200×1800 |
| Brightness (avg.) | 270 nits | 330 nits |
| Contrast | 900:1 | 1200:1 |
| Adobe sRGB | 80% | 95% |
Processor
I would recommend to go for at least Intel Core i5 HQ or i7 U processor. Anything below that can severely effect work with Illustrator, Photoshop or Sketch. These processors can be used if you need higher mid-range performance with a good battery life.
The fastest CPUs on the market right now are in Core i7 HQ and HK lines. These often are found in larger laptops as they consume more power.
Price range
Processors
$300 – $700
i3, i5 processors:
i5-4210U, i5-4300U, i5-4210H, i3-5010U, i3-6100U, i5-6200U
$700 – $900
i7 U processors:
i7-5500U, i7-6500U
$900 – $1,600
i7 HQ processors:
i7-4712HQ, i7-4720HQ, i7-5700HQ, i7-6700HQ
$1,600 and up
i7 high-end HQ/HK processors:
i7-6820HK, i7-4770HQ
In short:
i5 HQ processors are best if you need a cheap laptop with good performance.
i7 U series is best suited for a portable laptops at a lower price
i7 HQ, MQ, and HK series offer the best performance, but you may need to spend a fair extra if you also want a long battery life
Storage
Storage size and type
Get a lot of storage. 1 TB or more would be ideal. But if you'd like to take an SSD-only approach, you might need to settle for 500 GB, at least before upgrading the storage by yourself.
SSDs are better in a number of ways starting with their unmatched speeds and ending with their easy maintenance and prolonged durability. Their price is still an issue, especially if you're not looking for a 17″ laptop, which can be easily upgraded.
What to expect
Here's what you should expect at 3 main price ranges:
| | 13-inch | 15-inch | 17-inch |
| --- | --- | --- | --- |
| Under $1000 | 250 GB SSD | 250 GB SSD + 1 TB HDD | 250 GB SSD + 1 TB HDD |
| Under $1500 | 500 GB SSD | 500 GB SSD + 1 TB HDD | 500 GB SSD + 1 TB HDD |
| Over $1500 | 500 GB SSD | 500 GB SSD + 1 TB HDD | 500 TB SSD + 1 TB HDD |
Great additions
Dedicated graphics card
Quite ironically, graphic design does not rely on a graphics card as much as some might think. Even integrated chips do a fine job most of the time. That's because GPU acceleration is not supported by many internal effects and most external plugins in raster design and hardware acceleration in vector graphics is limited to the basic tasks. Absolute majority of new smaller graphic design apps don't even support GPU acceleration and there's no need for it.
Integrated graphics
Integrated modules from Intel should be your default option up to $800 and even past that you'd be better off spending your money on a better CPU and quality display.
A basic rule of thumb – if your budget is low – getting a better CPU often means getting a better integrated GPU. That's especially true when comparing processors of different generations.
For example, HD 530 GPU found in i7-6700HQ is almost twice as fast as HD 4400 in i7-4600U. Differences of similar CPUs within the same generation can be ~25%.
Dedicated graphics
If you're a bit of a gamer or you want the absolute best laptop for graphic design – Nvidia video card can be worth its cost. At the same time, even a basic mid-range graphics card should be enough. Something like GTX 950M or 960M is enough for graphic design. But going for a weaker chip is basically pointless, as 840M, 940M, 940MX are closer to integrated chips than other Nvidia cards.
A lot of memory
8 GB is the absolute minimum and 16 GB is recommended. 16GB laptops start from $800 and mandatory for any computer above $1000.
What is optional for a graphic design laptop?
Long battery runtime
Whether you need a long battery life depends entirely on your workflow, and when and where you'll be using your machine. If it will be stationary and near a power source – targeting for ~average (or even below-average) battery life is an easy shortcut to a faster and cheaper laptop for graphic design.
Battery life depends a lot on the size of a laptop and its processor. Do not expect to find a notebook for graphic design at a low price with a long battery runtime and a high-end processor.
On average, laptops with i7 HQ/HK processors last 2h 40min less than laptops with i7 U series CPUs. That simply means, that going for the best processors severely limits the battery life and you'll need to spend a sizeable bonus to get the best of both worlds. The most you should realistically expect from an HQ CPU is 7.5 hours. Meanwhile, i7 U CPUs can go up to 10 hours. Don't forget that their average figures are just a bit than half of that.
Lightweight frame
Inherently, weight is strongly linked with the size of a laptop. But there can be up to 2x difference within the same category. Of course, I would suggest getting a lighter laptop whenever possible but unless a laptop is close to the max in its size group, you should be fine.
You should be aware that there is one major drawback of getting a lightweight laptop. If you're trying to get a laptop that is closer to the minimum weight of its size category, you're likely to face overheating at some time in the future. Usually, this is not a deal breaker as this can be solved by cleaning the fans and filters inside. But this can be frustrating as daily use can lead to filters clogging up a couple times a year.
Laptop Size vs Weight
Size
Weight, lbs (kg)
Min
Average
Max
13″-14″
2.2 (1.0)
3.0 (1.4)
4.5 (2.0)
15″
3.9 (1.8)
5.0 (2.3)
7.5 (3.4)
17″
6.0 (2.7)
7.5 (3.4)
10.5 (4.8)
Best laptops for graphic design
1
Best cheap laptop for graphic design
i5-6200U
|
940MX 2GB
|
8GB RAM
|
250 GB SSD
|
15.6″ 1920×1080
|
9h
The first laptop on this list is the current Acer's best-seller. It's a great laptop with a long battery life, i5 processor, 8 GB of RAM and a decently sized SSD. Judging from similar Acer models, it should come with only 1 hard drive bay, so you'll need to replace the current drive if you want to upgrade its internal storage. Of course, getting an external drive via USB 3 port is always an option.
I couldn't find its measured display metrics, but judging from similar Acer models, it should be the weak point of the laptop. I would expect ~240 nits, 400:1 contrast and 60% sRGB (40% Adobe RGB). These metrics are far from ideal. Lack of IPS-type panel does not help either. At the same time, a laptop under $600 is expected to make some hard compromises.
2
M3-6Y30
|
HD 515
|
8GB RAM
|
250 GB SSD
|
13.3″ Touch IPS 3200×1800
|
6h 20min
The overall screen quality is good – very high QHD resolution, IPS touchscreen panel and great metrics all around. This Asus ZenBook has roughly 320 nits, 1000:1 contrast, 90% sRGB and 60% RGB coverage. Even though there were no metrics for this exact model, I arrived to the these numbers by extrapolating data from other laptops in the same or similar Asus ZenBook UX305 line.
Since it is a budget laptop, we are bound to find a few flaws. For example, its slow Core M processor performs just about as low-end i3 CPUs (i3-5005U and i3-5010U). I would not recommend it for graphic design professionals but it should be OK for working with limited resolution bitmaps and not too complex vector drawings.
Finally, lack of SATA ports leaves only M.2 as the only slot for hard drive upgrades. Though, M.2 does not use PCIe, so a cheaper M.2 SSD over SATA III will do.
3
i5-6300U
|
HD 520
|
8GB RAM
|
250 GB SSD
|
12.3″ Touch IPS 2736×1824
|
7h
You might think why I'd prefer i5 version instead of i7 Surface Pro. To be honest, the difference between i5-6300U and i7-6650U is a lot smaller than one would expect. i5-6650U averages out 4150 from CPU Passmark and 3DMark06 CPU benchmarks. Meanwhile, the i7 version scores 4600. In comparison, a "real i7 CPU" i7-6700HQ scores 7500. That's a real difference which could be worth paying the $800 difference between i5 and i7 Surface Pro models. Especially, when going for i7 version results in battery life shorter by 2 hours- yeah… no.
But despite what variation of SP4 you prefer – they all have amazing 12.3″ IPS touchscreens that perform in laptop screen Olympics:
Brightness – 400 nits – great
Contrast – 1200:1 – great
sRGB coverage – 95% – great
RGB coverage – 60% – good
It's worth noting that there have been more reported hardware issues with SP4 than should expect. You'd think Microsoft would clear all the problems with their Surfaces by 4th attempt. But apparently, you can still stumble into some issues even with their latest Surface Pro.
But if you don't get a "lemon" – you should absolutely love Surface Pro for graphic design.
You could go for Surface Pro 3 which essentially just has a bit more wonky keyboard and a closer-to-average screen. Just don't forget that MS is discontinuing Surface Pro 3 by mid-December 2016.
4
i7-6700HQ
|
HD 530
|
16GB RAM
|
120 GB SSD & 1000 GB HDD
|
15.6″ Touch IPS 3840×2160
|
6h 30min
It has no video card with dedicated memory but the HD 530 module is one of the better Intel graphics chips you can get and is enough for anything but the most demanding hardware accelerated tasks.
Even though this Inspiron model has a small SSD drive – it's accompanied by 1 TB HDD. In that case, Windows and your software should be kept on SSD and your collection of graphics should be stored on the HDD. In most cases, I prefer this setup over a single 256 GB SSD.
This Dell Inspiron could be called a cheaper version of their premium XPS series. I didn't find display metrics for this particular model but if they are at least average, which is expected with an IPS 4K display, then this laptop is a good deal.
5
i7-6700HQ
|
960M 2GB
|
16GB RAM
|
500 GB SSD & 2000 GB HDD
|
15.6″ WA 1920×1080
|
3h 20min
If you want more power while long battery life is not a priority – this laptop is a better pick.
As you'd expect – it packs a lot of muscle for its price: very fast i7-6700HQ processor, dedicated Nvidia GTX 960M card, 16 GB of RAM and a massive 500 GB SSD plus 2 TB HDD.
MSI uses a non-IPS implementation of a Wide-Angle panel which is not problem – it still scores reasonably well on screen benchmarks: 290 nits, 900:1 and 55% RGB (expect 85-90% sRGB).
6
i7-6700HQ
|
960M 2GB
|
16GB RAM
|
500 GB SSD (PCIe)
|
15.6″ Touch IPS 3840×2160
|
5h 40min
If you'd like a lighter but still similarly performant machine – you could go for Asus 15″ ZenBook.
Asus Zenbook has a satisfactory screen but its brightness is lagging behind other metrics – not recommended for outside use. In short, it has 250 nits, 850:1, 60% RGB (80-85% sRGB).
7
i7-4770HQ
|
Iris Pro 5200
|
16GB RAM
|
1000 GB SSD
|
12.3″ Touch IPS 2560×1704
|
4h
VAIO Z Canvas is a very ambitious 2-in-1 convertible laptop. It packs a high-end processor with one of the best integrated graphics modules, 16 GB of RAM and 1 whole Terabyte of SSD storage into a tiny 12.3″ frame.
Nobody should be surprised that trying to cram top of the line CPU into a small frame leaves no room for a large battery. That means that you should expect only 4 hours of battery life. But if you need a small and powerful laptop that can be plugged off for a few hour sessions – this is the machine you're looking for.
VAIO Z display is quite good – 2560×1704 resolution (HiDPI for 12″) with IPS, average brightness (280 nits), below average contrast (600:1) and above average RGB coverage (80%).
8
i7-5557U
|
Graphics 6100
|
16GB RAM
|
500 GB SSD (PCIe)
|
13.3″ IPS 2560×1600
|
9h
You were probably thinking "when I'll see a MacBook in the list". That's entirely reasonable – Apple products are widespread in graphic design industry. If you can go above $2000 – MacBook Pro laptops should be considered.
The display on this beauty is bright (360 nits). It also has 95% sRGB coverage and 1000:1 contrast. Both of which are good enough for professional use.
If you need a long battery life and you prefer to get a smaller laptop – this MacBook is a great option.
9
i7-4870HQ
|
R9 M370X 2GB
|
16GB RAM
|
500 GB SSD (PCIe)
|
15.4″ IPS 2880×1800
|
7h
If you're looking for the best laptop for Sketch – there it is. High-end processor, reasonably fast AMD card, plenty of memory and storage – what else you'd need.
The screen, found in 15″ MacBook, is not as impressive as the one in 13″ model. But it is still suitable for graphic design: 305 nits, 1000:1 contrast, 60% Adobe RGB/90% sRGB.
10
i7-6700HQ
|
960M 2GB
|
16GB RAM
|
500 GB SSD (PCIe)
|
15.6″ Touch IPS 3840×2160
|
5h 30min
Dell XPS 15 passes all the checks:
Great application performance (CPU+RAM+SSD)
Solid mid-range graphics cards
4K IPS Touchscreen (400 nits, 1600:1, 65% Adobe RGB, 95% sRGB)
Decent battery life considering its hardware
If you'd trade off some of XPS 15 performance for better performance – take a look at Microsoft Surface Book.
Comparison spreadsheet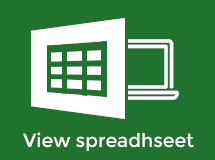 As promised, here's the comparison sheet of graphic design laptops. Disclaimer, it has my affiliate links to the online shops (#sellout) but there's nothing stopping you from finding the best deal on any shop – you could find many of these models even in your local stores. I couldn't find benchmarks for every single laptop but there's more than enough to make a well-educated judgment. A few metrics are made from educated guesses (seen in italics) and I'm yet to fill the backlit keyboard column. If you are interested in specific entry – you can leave a public comment on a spreadsheet (don't go wild or I'll have to close the comments :'( ).
Lastly, if you have any questions or specific requests – I'm ready to reply to any comments down below. Don't forget to check out the .