Requirements
First off, let's begin with the official PC requirements for R6.
Minimum specs for Rainbow Six:
Intel Core i3 560 or AMD Phenom II X4 945
Nvidia GeForce GTX 460 or AMD Radeon HD5770
6 GB RAM
61 GB hard drive space
Recommended specs for R6:
Intel Core i5-2500K or AMD FX-8120
Nvidia GeForce GTX 670 or AMD Radeon HD7970 / R9 280X
8 GB RAM
61 GB hard drive space
These specifications would be fine for us if we were looking for a desktop PC. But since we're looking for a laptop for R6, I'll convert these specs to laptop equivalent:
Rainbow 6 Siege minimum laptop requirements:

Intel Core i5-6200U or AMD Ryzen 3 2200U
Nvidia GeForce GTX 950M or AMD Radeon R9 M470X
8 GB RAM and 61 GB hard drive space
Rainbow 6 Siege recommended laptop requirements:

Intel Core i5-7300HQ or AMD Ryzen 7 2700U
Nvidia GeForce GTX 1050 (any version) or AMD Radeon R9 M395
8 GB RAM and 61 GB hard drive space
These requirements are NOT official – I used the official requirements to match their recommended components to similarly performing laptop parts. I used 3rd party benchmarks including 3DMark and PassMark tests.
What is crucial for a Rainbow Six Siege laptop?
Primary requirements
Major

Processor
Minimum
When it comes to processors, Tom Clancy's Rainbow Six Siege is not very picky. And that's good for us.
Any modern Intel Core or AMD Ryzen CPU can run R6 without much of a problem.
If you're buying a laptop with an Intel processor, just make sure it's in i5 or i7 line and it starts with at least 6 in its model code. For example, i5-6200U.
Recommended
I'd recommend an i5 H-series or any i7 processor or AMD Ryzen 7. These are fast enough to not bottleneck R6 on highest settings.
If you want the highest possible framerates, go for an Intel Core i7 H-series processor. Here are some good examples:
i7-6700HQ
i7-7700HQ
i7-8750H
Major

Graphics card
Integrated graphics
Since Rainbow Six Siege is not a new game, there are a few graphics module options such as Intel Graphics UHD 620, UHD 630 and a few Iris chips but these are only good for low graphics settings. I doubt anyone would be looking for a Rainbow Six Siege laptop that can only perform with the low preset.
Dedicated graphics
There are plenty of good graphics cards for Rainbow Six Siege. The slowest graphics card I'd go for is Nvidia GeForce GTX 950M. That's good enough for high settings.
For Ultra settings, the least expensive graphics card is 960M. And if you want to run Ultra graphics at 60 FPS, you'll need GTX 1050. And all sufficient GPUs can be summarized to:
GTX 950M, 960M, 970M, 980M
MX150, GTX 1050, 1060, 1070, 1080 (including slower Max-Q and faster Ti versions)
To check how Rainbow Six Siege performs on various graphics cards – check this handy table on Notebookcheck.
Minor

Memory

8 GB is the standard for any laptop under $950 and 16 GB for any laptop up to $2,000 and 32 GB for anything above that.
Secondary requirements
Optional

Quality display
IPS panel
First and foremost, I'd prefer an IPS panel over a TN panel. For some, highly competitive players, a TN panel might be preferable over IPS but for the vast majority of use cases, I'd go for a better looking IPS panel. That means better viewing angles, higher color contrast and often overall better display specs.
As you'd expect, IPS panels are more expensive thus they're harder to find in cheaper laptops. IPS is most common in laptops costing over $1,000. They're also not ideal as they have marginally slower response time but this is inconsequential compared to their more prominent advantages.
Refresh rate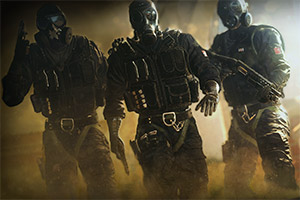 Just a few years ago I wouldn't even mention high refresh rate displays as they were reserved for pro-gamers. I remember ~4 years ago when one Korean player refused to play in an IEM tournament until he got a high refresh rate monitor. I was surprised at how a person could quickly notice a difference in monitor's refresh rate – could it make such a difference?
Apparently, it does. I've been using a 240Hz external monitor for the past 8 months and I couldn't go back to 60Hz. I clearly notice refresh rate even when moving my cursor or moving a window across the screen. It's one of the features that doesn't leave a big impression at first, but it becomes very apparent when you try going back to your old hardware. I'd compare high refresh rate displays to a good set of headphones – they might not blow your mind, but they'll make you so much more aware of the limitations of an inferior set of headphones.
These monitors are widespread in gaming laptops priced over $1,500 but they're quite sparse up to that point. And usually, when they appear in cheaper laptops, they signal a weaker set of hardware in some other area. That might be a slower CPU, a weaker battery, a bulkier frame etc.
Brightness and color accuracy
There are a few additional metrics that we might take a look at if we're shopping for a laptop.
Since there's no reason to get stuck in the weeds, I'll just mention 3 more advanced display specs: brightness, contrast and color space coverage.
Out of them, I'd look to get a good brightness reading. That can be often found in 3rd party reviews or, if you're in the mood for Googling, laptop specification specs that point to an exact display panel model. A good display should have an average 280-320 nits brightness reading. Best displays reach over 400 nits, while the worst displays are in the low 200s.
As a rule of thumb, if a laptop has an IPS panel and ~300 nits brightness – it's in the clear. A perfect display would also have 1000:1 black-to-white contrast and 95%+ Adobe sRGB coverage. But the last 2 specifications should concern you only if you're also a professional in some visual medium (such as photo/video editing).
Optional

Good thermals

One often overlooked aspect of a good gaming laptop is its thermals. But it shouldn't be as it's one of the few unique aspects of a gaming laptop that are not particularly relevant to other types of laptops or nearly every type of desktop PC.

Thermals usually are a problem if 2 out of 3 conditions are satisfied:
Powerful CPU and/or GPU
Slim laptop frame
Poor cooling design
So if you're looking for a basic laptop that can run Rainbow 6 at medium settings with something like GTX 960M or 1050, then you shouldn't worry much about the internals. An exception would be a very slim laptop with only a single fan (poor cooling design).
The best way to make sure you're getting a laptop without this issue – check 3rd party reviews AND buyer reviews. A brand new laptop should almost never throttle. It's acceptable for a laptop to overheat if it has been in heavy use for at least a year but then it should be easy to clean. That will mostly revert any lost performance due to overheating.
Optional

Ports

I recommend getting a laptop with 3 corner stones of modern ports:
At least 3 USB ports (2 of them USB 3.0 or newer)
At least 1 USB Type-C, preferrably compatible w/ Thunderbolt 3
At least 1 HDMI 2.0 or Display Port 1.2, preferrably both
This should cover most use cases. If you're a fan of external displays – make sure to get HDMI and a Display Port (DP or mDP). Don't forget that a Thunderbolt 3 port can be used as a Display Port!
Optional

Upgradability

Finally, a good gaming laptop should be upgradable. I'm not talking about processor and graphics card – these are very difficult, often impossible to upgrade. But it should be easy to upgrade RAM and storage. Most bulkier gaming laptops come with 1 free slot for an additional storage drive (2.5″ bay or M.2 port). Also, there should be a free slot for additional RAM. It's not mandatory, but it can easily extend the lifetime of a laptop by 1-2 years.

It's especially handy if you're trying to cut some corners and you're going for a good set of CPU and GPU but skimping on a large SSD. In that case, just get a laptop with a large HDD/small SSD and extend it whenever it's no longer enough for you.

Information about free storage slots is usually easily found on laptop's page or it can be provided by the seller in product's Q&A section if there is one.
Best laptops for Rainbow Six Siege
Cheapest laptops to play Rainbow 6 Siege
1
Cheapest laptop to play Rainbow 6
i5-8250U
|
MX150
|
256 GB SSD
|
8 GB RAM
|
15.6″ TN 1920×1080
View on Amazon
2
Laptop to run R6 on 60 FPS
i7-7700HQ
|
GTX 1050
|
256 GB SSD & 1 TB HDD
|
16 GB RAM
|
15.6″ TN 1920×1080
View on Amazon
Top laptops to play Tom Clancy's Rainbow Six Siege
3
Gaming laptop for
i7-8750H
|
1050 Ti 4GB
|
16 GB
|
250 GB SSD & 1 TB HDD
|
15.6″ 120Hz 1920×1080
View on Amazon
4
Laptop for playing all modern games
i7-8750H
|
1060 3GB
|
512 GB NVMe SSD & 1 TB HDD
|
32 GB RAM
|
15.6″ IPS 144Hz 1920×1080
View on Amazon
Table of Best Laptops for Rainbow Six Siege