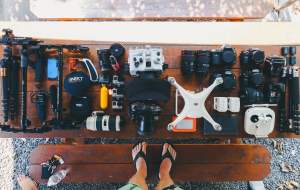 As a person who is almost always editing video for my Youtube channel, I am always trying out new video editing software for the best videos possible. There are many non-linear editing (NLE) systems out there on the market, but for my money, I like to use Adobe Premiere for its ability to organize a large amount of recorded audio and video and edit them as I please. The chief drawback to this NLE is its tendency to have very finicky hardware requirements, which is why I crafted this guide to help you find the best laptops for Adobe Premiere.
Adobe Premiere Pro System Requirements
First, let's take a look at Adobe Premiere Pro's requirements. I selected Premiere Pro CC 2018 because that is what you'll most likely be using for editing purposes. I also included stats for MacOS laptops because one of my reviewed items falls into that category.
| | | |
| --- | --- | --- |
| | Windows | MacOS |
| Processor | A multi-core processor with 64-bit architecture | A multi-core Intel processor with 64-bit architecture |
| RAM | 8 GB of RAM | 8 GB of RAM |
| Display | 1280 x 800 resolution display | 1280 x 800 resolution display |
| GPU | Adobe Recommended GPU | Adobe Recommended GPU |
| OS Version | Windows 7 or better | MacOS X v 10.11 or better |
While there isn't a huge amount of difference, it's worth noting that Adobe suggests an Intel processor for its Mac version. Outside of that, they consider a dedicated graphics card optional, but I find that CUDA technology gives me extra processing power so I always recommend a discrete graphics card in your new NLE laptop.
What to Look For Video Editing laptop
As I've mentioned, Adobe Premiere can be a bit finicky; in fact, in the past, I've been made pretty angry by the software when I tried to use it on a friend's slower computer. I want you to avoid this frustration, so here are some key stats that you should consider before you make a purchase (in my estimation, you should always shoot well above the Adobe official requirements – it'll lead to less frustration):
Processor
I'm not going to beat around the bush; this is simply the most important component for video editing. While the other features can be important, a fast processor is THE key to fast render times. Meanwhile, a high-end graphics card is only essential if you want to use VR features.
As you've undoubtedly noticed from the reqs, you'll need a 64-bit processor to run Premiere. Personally, I always try to go for a quad-core H-series Intel Core i5 or i7 processor. With the latest April 2018 update, Intel processors can render video ~40% faster than they used to. Just make sure you've installed processor drivers. This has left no room for AMD Ryzen processors which is a shame.
For Adobe Premiere, I recommend hyperthreaded processors with at least 4 cores which includes nearly all i5/i7 6th-8th gen Intel processors. If you want some examples of good laptop processors for Premiere CC, here you go:
i7-6700HQ (4 Cores, 8 Threads, 3.5 GHz)
i5-8300H (4C, 8T, 4.0 GHz)
i7-7700HQ (4C, 8T, 3.8 GHz)
i7-8550U (4C, 8T, 4.0 GHz)
i7-8650U (4C, 8T, 4.2 GHz)
i7-8750H (6C, 12T, 4.1 GHz) – best
Most of these processors are available starting at $900 but in our case we might need to go up to ~$1,100 if we want a good processor, graphics card AND an above average display.
Graphics card
Video cards play a vital role in accelerating video previews and rendering. That's why I recommend getting at least a mid-range graphics chip. For Adobe Premiere, there's little reason to go beyond Nvidia GeForce GTX 1070. Though well-rounded laptops with this card start only around $1,900 which leaves us with GTX 1050 and 1060 for anything under that. Even MX150 and 960M can be decent options if you can't afford a laptop with GTX 1050 or 1060.
I see no reason to buy a laptop with a Quadro card unless you're looking for an absolute best laptop for Premiere which can cost $5,000 or more.
RAM
RAM is how your processor interacts with what you have on your hard drive. More RAM means storing more assets in memory which is great for live previews and sometimes for final rendering. In a budget build, you can stick with the 8 GB of RAM that's suggested by Adobe. At the same time, for projects with 4k footage I'd go with 16 GB or even more if I had deep enough pockets.
Storage
Storage is another major consideration. For the past decade, most consumer laptops top out at 1 TB of storage but that can be no longer enough for storing an increasingly more data-intensive video. Nowadays, a lot of footage is either in 4k or with a high framerate. Using an external hard drive can provide you with some extra mileage but you won't go far if you're starting with a 250 GB laptop. I personally like to have more than enough space onboard before I consider external options and I would recommend to packing as much storage as possible given you can afford it.
That being said, there are two types of internal hard drives on the market. Let's take a look at the uses and benefits of each:
SSD: Solid-state drives are a fast but an expensive solution for storage. These drives are coming down in price and they will eventually achieve parity with mechanical drives, but for now, they are a harder to get due to their price. I heavily prefer SSDs for software and "hot" footage.
HDD: Mechanical hard drives come in two gears – 5400 RPM and 7200 RPM. 7200 RPM drives are better than the 5400 RPM alternatives but they're still much slower than solid-state ones and are also more prone to eventual failure. The main advantage is that a standard HDD is much cheaper than an SSD, so they're more suited for rarely used assets and archived footage.
Display
Since we're editing video, it's pretty important to have a good display. Here's a breakdown:
IPS – in-plane switching is a technology that adds a lot of clarity to a modern monitor. It has more vivid colors, a better contrast, and excellent viewing angles. IPS displays are a must for any video editor.
TN – TN displays are the classic LED and LCD displays that lose a bit of clarity at different viewing angles. These are much cheaper than displays IPS panels so they can be a decent option if you're looking to save a some cash and you're not a professional video editor.
Anti-Glare – This is an option that you should consider if you find yourself working with a lot of ambient light. Anti-glare coatings will reduce the glare but in some cases they can be less bright than glossy displays.
Best Laptops for Adobe Premiere
Table of Best Laptops for Adobe Premiere
Wrapping it Up
I hope you enjoyed my post here about the best laptops for Adobe Premiere. Video editing is very rewarding, but no one would argue that it doesn't require a good system. The systems that I've featured here are robust enough to run the NLE with relative ease, but if you have any additional questions, shoot me a comment below – I'll get back to you as soon as possible. Pick Notebook also has several blog articles about laptops for video editing, you should check them out if you are looking for a more generalized laptop experience.
Don't forget to check out the guides for Photoshop laptops and best notebooks for livestreaming.