The best laptop for photography should have a good balance of performance (for editing), high-quality screen and portability.
In the next 5 minutes, I will cover all bases that need to be addressed to pick your own best laptop for photography. I will also list out what you should expect at various price ranges.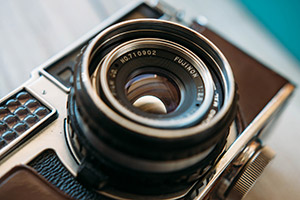 At the end, I'll list out 5 best picks when it comes to best laptops for photography. To find them, I went over a 120 hottest laptops and evaluated them using an array of metrics and benchmarks starting from the processor and ending with every important display metric: panel, resolution, brightness, contrast, sRGB/RGB coverage.
Requirements for the best laptop for photography
I have conveniently split requirements into 3 groups: 3 Major, 3 Minor, and a single Optional demand. Depending on your personal needs, these can be re-ordered or even thrown out. But most could blindly stick with these exact requirements without risking of making a wrong choice.
What is critical for photography laptop?
Major requirement

A lot of storage (fast) space
Types of drives
Whenever you're checking out a laptop, one of the very first you should look at is its storage type. There are 2 most general types of storage and a few options in-between.
First and foremost, SSD is the king when it comes to storage drives. It is the single most impactful advance when it comes to consumer computer parts in the past 10 years. That's because they're head and shoulders above the older HDD drives. Solid State Drives are tremendously faster, they consume less power and they do not degrade in performance as HDDs do. But there is one very relevant caveat when it comes to these drives – their price. SSDs are quite a bit cheaper when looking at their price tags from a few years back but they're still a lot more expensive than their HDD counterparts.
Storage size
Type
500 GB
1000 GB

2000 GB

HDD
$35
$55
$95
SSD
$200
$400
$850
Not surprisingly, a complete opposite could be said about Hard Drive Disks. They are redundantly cheap and best suited for long-term storage. If you are searching for a stationary computer – this would be the end of the story when it comes to drives. Get 500 GB in SSD for the system, photo editing apps and your recent pictures. Then, add 2 TB in HDD for image archives and forget about all storage limits.
The reason why this won't (usually) work for laptops stems from their size limits. Only 17.3″ owners could brag about their 3 or 4 installed drives. Now, many 15-inch notebooks have very limited options for additional storage. Most likely, they have 1 drive slot and mSATA or M.2 connection. In some cases, manufacturers, striving for ever slimmer and lighter laptops, completely moved to M.2 drives which are only suitable for SSDs.
At the end of the day, you need to choose:
A lot of cheap and slow storage
A small-ish SSD and a spacious HDD in a 15″-17″ laptop
A large SSD in an expensive laptop
What to expect
| | 13.3″ | 15.6″ | 17.3″ |
| --- | --- | --- | --- |
| Under $1000 | 250 GB SSD | 250 GB SSD + 1 TB HDD | 250 GB SSD + 1 TB HDD |
| Under $1500 | 500 GB SSD | 500 GB SSD + 1 TB HDD | 500 GB SSD + 1 TB HDD |
| Over $1500 | 500 GB SSD | 500 GB SSD + 1 TB HDD | 500 TB SSD + 1 TB HDD |
One more thing, you could get a small external drive over USB 3.0 later down the road, when you'll be certain that you need one. UBS 3.0 drives are sufficiently fast to not notice a difference. There's always a cloud storage option, but I would only use them for back-ups. Even with a 100 Mbps internet, they're still not convenient at all when working with high-resolution RAW images.
Major requirement

Mid-to-high range processor

You can take one of 3 roads:

Laptops with Intel Pentium/Celeron/Y/i3/i5 processors usually excel in their battery life. Their average runtime on Wi-Fi: 7 hours 10 minutes. With a few exceptions in i5 line (as i5-6300HQ) they do not come close to matching Core i7 processors. Getting a laptop with one of these processors would be a good option if you want a small and portable laptop under $800.

Intel Core i7 6-th generation (Skylake) U series sits in a sweet spot for many photographers. It offers higher mid-range performance and only slightly worse battery life (6 hours 45 minutes on average). These laptops dominate the $800-$950 range but they can be found on many laptops over $1000. I would not look past the most notable example of this line – i7-6500U.

If you want the best laptop there is – H-series processors should be one of your requirements. They are as fast as they make them. At the same time, they consume the most power and you will need to spend extra to get a laptop with a good battery runtime. Most notably, on average they have 2.5 hours shorter battery time on Wi-Fi (avg. 4 hours 4 minutes).

By their definition , all HQ processors offer high-performance graphics (H) and they are Quad-Core (Q). Of course, Intel defines "high-performance graphics" on their own terms and I would not consider Intel's options as suitable for demanding visual work. At the same time, even Intel integrated graphics can easily be enough for photography.

HK series (e.g. i7-6820HK) is the cream of the crop and usually, it is found in large workstations and gaming laptops starting from $1600. Meanwhile, processors as i7 6700HQ can be found in laptops of any size.
Major requirement

IPS display with great metrics

A great display for photography can be decided based on 5 factors:
Panel (mostly concerning contrast and viewing angles) – look for IPS
Brightness – aim for 310 nits max brightness or more
Resolution – Full HD can be sufficient, but starting from $1,150 – start looking for 4K or QHD displays. 4K/QHD will let you see your images closer to their full resolution. But under $1,150, almost all laptops are Full HD and that's OK.
Contrast – most laptops range between 500:1 and 1400:1 contrast. Aim for 1000:1 or more. The low contrast might end up causing you to overproduce your photos with very high saturation and contrast.
Color gamut range – there are 2 commonly measured color ranges: sRGB and RGB. Having a 100% coverage means that a display can reproduce all colors in that range accurately. sRGB is a subset of RGB and it is used in all computer graphics. Meanwhile, having a good Adobe RGB coverage means that a laptop can reproduce a lot more vibrant colors that should represent how something will look in print/in real life. Laptops suited for professional visual work often have a special RGB-mode just for that. Best laptops for photography have at least 90% sRGB and 65% RGB coverage.
To find these specs, you'll need to check 3rd party reviews. Of course, I found all the available data, benchmarks and metrics for the laptop I'm going to recommend. I collected data from 126 laptops and picked out the good ones. But more on that later.
| | Resolution | Megapixels | Usually starting from | Description |
| --- | --- | --- | --- | --- |
| HD | 1366×768 | 1.0 | $150 | Ignore these altogether |
| Full HD | 1920×1080 | 2.0 | $350 | Still not a bad option but you should consider laptops with higher resolutions if you're going over $1200 |
| QHD | 2560×1440 – 3200×1800 | 3.7 – 5.7 | $1200 | A nice middle group between FHD and 4K. This is the category Apple Retina laptop displays fall in. |
| 4K UHD | 3840×2160 | 8.3 | $1400 | The very best there is. Pixels are undistinguishable even on 17″ displays. |
What would be nice-to-have?
Minor requirement

More than 8 GB of RAM
How much RAM do I need for the best photography laptop?
8 GB is a good starting point but I would urge to look for 16 GB for laptops over $1000. 8 GB can be enough but that depends on a personal workflow.
Minor requirement

Graphics card
Differences in Intel cards
Intel chips used to be the default slow option when it came to laptop graphics. That's because Intel HD Graphics are built-in into the processor and they share have to share resources with it. That's why, I would always push anyone, asking for a laptop recommendation, to get Nvidia/AMD graphics.
But Intel has gone a long way. Now, Intel's options are good enough for all types of basic tasks. And the few recent editions of their chips are fast enough for photography. I still wouldn't recommend them for video editing and 3D modeling. But when it comes to photos – graphics performance will not be your limiting factor.
That's why you when you're choosing between a laptop with a good graphics card (GTX 960/970…) and a laptop with a good processor (6700HQ) or better screen – always go for a better screen. You can extend this logic to battery life, weight and any other important spec to you.
Dedicated graphics cards
Of course, a laptop with a better video card is still superior to an otherwise equal laptop. That's because a graphics card can work faster on very high-resolution images. But if you get a good processor, you should not notice a difference between a CPU and GPU (hardware accelerated) modes. So at the end of the day, the only advantage of a graphics card with dedicated memory is that they can speed up lot batch processing.
No need to get Quadro/FirePro card
Nvidia and AMD offer a specialised professional version of their cards. These chips are called Quadro and FirePro respectively.
For the most part, Nvidia Quadro and AMD FirePro are simply more stable versions of general consumer cards. The only relevant qualities of these cards for us is their better OpenGL and CUDA performance. But these play a minor role when working with photos. Not every effect and filter has a GPU implementation and those often do not offer a smooth experience that CPU-versions can.
Due to that, getting a basic Nvidia GeForce GTX card is more than enough for any photographer.
Minor requirement

Mobile
Battery life
A long-lasting battery is very important when working on-the-go. On average, a laptop should last ~6 hours on Wi-Fi. But, depending on other components (especially processor), the battery performance can vary wildly. For example, a laptop with i7-6500U is likely to last around that time. But taking a step up to i7-6700HQ can reduce battery life by an hour or 2. That's why, unless you've a budget of ~$2000, you'll need to match your processor to the battery life you want. As I already mentioned, U-series laptops are a lot better if you'll be using your laptop not plugged in, HQ series should be left if you'll be working 80% plugged in, and HK processors are best if 95% it will be running on the grid.
Weight
Size heavily correlates with laptop size (surprise, surprise!). The difference between the lightest and the heaviest laptops of the same size is around 70% (relative).
Obviously, a lightweight laptop would be a better choice over a heavier one. The 2 exceptions to that rule. First, laptops with high-end CPU/GPU – these usually require a bit more space for efficient cooling. Second, heavier laptops usually have a lot more space and ports for additional memory and hard drives.
Optional requirement

Ports

Moving from portability to actual ports.

This is an optional requirement because most laptops have almost the same set of ports:
2 or 3 USB 3.0
HDMI or (micro) Display Port
Memory card reader
USB 3.1 Type C (about half of laptops over $1200 come with one)
More ports would be nice but it is not essential for most photographers.
My recommended laptops for photography
1
Best cheap laptop for photography
i7-6500U
|
HD 520
|
8GB RAM
|
8 GB SSD + 1000 GB HDD
|
13.3″ Touch IPS 1920×1080
|
5h 30min
Pros
The least expensive laptop with Core i7 6500U processor
One of the best screens at this price range

350 nits brightness
850:1 contrast
60% Adobe RGB coverage

A lot of storage (1 TB)
Cons
No SSD drive. At the same time, its SSHD hybrid drive is better than a regular HDD.
Only 1 year warranty
Integrated graphics card
Some models have an issue with Wi-Fi driver. Here's how to fix it
2
i7-6500U
|
HD 520
|
8GB RAM
|
250 GB SSD
|
12.5″ IPS 3840×2160
|
7h
Pros
Small and light
7 hours of battery life
4K display
Cons
Integrated graphics card
Small SSD
Low screen contrast (500:1). Other screen specs are average or better
3
i7-6700HQ
|
960M 2GB
|
16GB RAM
|
500 GB SSD (PCIe)
|
15.6″ Touch IPS 3840×2160
|
5h 40min
Pros
Great performance

i7-6700HQ processor
16 GB of memory
PCI-Express SSD

OK screen

4K IPS Touchscreen (great)
250 nits brightness (main weak point – not recommended for outdoor use)
850:1 contrast (average)
close to 60% RGB coverage (average in this price range)
Cons
Average battery life (5 hours 40 minutes)
One of heavier laptops
4
i7-6700HQ
|
960M 2GB
|
16GB RAM
|
500 GB SSD (PCIe)
|
15.6″ Touch IPS 3840×2160
|
5h 30min
Pros
Great screen

4K IPS Touchscreen
400 nits brightness
1600:1 contrast
close to 70% RGB coverage

Great performance

i7-6700HQ processor
16 GB of memory
PCI-Express SSD

5 hour 30 min battery life
USB 3.1 Type C
Cons
Only 2 USB 3.0 ports
A bit heavier than an average 15.6″ laptop
5
i7-4870HQ
|
R9 M370X 2GB
|
16GB RAM
|
500 GB SSD (PCIe)
|
15.4″ IPS 2880×1800
|
7h
Pros
Great application performance – still the best MacBook for creative work
Good screen

Quad-HD IPS
310 nits brightness
1000:1 contrast
~60% RGB coverage (95% sRGB coverage)

Mac OS Exclusive photo editing software. Also, some photographers swear by Mac OS for its user experience.
7-hour battery life (one of the better ones considering its components)
Cons
One of the heavier 15″ laptops
No USB 3.1 Type C; only 2 USB ports