Finding the best laptop for photo and video editing requires balancing a lot of power-hungry components with a top-notch screen while keeping a personal budget in the equation.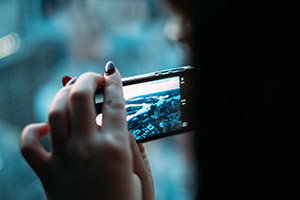 And it gets even more complicated.
When you need a lightweight machine that can run for hours on its battery alone while still being able to provide the smoothest workflow.
In this post, I will describe what you need to look for EXACTLY in a notebook for creative work and what you should expect at your price range to the dollar.
Finally, I'll list out 7 best options when it comes to best laptops for video and photo editing. To pick them out, I went over a 100 hottest laptops and evaluated them using specs and benchmarks that took me days to find and collect.
What are we looking for in a photo and video editing laptop?
What is essential for the best laptop for photo and video editing?
Major requirement

SSD
How much storage do I need?
You need to decide on the total amount of storage that you'll need. A basic starting point should be 500 GB. But if I were you, I would advise going up to 1 TB or more.
Do I need an SSD?
Yes. I recommend getting at least a small 250 GB SSD for OS, Photoshop, Lightroom or your favorite photo editing app and several "hot" photo folders. It will make a world of difference. When I edit photos, I notice a measurable difference between my files on SSD and HDD. And I don't have to work with super high-resolution uncompressed RAW images that would benefit the most from an SSD.
But the main issue with laptop SSDs is that there aren't many laptops that come with 1 TB SSD built-in. That's why sometimes you'll need to limit yourself to 500 GB + 1 TB setup or you'll need to spend ~$320 for 1 TB SSD.
What should be my target?
At the end of the day, everything revolves around two variables:
Size of a desired laptop
Your spending budget
That's what I would recommend and what you should optimistically expect:
13-inch
15-inch
17-inch
Under $1000
250 GB SSD + external storage
250 GB SSD + 1 TB HDD
250 GB SSD + 1 TB HDD
Under $1500
500 GB SSD
500 GB SSD + 1 TB HDD
500 GB SSD + 1 TB HDD
Over $1500
500 GB SSD + external storage
500 GB SSD + 1 TB HDD
1 TB SSD + 1 TB HDD
The good part with 15.6″ and 17.3″ laptops is that they often have 2 or 3 slots for storage. That allows easy upgrades in the future.
Major requirement

Processor

To boil it down, Intel Core i7 CPUs are the only option.

In particular, there are 2 main i7 processor branches and deciding which suits you more is not particularly difficult:
U series (as i7-6500U) – above average performance, good battery life
HQ/HK series (as i7-6700HQ) – best performance, below average battery life
It is possible to have good battery runtimes even with an HQ processor, but that requires ~$300 extra.
Recommended laptop processors for photo and video editing:
| | |
| --- | --- |
| 5500U, 6500U | Above average speed, good battery life |
| 5700HQ, 6700HQ | Good performance, decent battery life |
| 4720HQ, 4900MQ, 6820HK | Best performance possible, limiting battery runtimes |
If you need a laptop to work with very high-resolution RAW photos, I advise to go for higher-end processors (i7 H line). But if you simply need to edit photos you took on your smartphone, you can get away with an i7 U-series processor.
Major requirement

Screen
Screen size
13-14 inch
13-14 inch: suitable if you need a very light and portable computer
15″ a good option if it's a secondary machine or you're concerned about weight/size for travel
17″ the best screen size if laptop is meant to be your main workstation
Screen quality
Resolution and panel
A few years ago, Full HD was the only and the best resolution option for creatives. Now, there are a lot more options:
| | Resolution | Video resolution | Megapixels | Usually starting from | Description |
| --- | --- | --- | --- | --- | --- |
| HD | 1366×768 | 720p | 1.0 | $150 | Ignore these altogether |
| Full HD | 1920×1080 | 1080p | 2.0 | $350 | Still not a bad option but you should consider laptops with higher resolutions if you're going over $1200 |
| QHD | 2560×1440 – 3200×1800 | 1440p | 3.7 – 5.7 | $1200 | A nice middle group between FHD and 4K. This is the category Apple Retina laptop displays fall in. |
| 4K UHD | 3840×2160 | 2160p | 8.3 | $1400 | The very best there is. Pixels are undistinguishable even on 17″ displays. |
For any type of visual creative work, IPS panel is mandatory. They offer not only better viewing angles but a lot better contrast and color representation in general. Their 2 drawbacks are their higher price, which is still very much worth it for photo/video editing, and a bit slower response times, which, in our case, are irrelevant.
But IPS panels come in various types and they are far from being equal. That's why we'll need to discuss screen metrics one-by-one.
Brightness
First of all, candela per square meter (cd/m2) is used a standard unit for measuring how bright a screen is. Usually, a maximum brightness of a screen is provided by a manufacturer (if they're proud of it). A better way to measure would be using average brightness, but these can be only found in the most in-depth 3rd party reviews.
Maximum brightness will dictate the in which environments you'll be able to work in. For example, a dim screen (~240 nits) means the display is mostly suited for indoors use only. If you want to use it besides a bright window, getting 300 nit screen would be a lot better. You should aim for at least 340 for outdoors use. To put it into comparison, absolute best laptop screens have ~400 nits.
Contrast
A high contrast is essential when editing photos and videos. Low contrasts lead to "overproduced" amateurish look with blown out the contrast. Most laptops fall between 800:1 and 1200:1 and aiming for 1000:1 contrast would be a good starting point. The best laptop displays out there have up to 1600:1 ratio but anything above 1200:1 is good enough for visual work.
Color gamut
For years, manufacturers paid little attention to color reproduction. It took some prominent brands as Apple to make screen metrics "sexy". They shifted consumer attention to IPS panels and ultra high-resolution displays.
Now, having a 4K screen display with an IPS panel is no longer a distinguishing point. Recently, I have noticed several brands using their color gamut coverage as a new selling point. The clearest example of that was Razer Blade Stealth promotional page, where their "100% Adobe RGB" coverage was their key fact about their screen. Brands used to brag about resolution, viewing angles and brightness. Now they are giving more attention on other metrics. Which is nice to see for a change, maybe more producers will follow soon.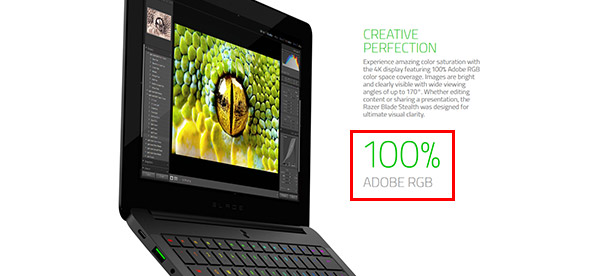 How do I find these metrics?
Screen panel and resolution are almost always mentioned in a product description. Also, if there is no mention of IPS or "wide angle" display, that laptop 99% of the time uses a cheaper TN panel.
Brightness, contrast and color gamut are best left for 3rd party reviews. Some of the best reviewers out there are Notebookcheck and LaptopMag.
External display options
Depending on a set of ports, which we'll discuss in a minute, there can be a lot of options for an external display. In general, you'll be able to connect at least 1 external monitor for photo and video editing.
I do understand that for many laptop users, external displays might not a viable option. At the same time, if you will be working at the same place for most of the time, strongly consider getting an external monitor. They can solve 2 main issues when it comes to laptop screens: their small size and inaccurate color representation. Going for external display could lower your requirements for laptop's display quality. But if you are certain you'll have to work almost exclusively on laptops own display – insist on getting a good one.
What would be nice-to-have?
Major requirement

Dedicated Graphics card
Do I need an Nvidia graphics card for photo editing?
For photo editing, graphics card with dedicated memory (Nvidia) is not a must. Most of the heavy lifting is still done using the processor. But some software, like Lightroom, can take advantage of a good video card but the benefit is very limited. So if you have money to spare, a basic mid-range graphics card could speed up retouching and application of various optimized filters. Even a mid-range card (GTX 950M) should be more than enough.
What graphics card is needed for video editing?
If you'll be working with video, then you'll definitely need more than integrated Intel graphics chips.
I would recommend GTX 960M as a good starting point. The 2 higher-tier models, 970M, and 980M offer a lot more CUDA cores for faster effect processing but I would feel comfortable with 960M for all but the most demanding video work (3D scene compositions, extensive effect chains, 3D particles etc). You should expect 960M in $900-$1500 range, 970M in $1500-$2000 range and 980M in laptops costing over $2000.
Many 3rd party plugins only use the processor so don't think that a graphics card is the backbone when it comes to video editing performance.
You don't need to get a Quadro/FirePro card. If you are certain you will need this type of graphics card – I would advise considering getting a PC with this Quadro/FirePro graphics for final renders and a laptop with mobile gaming-grade graphics.
Minor requirement

Ports
What display ports are needed for media editing?
HDMI and Display Port each can add an additional (or 2) displays. Very few laptops have more than 1 HDMI or DisplayPort. Usually, multiple display connections are found in gaming laptops.
For the most part, I prefer DisplayPort due to its higher resolution/refresh rate support. At the same time, if you have monitors that have only an HDMI connection, there's no reason to deliberately go for DisplayPort.
How many USB ports are needed?
I would usually look for 3 USB ports. Though, 17″ laptops often have 4 which would ensure that you won't need a USB hub.
USB 3.1 Type C is a recent addition to my port checklist. It is still not an "essential port" but there are more uses for this connection by the day. This port usually can be used for Display Port (usually stated that it has a Thunderbolt III connection which means it has a Thunderbolt 3 controller which also supports DisplayPort over USB 3.1C).
Finally, memory card readers are found in all but the smallest laptops. Not having one could make image/video importing from SD cards a bit more cumbersome but usually, using a basic USB port for image/video imports is just as viable.
Optional requirement

Lightweight

Insisting on a lightweight laptop can often be contrary to a getting a powerhouse that is needed for photo and video editing. Not that long ago, best processors and graphics cards were reserved for heavyweight gaming rigs. But nowadays, a powerful laptop doesn't automatically mean "it weighs twice the average". There are plenty of light high-end laptops with i7 6700HQ, GTX 960M and 16 GB of RAM (980M is still reserved for the gaming machines).

So what am I trying to say?

You don't have to bury hopes of a sleek ultrabook just because you need a powerful computer. I checked 126 laptops and here's what I found:
| Processor | Avg. weight | Median weight | Lightest laptop |
| --- | --- | --- | --- |
| Core i7 (HK and HQ series) | 6.2 lbs (2.8 kg) | 6.0 lbs (2.7 kg) | 2.9 lbs (1.3 kg) |
| Core i7 (U series) | 4.4 lbs (2.0 kg) | 4.2 lbs (1.9 kg) | 2.2 lbs (1.0 kg) |
| Core i3/i5/M/Celeron | 4.2 lbs (1.9 kg) | 4.2 lbs (1.9 kg) | 2.2 lbs (1.0 kg) |
In this comparison, I did not control for screen size/materials. Then we can only assume that the weight difference is even smaller (larger laptops tend to have better processors and heavier, sturdier heavy frames).
The only problem with lightweight high-performance problems lies in difficulty cleaning the fans which you might need to do after ~1.5-2 years of use. Avoid that will lead to processor limiting itself to prevent overheating which will severely reduce application performance.
Optional requirement

Battery life

Battery life is even more of an Achilles heel for high-end laptops.

Intel U series processors address this and deliver an above average performance with low power consumption. For photo editing, you might stick with these processors. More precisely, something like 6500U is enough for image processing.

For video editing HQ or HK processor would make a significant difference, especially when working with sophisticated software like Premier or other professional video editing apps. So please, adjust your expectations accordingly:
| Class | Processor | Avg. battery runtime on Wi-Fi |
| --- | --- | --- |
| Fastest | Core i7 (HK and HQ series) | 4 hours 4 minutes |
| Above-average | Core i7 (U series) | 6 hours 45 minutes |
| Basic | Core i3/i5/M/Celeron | 7 hours 10 minutes |
At the end of the day, you might need to make a compromise and give up at least one of the following:
Top-tier performance
Lightweight
Good battery life
Not expensive
It is crucial to be aware which of these 4 general requirements can be sacrificed.
My recommended laptops for photo and video editing
1
i7-6500U
|
HD 520
|
8GB RAM
|
8 GB SSD + 1000 GB HDD
|
13.3″ Touch IPS 1.3 1920×1080
|
7h 30min battery life
Pros
2-in-1
One of absolute cheapest laptops with Intel i7 processors
7 hour battery life (above average in this price range)
Good screen brightness and color gamut
Cons
Wi-Fi driver connectivity issues (here's how to fix it)
No Solid State Drive
Integrated graphics. It's still OK for photo editing but I would not recommend Intel graphics for serious video editing. At the same time, you won't have better options at this price range.
One of the hotter laptops (literally). Might require deep cleaning after ~1 year of use to prevent overheating and processor throttling.
2
i7-6700HQ
|
960M 2GB
|
16GB RAM
|
1000 GB HDD
|
15.6″ IPS Matte 1.3 1920×1080
|
3h
Pros
Stellar computational performance (i7-6700HQ, 16 GB RAM, GTX 960M)
One of the better screens out there (305 nits, 1100:1 contrast, 60% RGB coverage)
Very extensible
Cons
3 hour battery life on Wi-Fi (expect ~2 h for photo editing and ~1 h 30min for video editing)
No SSD
3
i7-6700HQ
|
960M 2GB
|
16GB RAM
|
500 GB SSD + 2000 GB HDD
|
15.6″ WA 1.3 1920×1080
|
3h 20min
Pros
Great application performance
Unmatched storage size (2.5 TB in total)
Cons
3 h 20 min battery life
Non-IPS panel (MSI's Wide-Angle panel instead). Metrics-wise it is very similar.
4
i7-6700HQ
|
970M 3GB
|
16GB RAM
|
1000 GB SSD
|
14.0″ IPS 1.3 1920×1080
|
1h
Pros
Some of the best performance for a 14-inch laptop
Higher-end Nvidia GTX 970M
Massive 1 TB SSD
Amazing display connectivity options: 1 HDMI and 2 micro Display Ports
Cons
Terrible battery life (~1 hour)
Below-average screen brightness
5
i7-7500U
|
HD 620
|
16GB RAM
|
500 GB SSD (PCIe)
|
12.5″ Touch IPS 3840×2160
|
4h
Pros
One of the absolute best displays (4K IPS Touchscreen, 400 nits, 1300:1, 100% sRGB, close to 100% RGB coverage)
500 GB SSD over PCI-Express
USB 3.1 Type C port
Cons
Only slightly above average application performance (i7-6500U, 8 GB RAM)
No graphics card with dedicated memory (not recommended for professional video editing)
So-so battery life (4 hours)
6
i7-6700HQ
|
960M 2GB
|
16GB RAM
|
500 GB SSD (PCIe)
|
1.7 15.6″ Touch IPS 2.7 3840×2160
|
5h 30min
Pros
Great screen (4K IPS Touchscreen, 400 nits, 1600:1 contrast, close to 70% RGB coverage)
Great performance
5 hour 30 min battery life
USB 3.1 Type C
Cons
7
i7-4870HQ
|
R9 M370X 2GB
|
16GB RAM
|
500 GB SSD (PCIe)
|
15.4″ IPS 2.1 2880×1800
|
7h
Pros
Great application performance – still the best MacBook for creative professionals
Mac OS Exclusive software
7-hour battery life (one of the best considering power-hungry components)
2 Thunderbolt II connections
Cons
One of the heavier 15″ laptops
No USB 3.1 Type C; only 2 USB ports