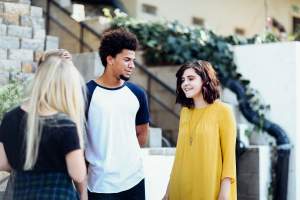 As a proud parent of a 13-year old, I know exactly how important it is for my daughter to stay connected with her friends. As a result, I bought her a great Dell laptop last year for Christmas, and she loved it. It was a hard choice; there are tons of great laptops out there today, but I think I found a great one. Now, to help fellow parents out who are in the same situation, I've decided to create this guide on the best laptop for a teenager so that you can have an easier time than me.
She's always texting, gabbing on her cell phone, and constantly instant messaging all of her little girlfriends. With this in mind, I understand exactly how much she can use a computer; not just to keep in touch, but to complete her homework assignments as well. Just looking at the work that she has to do lets me know how easy we had it; she has to submit all of her homework electronically, and it looks much harder to squeak by with than when I was her age!
Reasons to buy a laptop for a teenager
Firstly, in this ever-connected world, it's important to understand just what a laptop brings to the table. Computers open up a world of possibility that can be very positive. Kids get a new way to do research for their papers, a way to play games on the fly, and also a way to watch their favourite programs right on their laptop screens. As a result, there are a plethora of advantages to purchasing your kids a new laptop so that they can have a degree of independence.
An Easier Time Doing Homework
Much of the homework being provided in schools today can be submitted online, so a new laptop means that your teen will be able to complete their homework without hogging the house's main computer. Any laptop that you purchase should be outfitted with the Microsoft Office Suite (some schools provide online accounts that can access MS Office apps for free). It's not a must, though – there are some free options such as Libre Office and Google Docs/Sheets/Slides, especially good for working in groups with other students. My daughter actually has an Excel spreadsheet that she uses to keep track of her favourite shows. What a nerd!
Less Need to Tie Up the Family Computer
I enjoy my computer time and hate that I and my daughter have had to butt heads when it comes time to use the computer. A new laptop means that she'll have her computer, and I'll have mine.
What to Look For in the Best Laptop for a Teenager
Portability
If one thing is almost completely universal to all kids, it is their desire to always be on the go. My daughter carries her laptop in a laptop section of her new backpack. Since I didn't want to have her carrying too much weight on her developing back, I went for a lighter laptop so that she wouldn't be overburdened with her schoolbooks and her Dell.
Additionally, your child might also want a laptop that's smaller so that they can use it on their laps easier. A laptop with a 17-inch screen is great for multimedia use, but you'll find that kids might want something a little more manageable for their size. Especially, when you need a really large backpack for a 17″ laptop. There are several great guides on laptop dimensions out there, but I like this one from Lifewire best.
General performance
Fast storage
Right now, the key to making sure the laptop will not lag is the SSD storage. It is significantly more expensive than older HDD storage but it is worth it for most laptops above $800.
TL;DR
Recommended: 250 GB – 500 GB SSD
Sufficient processor
You do not need a professional high-end processor. If you're looking for a gaming laptop – i7-6700HQ or i7-7700HQ is the best option. But then be ready for a shorter battery life since these processors can drain out the battery faster than others.
For everything else – I recommend looking for an Intel Core i5 processor or Intel Core i7-6500U/i7-7500U. Intel Core i3 processor are also an option but I would recommend them only if you can't spend over $550.
TL;DR
Recommended: i5 or i7 U-series processor.
Enough computer memory
This is the easiest specification to get right. Computer memory (RAM) is used to store active applications and if there's not enough of it – the laptop will start feeling sluggish.
There are 3 tiers of RAM:
4 GB – bare minimum for a laptop (under $500)
8 GB – usually the right size for most (under $950)
16 GB – plenty of memory for anything
There are laptops with 24, 32 or even 64 GB of memory, but that's unnecessary ($2,000+).
[Optional] Gaming hardware
Kids like games, so this means that it could be a good idea to try and find a good laptop that can manage some of the current crop of games. This means that you should look into machines that can handle a moderate load of graphics; this way, the laptop will last your teen longer without them wanting an upgrade.
Additionally, a more graphically powerful system will also let your kids view their favorite shows in high resolution. I always advise to at least get a system that has a native resolution of 1920×1080, which you may know as 1080p or full HD. Since a lot of laptops on the market, today have HDMI slots and even higher resolutions than this, looking for a machine that can display amazing images can be very important, especially for a teen. Check out this guide, it explains how resolution can affect your teen's new laptop.
Laptop Suggestions
1
Intel Core i7-6500U
|
Nvidia GeForce GTX 930M 2GB
|
8GB RAM
|
1000 GB HDD
|
1920×1080
|
6h
The first thing that your child will consider when they get their new laptop is its gaming potential. With the recent announcement of a $9,000 gaming laptop, it's clear that these types of machines can get quite expensive.
Despite this, every now and then a manufacturer will produce a great budget laptop that can also do a great job with gaming. The HP ENVY x360 is one of these; it has an i7-6500U processor as well as a NVIDIA GeForce 930M Graphics with 2 GB of dedicated video memory. This ensures a stable performance for many games.
Additionally, it's very light at four pounds and has a good amount of ram (8 GB). Your child will even be able to use it in lower lit situations due to its backlit keyboard. Unfortunately, there is no CD, DVD, or BluRay drive with this laptop.
View on Amazon
2
Intel Core i7-6700HQ
|
Nvidia GeForce GTX 960M 4GB
|
8GB RAM
|
1000 GB HDD (8GB flash buffer)
|
1920×1080
Dell has a wide variety of laptops for just about everyone, including models that work well for teenagers. The Dell Inspiron i7559-2512BLK is a relatively affordable laptop that has uncommon features like the ability to install another hard drive, a dedicated NVIDIA GeForce GTX 960M 4GB GDDR5 for gaming, and a one terabyte hard drive. The processing on this laptop is also very respectable due to the i7-6700HQ that's under the hood.
Its primary drawback is the fact that the display could use a little work. It's not an IPS display, which means that your teen won't run into frame rate/refresh issues during games, but may run into problems viewing media from different angles.
View on Amazon
3
Intel Core i7-6700HQ
|
Nvidia GeForce GTX 960M
|
16GB RAM
|
120 GB SSD + 1000 GB HDD
|
1920×1080
This version of the HP Pavillion is a great little laptop for a teen. I say little because its screen is only 15.6 inches, which still provides plenty of viewable real estate for your child. Additionally, the screen is a high-quality and fully HD IPS display that has protections against glare, which means that the colors will be vivid and lifelike from any angle. For gaming teens, it also comes with a NVIDIA Geforce GTX 960M that's powerful enough for the majority of gaming applications.
Another great feature is the 16 GB of RAM on this laptop, which should be more than enough for most teens. The biggest issue that I have with this laptop is its low battery life; you can only expect about three hours of use on a single charge.
View on Amazon
4
Intel Core i7-6700HQ
|
Nvidia GeForce GTX 1060
|
16GB RAM
|
1000 GB HDD
|
1920×1080
As our laptops get more expensive, you'll notice a higher degree of performance. This Asus ROG Strix GL502VM is a beast of a machine that even boasts a NVIDIA GTX 1060 graphics card that will put the current generation of consoles to shame when it comes to graphical power. As a matter of fact, the GPU is even virtual reality ready, which may have you playing a few VR games with your teen.
In addition to the solid graphics, the machine also has a great CPU (Intel's i7-6700HQ) and more than enough RAM, at 16 GB. The only real weakness of this laptop is its middling battery life; you'll be lucky if it goes past four hours.
View on Amazon
5
i7-6700HQ
|
1060
|
16GB RAM
|
1000 GB SSD
|
1920×1080
Taking performance to an even further level, the Razer Blade is the latest in a long line of powerful gaming laptops from the gaming gurus at Razer. Not only is this laptop VR ready, it also has a powerful Intel i7-6700HQ running its processes. The SSD is one of the largest available at a full terabyte, and the laptop hums with its 16 GB of RAM.
As any gamer might expect from a Razer laptop, this machine has the Chroma keyboard that the company specializes in. This means that your teen will be able to quickly customize the keyboard's backlighting so that it can change up with the application being used. Unfortunately, this laptop doesn't have the best cooling, so if this is the product that you're thinking about purchasing, you should think about a laptop cooling platform.
View on Amazon
Wrapping it Up
It's no easy thing finding a laptop that your teen will truly appreciate, so I hope that these laptops that I've reviewed suit your family's needs. Each will deliver the multimedia, homework, gaming, and communications needs of any teenager, but if you have further questions, post them in the comments section, and I'll be happy to help you out.