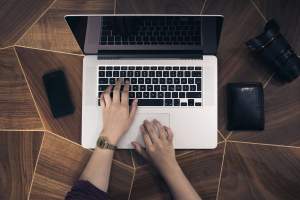 Nowadays, we use laptops for a variety of purposes. This is because the common laptop has come very far in its 30-plus years of history; as a matter of fact, many portable laptops offer the same type of function as many of the top-of-the-line desktops. Additionally, since the advent of digital media, many people seek out strong laptops that can manage the multimedia formats that we use daily. I'm something of an amateur videographer; I film weddings and get-togethers, so I often find myself seeking out a laptop that I can work with on-the-go for my multimedia files. So, which are the best multimedia laptops? Let's take a look at some key features to think about.
Why Would Anyone Want a Laptop for Multimedia Purposes?
First, laptops are inherently portable. If you are a videographer, then having a quick-to-start system to check out footage is absolutely amazing. This is just as effective for those who produce music because when you create your beats or do your recordings, it's very handy to have a powerful machine to use to quickly check out the new media files that you've created. This means that you won't have to have a bulky desktop computer to do this type of work.
Features That You'll Need
Sound Quality
As this is a multimedia laptop, you can't go without some good sound quality, right? This has a couple of different applications, so let's hit on a couple of must-have features.
Speakers – Of course, the chief consideration is the ability of your laptop's speakers to convey a high-quality sound experience. This comes in several flavors. First, you want your speakers to be able to convey the highs, the lows, and the mids. This means that the best laptops will have a built-in subwoofer and a tweeter.
This will ensure that even an audiophile will be satisfied with the sound output from their new multimedia laptop. Remember, even the great multimedia notebooks can do with a pair of portable, dedicated speakers because larger-sized subs will equal deeper bass performance.
Sound Processor – The built-in sound card of any new laptop is sufficient enough for working with audio. For multimedia professionals, especially if you need to record audio to your laptop – I suggest buying an external audio interface. Then you can connect a few more devices and you get a few extra knob controllers to play around. For that, make sure you're buying a laptop with multiple USB connections. A laptop with USB 3.1 Type C w/ Thunderbolt III controller is even better. It can be used to connect a FireWire audio interface.
(Optional) Multiple 3.5mm jacks – if you get a laptop with multiple 3.5mm OUT connections, you'll have a few more options if you want to connect an external audio interface.
Video Quality
For a true multimedia experience, your new laptop should have excellent video quality. This means that the display should have the highest possible resolution possible so that all of your recorded media can have the best possible playback. If you're planning on purchasing one of these for the simply playback of films and shows, then this can be very helpful as well. Personally, I like to play my films and shows through my laptop but send the video feed out to my 4k HD TV. To do this, make sure that your new machine has an HDMI 2.0 out port so that you can quickly plug one end into your laptop and the other into your HDTV.
Hard Drive Capacity
With those who like to store movies and shows on their laptops as well as those like me who do their own videography, it's important that your laptop has plenty of storage space. Digital media has one drawback: for higher resolutions, you'll need gigabytes of storage, which means that you'll really need terabytes of space to store those videos and sound files. Though, these days most of the video is streamed through NetFlix, Hulu and Youtube. They won't occupy any hard drive space.
Processing Power & RAM
Video editing, music DAws and DJing software need a powerful machine in order to deliver true quality. There was a time when you would be automatically relegated to having to use a desktop computer. Fortunately, these days good multimedia laptops will easily be able to do the job. Look for a processor that is at least equivalent to an Intel i5 CPU, though I would recommend looking for a machine that has a powerful performer like an i7 7500U, which has 2.7GHz of processing power. For ram, I would suggest looking for at least eight gigabytes, though more is always preferable.
Size
The final feature that you should look out for is portability. Your new multimedia laptop should be small enough to fit in a bag so that you can take it with you. Just remember not to sacrifice performance for smallness. Personally, I like a larger screen so that means that I typically go for laptops with at least a 17-inch monitor so that I can view my videos. While this cuts the portability some, larger screen sizes mean more details, especially when you select a model with a higher resolution.
Laptop Suggestions
Wrapping it Up
In closing, any good multimedia laptop will be able to be used in a myriad of ways so that you can playback your music, movies, edit them at your will, or simply enjoy the pictures that you took on your last vacation. I think all of the products that I've featured here are great for the majority of laptop users, but if you have questions about a specific model, leave a comment and I'll be sure to respond with help.