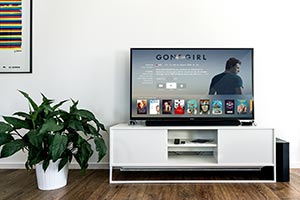 You want to look Netflix in your kitchen or your bed? Good luck bringing your old bulky laptop from room to room. So it's no surprise that #1 priority is portability. Also, if you don't want an abrupt ending to a Netflix binge session – get a long battery life.
In this post, I'll go into detail what are the best laptops for watching Netflix and which are my Top 3 picks for doing just that.
The key requirements for the perfect Netflix laptop
Battery Life
In short, 6 hours of battery life is recommended. And I don't mean 6 hours of battery life if the laptop is left idle. That should be ~10-20. I'm talking about the real-life battery life of Netflix streaming.
Also, if you tend to watch Netflix late in the evenings – dim down the display – you'll save on the battery and you'll have an easier time falling asleep after your favorite show's episode has ended.
Screen Quality and Screen Size
Ideal display specifications
Watching Netflix with friends on a laptop that doesn't have IPS is problematic. Laptops without IPS (or IPS-like) panel usually come with a TN panel which distorts colors if you're not sitting right in front of the display. That's not acceptable if you're not watching it by yourself (though, in some situations it can be used as an excuse to sit closer :P ). TN panels are cheaper and therefore they're very common in laptops under ~$800. But there are some budget notebooks that managed to squeeze that in. Knowing whether a laptop has this IPS panel is rather easy – it's often stated in the laptop description. It's one of the specifications that manufacturers and sellers want to mention, so it's rarely left out.
Not all IPS panels are the same, but they're alike. If you find a laptop with any IPS panel – you should focus on the other screen metrics.
One of these metrics is brightness. Now, I know people usually chill watching Netflix in the evenings. But if you want to watch a few episodes somewhere out and about – a bright screen will prevent you from the need to squint to see the actors clearly. Brightness is not advertised as openly as the panel type, but it can found in 3rd party reviews, which can be found via Google. A great maximum brightness is ~320 nits (cd/m2). Anything less than 280 nits is not ideal for outdoors.
And the final metric I'd like to bring to your attention is display contrast. A strong color contrast will bring out the details, especially in the dark scenes. A strong contrast ratio of 1:1000 (or more) is the final piece of the puzzle when looking for the ideal laptop screen for Netflix. This metric is also rarely found on sellers' pages and it should be searched for just like the brightness metrics.
The right size for you
There's no perfect size for the best laptop for Netflix. Most of us already had a few laptops and we already have at least a slight preference for laptop size. And I'm not here to tell that you should change that. But I can tell you that to 13.3″ – 15.6″ would be ideal enjoy watching House of Cards, Orange is the New Black, Narcos or… damn Netflix has a lot of new shows. 13.3″ should be preferred if you want want a lighter laptop with a better battery life and 15.6″ if you want to watch Netflix and use the laptop for work.
Connection
Finally, just getting a good laptop for Netflix won't be enough for a smooth ride if you have a slow internet connection. That means you should need at least 3 Mbps download speed in order to support SD Quality. But recommended internet speed is ~5Mbps to support HD Quality. If you have a large house, you might even need to buy a Wi-Fi extender.
If you live in a flat – you should check if the router can be switched to 5 GHz mode which would decrease the signal noise from other Wi-Fi routers. Meanwhile, those living in the suburbs would be OK using 2 GHz bands as they (theoretically) provide a better signal when there are no nearby interferences.
But if you have got that covered, laptop Wi-Fi adapter needs to be sufficient to not drop the connection even when the signal is weak. For that, we'll need to give an edge to laptops with dual-band 802.11ac. There are some laptops that have 2 Wi-Fi adapters but they're very high up the dollar ladder and a lot bulkier that needed.
Optional
Performance
Performance-wise, nothing spectacular is required. For a Chromebook, you need at least 2 GB RAM and 4 GB is optimal. For a Windows laptop or a MacBook you should aim for 8 GB and under no circumstances settle for anything less than 4 GB.
Processor choice depends entirely on your budget.
Under $300, your only option is Intel Celeron, Pentium, Atom processors with a few AMD and Rockchip options here and there. At that price range, nearly all processors perform at the same level.
A few CPUs in that budget range that are a bit better than the others are: Celeron N3150, Pentium N3700, Celeron 2957U and Atom x5-Z850
Between $300 and $500, there's a mix of the CPUs found under $300 and some better models. In that price range, you can look for any Intel Core i3 or i5 processor. These outperform the Celeron, Pentium line dramatically (up to 300%). Worth noting, there are a few decent AMD options like A6-5200, A8-7410 or A10-8700P that can match some Intel Core i3/i5 processors. So you don't need to disqualify a laptop just because it doesn't have an Intel chip inside.
Graphics cards can be completely ignored. If you want a laptop for gaming, you should check out the guides for light gaming, World of Warcraft and League of Legends.
SSD
If a Chromebook is alright for you – then even the options with 16 GB SSD shouldn't be ignored. Chromebooks usually come with 16 GB or 32 GB (and in rare cases with 64 GB if we ignore Google Pixel). Since Netflix doesn't take up much storage space – you could get away with a very cheap laptop.
However, if there is a need to store few movies for some entertainment while travelling, it is recommended at least to get 32GB.
For a Windows laptop, the requirements are a lot higher. Windows PC should have 120 GB Solid State Drive as a starting point. And if you want to use it for work, you might even need 250 GB. Of course, you should know your storage needs better than I do – but if you don't – you should fit all your essentials into 120 GB.
Best Netflix Laptops
Chromebook
If you just want a laptop for Netflix – keep your eyes on Chromebooks. They are cheap and they can run Netflix without any problems. What makes Chromebooks the best for Netflix is that they're cheap and easy to set up. Downloading Netflix app from Webstore, running it and voila – you are ready.
1
Best Cheap Laptop for Netflix
Celeron N2840
|
4GB RAM
|
16 GB SSD
|
13.3″ IPS 1920×1080
|
7h 30min
The laptop has a good balance of every requirement for Netflix watching and should the first candidate if you want a laptop for Netflix on the cheap.
It has a bright IPS display and Full HD resolution. It has a long battery life and delivers satisfactory performance for its price tag.
View on Amazon
Windows laptops
2
Best Cheap Windows laptop For Netflix
i3-5010U
|
4GB RAM
|
1000 GB HDD
|
15.6″ IPS 1920×1080
If you want a larger laptop, you should consider this 15.6″ Asus notebook. It also comes with IPS wide-angle panel, 1080p resolution.
It does not have an SSD drive which will mean that the laptop will take a while to boot up and in a few years it will probably need a fresh Windows installation to not seem sluggish.
View on Amazon
3
Best laptop for watching Netflix
M3-6Y30
|
8GB RAM
|
500 GB SSD
|
13.3″ IPS 1920×1080
|
6h 30min
A more expensive variation for Netflix watching similar to the Toshiba Chromebook. It also comes with a smaller 13.3″ IPS Full HD display. That makes it perfect for carrying the laptop around. It can even be flipped around to hide the keyboard and enjoy watching Netflix as if it was a tablet.
It has the 802.11AC Wi-Fi connection that we're looking for, mini HDMI and USB 3.1C connections that will assist in hooking it up to a TV set if you want to bring your shows to the big screen. But in that case, going for Chromecast might be a better option.
Even though it only has an entry-level CPU, due to a large amount of operating memory and a large, fast SSD it will seem a lot snappier than you'd expect just looking at its processor.
Overall, it's the best laptop you can get for watching Netflix. Going for anything more expensive than that seems like a bit of a waste of money.
View on Amazon
Table of Best Laptops for Netflix