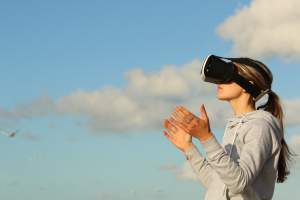 Finally, the next big step in gaming has arrived. Virtual reality, or VR, has been tried a few times in the past, but the technology simply wasn't there yet. Now, we've finally reached the point where enough people are playing games, enough companies are supporting new technology, and advances in portable tech have progressed enough to where true virtual reality is feasible. With the onset of this new technology comes the need for more powerful computers to accommodate VR peripherals, so laptop manufacturers have begun releasing models that can meet these needs.
I've written this guide to help you determine what laptop you will need to take advantage of this astounding new gaming tech. I've selected five of the best laptops for virtual reality, based on specific criteria: how powerful their processors are, how strong their graphical processing ability is, how well they handle heat and airflow, the battery life, and their portability. These factors are all important in determining the best portable gaming computer for VR gaming.
How the know if a laptop is good for VR?
Processor
The CPU is the most important part of any computer, acting as the brain of the machine. Depending on how fast the processor runs, the performance of all programs running on the machine will be affected. In the case of VR, it's incredibly important for virtual reality games to run smoothly. HTC Vive is the current industry leader in VR hardware, and their system requirement is an Intel Core i5-4590 or an AMD FX 8350. For PC, that's a rough equivalent of i7-6700HQ.
Without a decent processor, glitches and crashes are sure to occur, which will cause immersion-breaking moments at best and physical illness, such as motion sickness and headaches, at worse. These CPUs have been reviewed based on whether they meet the minimum requirements for running VR software, as they all contain Intel Core i7 CPUs. In particular, I've drawn the line starting with i7-6700HQ and going up from there – considering laptops with 7700HQ, 7820HK etc.
Graphics
With VR gaming, the graphical processing ability required to deliver a quality experience are significantly higher than simply gaming on a monitor. The level of screen resolution is exponentially higher, framerates need to be rock-solid to prevent nausea, and a number of objects on screen at one time is much larger as well. Because of this, the best laptops for virtual reality need to have powerful dedicated graphics cards installed, with lots of dedicated RAM. The base PC requirements of gaming on an HTC Vive are either an Nvidia GTX970 or an AMD R9 290. In laptop hardware, that's roughly GTX 1060. When determining a good graphics card for VR, I've judged them based on their benchmarks and memory in a given setup.
Heat Dissipation/Airflow
Since these laptops contain fairly powerful internal components, they will inevitably generate a great deal of heat. A little bit of heat is not a problem, but too much heat can cause serious damage to very expensive, delicate parts. Proper heatsinks and the strategic placement of cooling fans are required to keep these laptops running smoothly, so I've judged this criterion based on the base running temperature during stress tests. This information can once in a while be found by checking stats posted by the manufacturer, but more often it's best to check 3rd party reviews for a more objective measurement.
Battery life
Laptops are meant to be mobile. Part of this means being able to run without being plugged into an outlet the entire time. Gaming with VR takes up a great deal of power, so gaming time on battery isn't very long. Between having a powerful graphics card and a long battery life, the graphics card is infinitely more important for VR. However, it is still important for laptops in general to have a decent battery; without it, it would defeat the purpose of having a laptop entirely. Realistically, a laptop can expect to have about one hour of VR battery life for every three hours of standard use battery life. For this reason, three hours of battery is the bare minimum for gaming laptops to run VR, with anything more being better.
Best Laptops for Virtual Reality, Top 5
Table of Best Laptops for Virtual Reality
Conclusion
There are some features in these laptops that aren't related to their ability to run VR. For example, the picks lower on the list don't have as much memory or storage space as you may want. However, these can be upgraded for a reasonable price, and they simply aren't what matter when looking for a good VR gaming laptop. At the end of the day, all you need is a good processor, a good graphics card, and heat management good enough to keep it from burning a hole in your table. These machines all accomplish that beautifully, with a few caveats making some models better for specific customers than others. Hopefully, you found this guide helpful, and I hope you enjoy the next stage in gaming's evolution!
Check out older guides on HTC Vive and Oculus Rift,