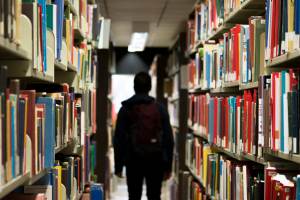 I often find myself on my desktop computer writing papers deep into the night. Over the years, I've learned how to study, how to provide top-notch papers for my professors and my peers, and I've become an expert at time management, but as time progresses, I find that a good laptop would be great for my daily grind. With that in mind, I decided to seek out which machine was the best laptop for grad school.
I knew that my search would take me through a plethora of powerful machines, but this would really help me be a little more mobile and not locked up in my small off-campus apartment all of the time. Since you may be in the same boat as me, I decided to make this guide so that you can find a new grad school laptop that will fit your needs as well. First, let's take a look at what features in a grad school laptop can have to make your studies easier.
Microsoft Office
You'll find that Microsoft Office is a student's best friend. This product suite has word processing for your papers, Excel spreadsheets for organizing your curriculum and your schedule, and PowerPoint for helping you deliver excellent presentations. While not every new laptop has this program suite included with the machine, you'll find that sooner or later, you'll have to make the investment. Many of the later versions of the Office suite have support for a touchscreen, which adds a whole new level of convenience to a graduate student's life.
A Lightweight Form Factor
The bottom line is this; you're going to be running to and from class a lot as a graduate student. Gone are the days of skipping classes like you did as an undergrad. This means that while you're going for your graduate degree, you'll be running to and from class – a lot. With this in mind, you should make the class commute as easy as possible by seeking out a lighter laptop that will fit easily in your messenger bag or backpack and won't cause you excess fatigue trucking it from lecture to lecture. With this said, don't sacrifice functionality for size and lightness; you don't want a machine that has a monitor that's too small.
Recording Capabilities
I find that recording my lectures really helps me when I need to study for an upcoming exam or when I need to order my thoughts pre-paper. With this in mind, I use a few recording applications and sit near the professor so that I can review his or her lecture later. To do this, I've always used my tablet, but when I get my new laptop, I'll have to be sure that it has a good enough mic that will pick up what my professor has to say so that I can use it for later review.
A Touchscreen Display
Now that I'll be upgrading to a laptop, I am seeking out a touchscreen display so that I can quickly close tabs, open programs, and even write notes with just my fingertips. Touchscreen displays are very convenient for a grad student; they let you interface with your work at a faster rate than you get with a mouse. Of course, a touchscreen tends to cost a bit more money than touch-free options, which may make this option not necessarily in the cards if you are working on a budget. With that said, consider this: touchpads and wired mice can be a bit cumbersome in a lecture hall, so it may be worth splurging on a machine with a touchscreen.
A Convertible Body
Currently, I use Evernote and Wunderlist to craft notes and to-do lists for my studies. Because I use a tablet for this, I find that this is a nice paperless way to organize my thoughts. When I get my new laptop, I am heavily considering buying one that has a convertible body with a touchscreen so that I can take notes fairly easily with just my finger or a dedicated stylus like the Adonit Jot Pro that I use with my tablet. Convertibles let you fold up your laptop so that it can become a tablet, a screen with a stand, or a traditional notebook. This adds a lot of versatility to your purchase and it definitely something that I would consider.
Gaming Options
Even the constantly stressed grad student needs to relax from time to time. I am a gaming enthusiast that likes to play games like Overwatch and Skyrim between study sessions. When I get my new laptop, I'll want a machine that can manage not just my papers and the demanding programs of a grad student but also will be able to deliver good gaming performance as well.
With this in mind, I'll need a dedicated graphics card, a high-resolution display (I like anything approaching 4k), and a decent set of speakers so that I can be immersed in the game. Having a laptop that has gaming ability also can give a grad student something to do when they are on the bus traveling between classes.
When it comes to specs
Spec
Minimum
Recommended
Best
Processor
Intel M, i3
(M3-6Y30)
Intel Core i5, i7
(i7-7500U)
Intel Core i7 ****H*
(i7-7700HQ)
RAM
4GB
8GB
16GB+
Storage
128GB SSD or 500GB HDD
250GB SSD
500GB SSD
Graphics card
Anything
GTX 960M
GTX 1060 or better
Opt for a more powerful processor if you're into engineering or computer science. But for medical school, MBA, finance, teaching or similar – an i3 or i5 processor will suffice.
Best grad school laptops
1
Pentium N3700
|
HD Graphics
|
4GB RAM
|
120 GB SSD (PCIe)
|
9h
If you need a laptop that will stand up to a moderate amount of workload and will provide a relatively light form factor, then the Asus Vivobook is a good device for you. It's also a great budget device that will only set you back about $370. I really like the fact that it has a solid state drive (SSD) so that programs load relatively quickly.
Despite this, outside of moderate usage, it may feel a bit weaker in performance than some of its more expensive competition. It only has a Pentium N3700, which doesn't really compare to Intel's i5 or i7 processors, and it only has Intel HD graphics, which won't grant you much in the way of gaming. Still, if you need a laptop that you can do your papers on, this won't fail you.
2
M3-6Y30
|
HD 515
|
8GB RAM
|
500 GB SSD
|
6h 30min
Asus has always had a wide variety of computing products for many types of users. Their Zenbook is a great option for grad students because of the fact that it's so versatile. Firstly, it's fairly speedy with 8 GB of onboard RAM and a 500 GB SSD. These features mean that you should be able to access all of your files and programs in a relatively short amount of time. This laptop is also very lightweight; it weighs about three pounds, so you'll barely notice it in your bag.
This is a convertible laptop that has the capability of flipping so that it can serve as a tablet that has a stand (the reversed keyboard). When you use it like this, it becomes very easy to quickly jot down notes, sketch, or even watch videos during your downtime. I'm a bit disappointed in this laptop's battery life; it only lasts about 6.5 hours on a charge. Fortunately, you can charge this machine through an easy-to-find USB Type-C connection.
3
i7-6700HQ
|
950M 4GB
|
16GB RAM
|
250 GB SSD + 1000 GB HDD
|
6h
Sometimes, it's really advantageous to know that your laptop will have no problem providing a bit of power when you need it. There was a time when a laptop could never compare to a desktop, but the Lenovo IdeaPad 700 has more than enough power to spare. Firstly, it's packing an i7 processor from Intel that will allow you to power through the majority of applications. This laptop even has a dedicated 4 GB Nvidia GeForce GTX 950 mobile processor so that you shouldn't have too much trouble gaming on this machine when you're looking to decompress.
The laptop is a bit heavy; it weighs almost seven pounds, so consider this if you have a long commute between classes. That being said, this device packs in more than enough storage space, power, and graphical capability to work well for just about any grad student.
4
i5-5250U
|
HD 6000
|
8GB RAM
|
250 GB SSD
|
12h
Let's be honest here; if you look around your classes, the majority of the laptops being used are most likely in the MacBook line, which is a great testament to their reliability (or marketing, or both). This MacBook, the Air MMGG2LL has a lot going for it. It has a relatively powerful i5 processor that can help you run all of your grad school applications.
One feature of this MacBook should jump out at you; this laptop has an amazing battery. As a matter of fact, it can last for a full 12 hours, which is perfect for those days when you don't have access to an outlet but need a laptop that will stay reliably powered. Graphics for this laptop are a bit "meh," but it does have a nice amount of screen resolution for the 13.3-inch monitor.
5
i7-6650U
|
Iris 540
|
16GB RAM
|
500 GB SSD
|
5h
While this is far from the cheapest device out there, this version of the Surface Pro 4 should amaze you in one regard: it weighs less than two pounds. Additionally, this product also has a keyboard that converts into a screen protector and also comes with a stylus. This makes this Microsoft product very friendly to a student's lifestyle. You can quickly scribble notes on the touchscreen with your stylus, run high-resolution applications, and do so with a very impressive amount of contrast and brightness.
With all of this being said, this Surface Pro only has one USB 3.0 port, which can be a bit of a letdown for those who have more than one peripheral.
Table of Best Laptops for Grad School
Wrapping It Up
Having the best laptop for grad school is simply too advantageous in the universities of today. All of the products that I've covered here will grant you all of the versatility and ease-of-use that a grad student needs to get through some of the toughest curriculums around. I hope this list helped you find your next laptop, I know it has helped me find mine. Feel free to leave a comment, especially if you're looking for a laptop that might not be in this guide. I'll get back to you and help you find another one that is more up to your speed.